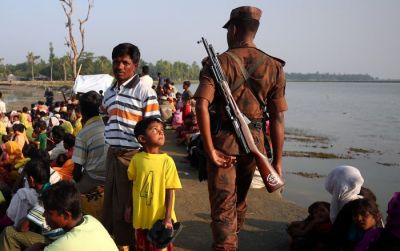 The Rohingya issue in Myanmar and Bangladesh may expand opportunities for recruitment of terrorists, America's intelligence chief warned Tuesday.
Some 700,000 Rohingya Muslims have fled Myanmar's western state of Rakhine and taken refuge in Bangladesh after the country's military launched a brutal crackdown in August last year after attacks.
The turmoil resulting from more than 600,000 Rohingyas fleeing Burma (Myanmar) to Bangladesh increases regional tension and may expand opportunities for terrorists' recruitment in South and Southeast Asia, Director of National Intelligence Dan Coats said in his testimony before the Senate Select Committee on Intelligence.
Further operations by Burmese security forces against Rohingya insurgents or sustained violence by ethnic Rakhine militias probably would make it difficult to repatriate Burmese from Bangladesh, Coats said during the hearing on 'World wide Threat Assessment' of the US intelligence community.
Coats said democracy and human rights in many Southeast Asian countries will remain fragile in 2018 as autocratic tendencies deepen in some regimes and rampant corruption and cronyism undermine democratic values.
Countries in the region will struggle to preserve foreign policy autonomy in the face of Chinese economic and diplomatic coercion, he said.
The crisis resulting from the exodus of more than 600,000 Rohingyas from Burma to Bangladesh will threaten Burma's fledgling democracy, increase the risk of violent extremism  and provide openings for Beijing to expand its influence," Coats said.
Cambodian leader Hun Sen will repress democratic institutions and civil society, manipulate government and judicial institutions and use patronage and political violence to guarantee his rule beyond the 2018 national election.
Having alienated Western partners, Hun Sen will rely on Beijing's political and financial support, drawing Cambodia closer to China as a result, he said.
In the Philippines, President(Rodrigo) Duterte will continue to wage his signature campaign against drugs, corruption and crime. Duterte has suggested he could suspend the Constitution, declare a 'revolutionary government' and impose nation wide martial law, Coats said.
His declaration of martial law in Mindanao, responding to the ISIS-inspired siege of Marawi city, has been extended through the end of 2018, he said.
Thailand leaders have pledged to hold elections in late 2018, but the new Constitution will institutionalize the military influence, Coats old lawmakers.
On Afghanistan, he said that the overall situation in the war-torn country will deteriorate modestly this year.
The overall situation in Afghanistan probably will deteriorate modestly this year in the face of persistent political instability, sustained attacks by the Taliban-led insurgency,unsteady Afghan National Security Forces (ANSF) performance and chronic financial shortfalls, Coats said.
The National Unity Government probably will struggle to hold long-delayed parliamentary elections, currently scheduled for July 2018, and to prepare for a presidential election in 2019,he said.
The ANSF probably will maintain control of most major population centres with coalition force support, but the intensity and geographic scope of Taliban activities will put those centres under continued strain, Coats said.
Afghanistan economic growth will stagnate at around 2.5 per cent per year, and Kabul will remain reliant on international donors for the great majority of its funding well beyond 2018,he said.
Coats said Sunni violent extremists --most notably ISIS and al-Qaeda -- pose continuing terrorist threats to the US interests and partners worldwide, while the US-based homegrown violent extremists (HVEs) will remain the most prevalent Sunni violent extremist threat in America.
ISIS and al-Qaeda and their respective networks will be persistent threats, as will groups not subordinate to them,such as the Haqqani Terror Network, Coats said.
PTI