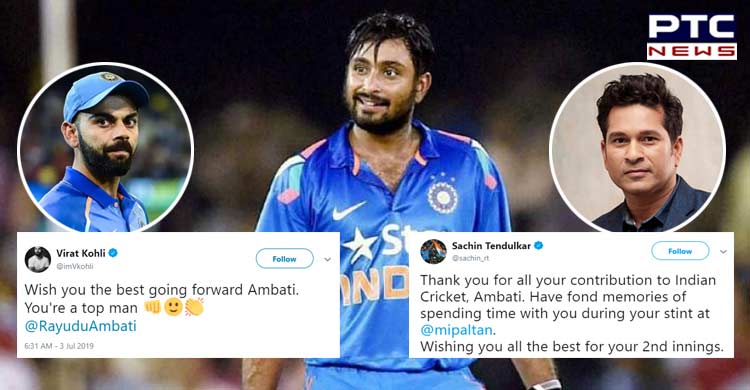 Ambati Rayudu Retirement: Ambati Rayudu on Wednesday announced his retirement from International Cricket. The announcement came after he was completely ignored for ICC Cricket World Cup 2019. As Ambati Rayudu was not even included in the 15-man squad to which Vijay Shankar was picked. Likewise, after Shikhar Dhawan injury, Rishabh Panth was called as a replacement over Ambati Rayudu. Similarly, as Vijay Shankar got injured, Mayank Aggarwal was chosen, but no one gave any attention to the sensational batsman Ambati Rayudu.
https://twitter.com/ANI/status/1146323723382939649
Earlier, Virat Kohli himself admitted Ambati Rayudu as the perfect spot of number 4, but still, he wasn't even given a chance. After Ambati Rayudu announced his retirement, many cricket legends took their views or farewell messages to social media.
https://twitter.com/sachin_rt/status/1146712836640403456
The legendary batsman Sachin Tendulkar said, "Thank you for all your contribution to Indian Cricket, Ambati. Have fond memories of spending time with you during your stint at Mumbai Indians. Wishing you all the best for your 2nd innings."
https://twitter.com/GautamGambhir/status/1146406365268783104
Likewise, Gautam Gambhir took a dig at BCCI and said, "What surprises me most is that the entire BCCI current selection panel had an unfulfilled career themselves!!!Even then they could not give a fair run to talent like Ambati Rayudu. What a shame!!! While it's important to win titles, guess it's more important to have a heart."
https://twitter.com/imVkohli/status/1146411234230620160
https://twitter.com/Kabirduhansingh/status/1146407836294901760
Likewise, a Model turned actor Kabir Duhan Singh shared his opinion and said, "It's all cricket politics brother . It's there from long and it will be there always .They don't respect talent. You are a brilliant player champ . I'm sorry for you brother .I wish you all the best for your future .God is wit you Ambati Rayudu".
https://twitter.com/ImRaina/status/1146404428712464384
https://twitter.com/IrfanPathan/status/1146411733298212864
https://twitter.com/kartikmurali/status/1146487137023303680
https://twitter.com/KTRTRS/status/1146424470946512897
https://twitter.com/mipaltan/status/1146411096758087681
https://twitter.com/tiwarymanoj/status/1146441820882083842
https://twitter.com/rishid100/status/1146669335571652608
https://twitter.com/rameshlaus/status/1146459182796693506
https://twitter.com/pragyanojha/status/1146419790086434816
https://twitter.com/ShuklaRajiv/status/1146417096022097920
https://twitter.com/virendersehwag/status/1146365823461838848
https://twitter.com/rpsingh/status/1146364463014010882
https://twitter.com/ImIshant/status/1146352600041705472
https://twitter.com/bhogleharsha/status/1146342284763500544
Well, these are surely some mixed reaction on Ambati Rayudu retirement, but all of them are supporting Ambati Rayudu. Have a happy retirement, Mr. 3D.
-PTC News