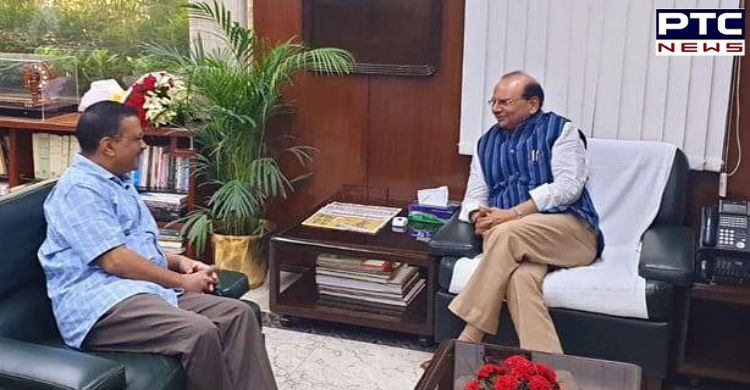 New Delhi, September 9: Delhi Chief Minister Arvind Kejriwal met with Lieutenant Governor VK Saxena on Friday, the first time after CBI raids on Deputy CM Manish Sisodia.

"Our weekly meeting happened in a very good environment. I was not there in Delhi, so we couldn't meet. We discussed various topics in this meeting," the Delhi CM said.
Notably, the last meeting between Delhi CM and LG was on August 12, but they did not meet on August 19, the day the CBI searched Sisodia's house over an alleged liquor policy scam, and the following Friday, the AAP leadership was in Gujarat for poll campaigning.
Friday's meeting was to discuss routine administrative matters.
On the recommendation of VK Saxena, the CBI investigated Manish Sisodia's house and stated that Sisodia also gave financial favours to liquor licences long after the bids were given, causing substantial losses to the exchequer.
The excise proposal was approved by the Delhi Cabinet led by Chief Minister Arvind Kejriwal in the midst of the deadly Delta Covid-19 outbreak in 2021.
Also Read | India declares one-day mourning for late Queen Elizabeth II on Sept 11
However, according to the Delhi government, the policy was created to ensure maximum revenue generation and to eliminate the sale of spurious liquor or non-duty paid liquor in Delhi, as well as to enhance the user experience.
Kejriwal also stated that he urged him to enhance the Municipal Corporation of Delhi and work for cleanliness, as well as to work against garbage mountains.
"I assured him that the Delhi government is always ready to co-operate in everything. We
are getting complaints about the lack of sanitization. We had a discussion on two issues- how to fix the mountains of garbage and how to fix the sanitation system," Kejriwal said.
"There has been a very tense atmosphere between AAP and LG in the last few days. It is unfortunate whatever happened. I hope the situation improves," he further said.
Also Read | Revenue Kanungo Assn, Patwar Union protest over cancellation of posts
-PTC News