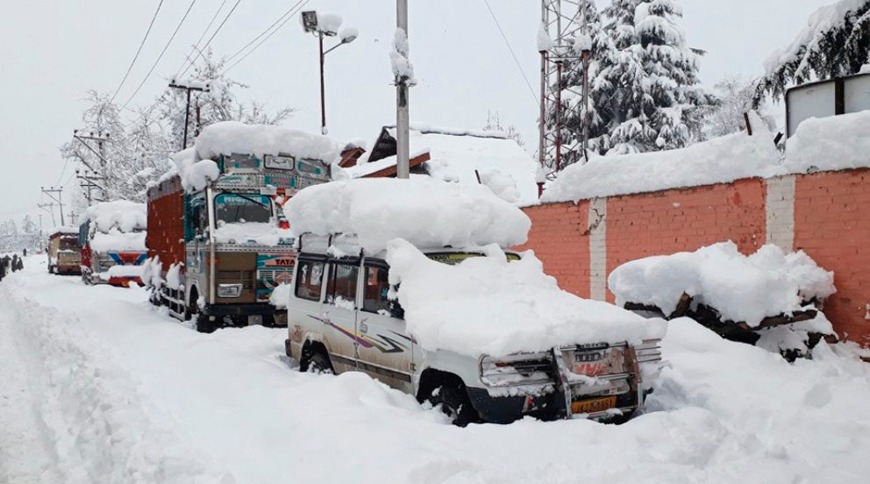 Fresh snowfall in many areas of Jammu and Kashmir on Monday ended in the closure of the Jammu-Srinagar National Highway for vehicular traffic. Jammu-Srinagar National Highway was closed due to snow around Jawahar Tunnel in the Qazigund area.
"Due to slippery road conditions and fresh snowfall at the Jawahar tunnel and other areas, the highway has been closed," a senior traffic department official said.
The snowfall snapped Kashmir's links with other parts of the country and led to low to poor visibility at the Srinagar airport, disrupting the air traffic.
"Current visibility is 600 meters and the runway is not available up to 10.30 am due snowfall. The situation will be reviewed after that," an official of the Airport Authority of India (AAI) here said.
Kargil in the Ladakh region continued to be the coldest place in the state at minus 14 degrees Celsius, while nearby Leh town was also freezing at minus 11.3 degrees Celsius last night, the MeT officials said.
January was the driest in terms of rainfall in Kashmir in the past 38 years, as per the Meteorological (MeT) Department officials.
Meanwhile, the minimum temperature across the Valley stayed around the freezing point, except for Gulmarg, the skiing resort in north Kashmir where the mercury settled at minus 4.6 degrees Celsius.
-PTC News