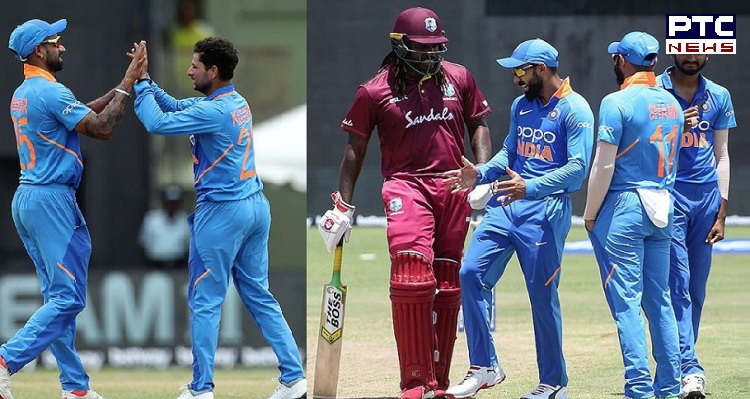 India vs West Indies 1st ODI Highlights: The ODI series opener started with great intent but couldn't conclude as the rain washed out the match and the hopes of Virat Kohli led-Team India as the team was in form while Chris Gayle failed to prove his mark. India won the toss and invited West Indies to bowl on the track. West Indies opener, Chris Gayle played 31 balls and the scorecard was like- 0⃣0⃣0⃣0⃣0⃣0⃣0⃣1⃣0⃣0⃣0⃣0⃣0⃣1⃣0⃣1⃣0⃣0⃣0⃣0⃣0⃣0⃣0⃣0⃣0⃣0⃣0⃣0⃣0⃣1⃣ and then, he lost his calm to an ungainly slog, after which he was sent back to the pavilion by Kuldeep Yadav.
https://www.youtube.com/watch?v=Ut9BZtWoPVM
Likewise, Evin Lewis did start slow, but he picked up his race with the first six of the inning from his bat on the short length delivery of Bhuvneshwar Kumar. Afterwards, Evin Lewis targetted Khaleel Ahmed, in his first over. Lewis started with the boundary on a fine leg, where Kaleel Ahmed bowled full-toss outside leg and a flick from Evin Lewis to the fine leg. Likewise, on the fourth ball of the same over, Khaleel bowled too short, Lewis stepped forward and smashed it to the square leg for a six. On the next ball, he was in the mood and swing his bat on the length delivery outside off, to the mid-on for a boundary.
Also Read: MS Dhoni made himself unavailable for India Tour of West Indies, Here's the reason why
Evin Lewis following the slow start scored 40 runs off 36 balls. After Chris Gayle was out, it was Shai Hope who came on the pitch, who faced 11 balls and scored just 6 runs. Then, it was clearly the rain which abandoned the match after 13 overs. West Indies in 13 overs scored 54/1. There was a wait to let the rain cool down, but the match was called off. Hence, there was no result.
-PTC News