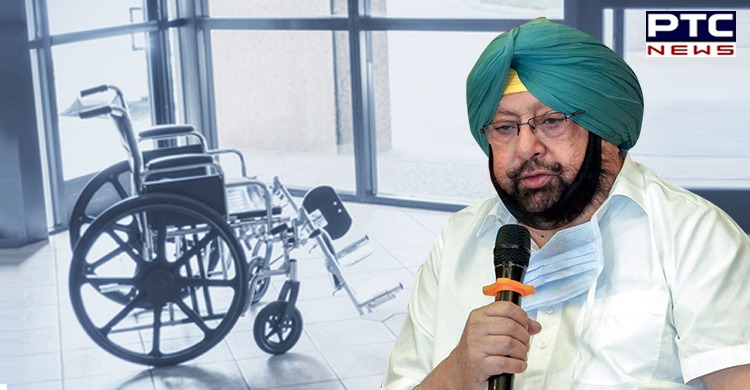 Punjab Chief Minister Captain Amarinder Singh on Tuesday announced the extension of benefits of existing schemes for persons with disability to those suffering from any disability caused by Mucormycosis.

He made this announcement while reviewing the state's Covid situation through a virtual conference. The benefits will be extended as per the nature and degree of the disability, he said.
Also Read | No proposal to bring Petrol, Diesel under GST yet: Centre informs Lok Sabha
Captain Amarinder Singh directed the Medical Education Department to also establish Post-COVID Care centres in government medical college hospitals for free follow-up of the cured cases of Mucormycosis.
Also Read | Punjab CM orders opening of schools, subject to conditions, details inside
Though Mucormycosis cases had declined, with only 3-4 cases reported per day last week, he directed the concerned departments to monitor the situation and keep close tabs on patients recovering from Covid.
Health Secretary Hussan Lal, in a brief presentation, informed the meeting that follow-up with Tab Posaconazole has to continue for 3-6 months after therapy with Inj Amphotericin B.
On the other hand, the Chief Minister directed that the Whole Genome Sequencing (WGS) Lab at GMCH Patiala, coming up with the support of PATH, should become functional this month.
The equipment was likely to be received by July 25 and operations were expected to commence by the end of the month, he was informed. The meeting was further informed that the concerned Staff from VRDL Patiala has gone to NEERI, Nasik for hands-on training for 3 days for WGS testing.
Dr KK Talwar informed the meeting that Punjab was currently in a comfortable situation though the fear of a third wave continued, with ICMR predicting it by end of August or the start of September. The situation may not be as bad as in the second wave unless a new variant comes before that, he noted.
-PTC News