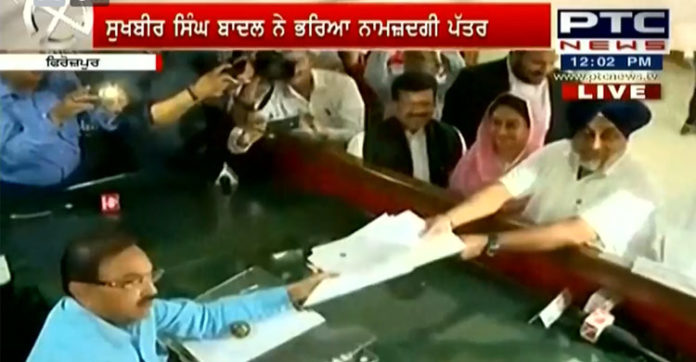 Sukhbir Singh Badal files nomination from Ferozepur parliamentary constituency
The SAD president and former Deputy CM Punjab, Sardar Sukhbir Singh Badal today filed his nomination papers as SAD BJP's Lok Sabha candidate from the Ferozepur Lok Sabha constituency.
Earlier in the morning, Sukhbir Singh Badal accompanied by wife  Harsimrat Kaur Badal paid obeisance and sought blessings of the Almighty at Sachkhand Sri Harmandar Sahib , Sri Amritsar Sahib
Also Read; Badal thanks NDA Govt for initiative to fulfill long cherished dream of Sikh masses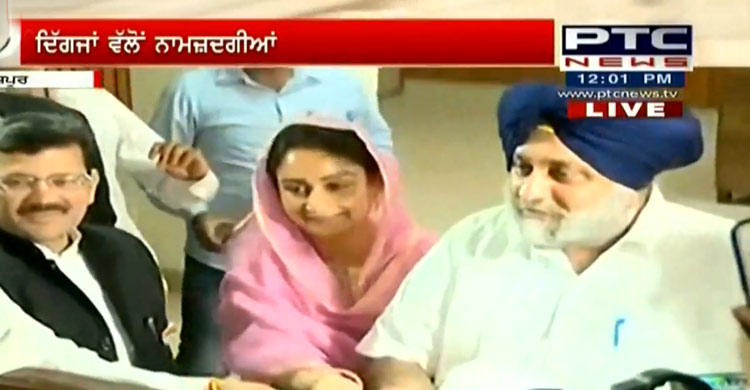 Ms Harsimrat Kaur Badal, senior Akali leaders Janmeja Singh Sekhon, Jagmeet Brar , and Punjab BJP stalwart Kamal Sharma accompanied the Akali leader to the DC office to file the nomination papers at 12.10 pm.
Thousands of enthusiastic supporters carrying traditional kesari Akali flags and shouting jaikaaras lined both sides of the road from the residence of former minister Janmeja Singh Sekhon to the DC office. There were tumultuous scenes of joy and enthusiasm as people braved  a scorching sun and jostled with one another to get a glimpse of Mr Badal.
Also Read: Sukhbir Singh Badal announces 5 candidates for Parliamentary polls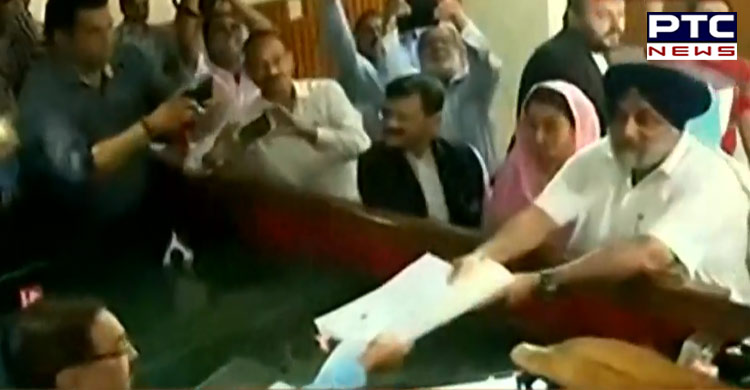 The Akali leader who was riding an open jeep accepted their greetings with folded hands here and by waving at supporters there.
Later accompanied by Mr Badal ,Sekhon, Mr Jagmeet Brar  and Mr Kamal Sharma left for Bathinda where Ms Harsimrat Kaur Badal is to file her nomination papers for the parliamentary poll around 1.30 pm today.
-PTC NEWS
Also Watch: