Atlanta, August 25: Former United States President Donald Trump has been arrested and subsequently released on a $200,000 bond in Georgia. The arrest stems from charges of racketeering and conspiracy related to allegations that he colluded with 18 other defendants in an attempt to overturn the 2020 election results within the southern state. The arrest marks a historic moment as Trump's mug shot was taken during the booking process, becoming the first serving or former US president to undergo this procedure.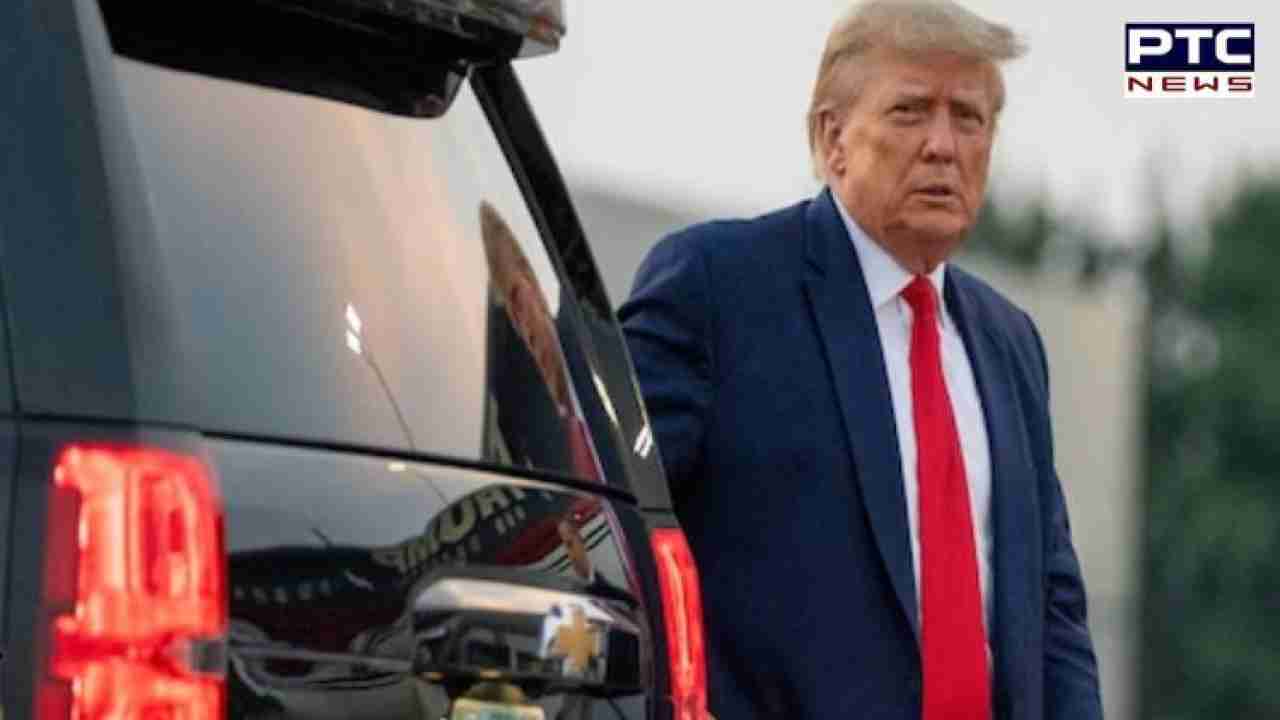 The arrest took place at Fulton County Jail in Atlanta, where Trump spent less than half an hour before departing in a motorcade for the airport. During the booking process, a photograph was taken showing Trump scowling at the camera while dressed in a dark blue suit, white shirt, and red tie. Following his release, Trump addressed the media, expressing his belief that the arrest represented a "travesty of justice," vehemently asserting his innocence and stating that he had "done nothing wrong." His mug shot was later posted on his Truth Social platform, accompanied by the caption "Election Interference" and a link to his campaign website.
The Fulton County Jail assigned Trump the inmate number "PO1135809," listing his physical attributes as six feet three inches in height, 215 pounds in weight, and "Blond or Strawberry" hair color. This arrest marks the fourth time Trump has faced criminal charges since April, creating a year filled with legal battles as he attempts to manage multiple court appearances while also considering another White House campaign.
Also Read: Money laundering case: ED raids residence of former Congress minister Bharat Bhushan Ashu in Ludhiana
Notably, Trump managed to evade mug shots during his previous arrests earlier in the year, which included charges in New York for alleged hush money payments to a porn star, in Florida for mishandling confidential government documents, and in Washington for conspiracy related to his 2020 election loss to Democrat Joe Biden.
The timing of this arrest followed Trump's decision to forgo a televised debate featuring other candidates for the 2024 Republican presidential nomination. Despite his absence, he remained a central figure in the event, with most of the other candidates expressing their support for him as the potential nominee even if he were to be convicted of a felony.
The Fulton County District Attorney, Fani Willis, filed the racketeering case and set a deadline for Trump and the other defendants to surrender. As of now, Trump and 11 others have surrendered to authorities. Notable figures such as Mark Meadows, former White House chief of staff, and Rudy Giuliani, Trump's former personal lawyer, have also been booked and subsequently released on bail.
The legal proceedings surrounding Trump's various charges could intersect with the Republican presidential primary season, slated to begin in January, and the campaign for the November 2024 White House election. The proposed trial, scheduled to start in January 2024, pertains to charges of conspiring to overturn the 2020 election results through falsehoods, which culminated in the January 6, 2021 attack on the US Capitol by Trump supporters.
Trump's legal team has proposed an alternative start date for his trial, suggesting April 2026. Meanwhile, Willis initially proposed a March 2024 start for the racketeering case, coinciding with Trump's trial in New York on charges of paying hush money to Stormy Daniels, a porn star. Following a request for a speedy trial by one of the defendants, Willis proposed an October 2023 start for all 19 defendants, prompting objections from Trump's legal representatives. Additionally, Trump faces a case in Florida scheduled to begin in May, relating to allegations of taking classified government documents upon leaving the White House and refusing to return them.
Also Read: PM Modi, Chinese Prez Xi Jinping agree on 'expeditious de-escalation' in Ladakh
- With inputs from agencies
Join Whatsapp Channel