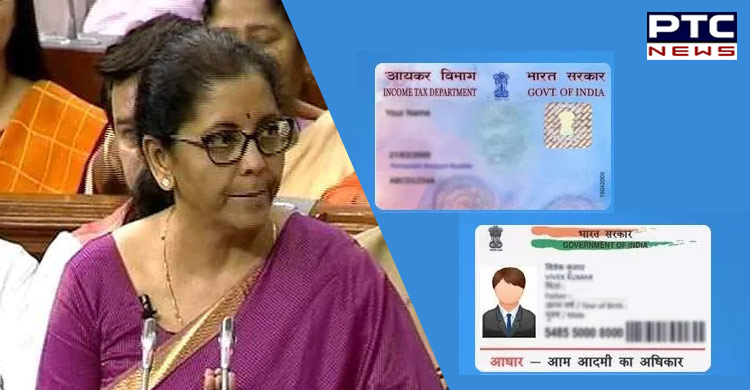 Finance Minister Nirmala Sitharaman on Friday in Lok Sabha presents the Budget 2019 of PM Narendra Modi's government 2.0. Nirmala Sitharaman is a first-ever full-fledged Finance Minister and hence started the budget with an interesting speech. Meanwhile, Finance Minister hints on PAN card and Aadhaar Card.
https://twitter.com/ANI/status/1147043605896413185
Nirmala Sitharaman said, "More than 120 crore Indians now have Aadhar card, therefore for ease of taxpayers I propose to make PAN card and Aadhar card interchangeable and allow those who don't have PAN to file returns by simply quoting Aadhar number and use it wherever they require to use PAN"
This is indeed a major step to make it an ease for the taxpayers. Hence those who are not having PAN card will be able to file the returns simply quoting Aadhar number and use it wherever required to use PAN. Earlier, if you don't have PAN card then you have to struggle a lot in term of filing returns, but now it will be an easy task in an order to file the return through the Aadhar Card.
Also read: Budget 2019: Finance Minister Nirmala Sitharaman drops briefcase for 'Bahi Khata'
Likewise, Nirmala Sitharaman announced that the Rs 1, Rs 2, Rs 5, Rs 10, Rs 20 coin which was released by PM Narendra Modi on March 7, 2019, will be available to the public shortly.
-PTC News