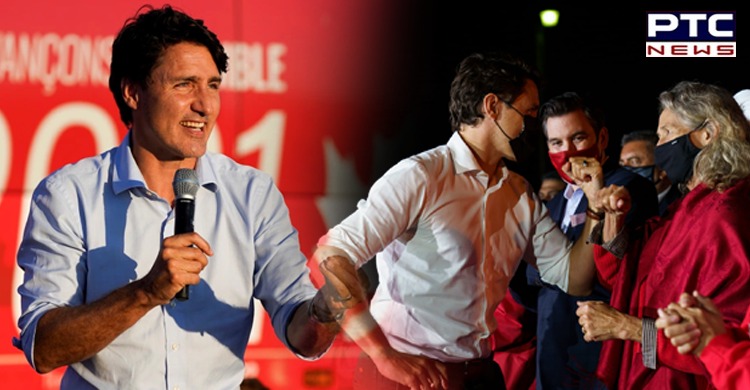 Canada election 2021 results: Liberal Prime Minister Justin Trudeau has won the third term but he failed to gain an absolute majority, according to projections by television networks.

As per official data, in this election, more than 27 million people were eligible to cast their votes.
Also read | Punjab: Harish Rawat's statement that next polls will be fought under Sidhu baffling: Jakhar
Justin Trudeau called the snap election last month, hoping to parlay a smooth rollout of the Covid-19 vaccine. After five weeks of campaigning, Trudeau's appeared set for a repeat of the close 2019 general election.
Also read | Charanjit Singh Channi takes oath as Punjab CM; Sukhjinder Randhawa, OP Soni sworn in as Dy CMs
Canada election 2021 results updates:
Liberal candidate Seamus O Regan wins from St Johns South - Mount Pearl
Liberal candidate Dominic LeBlac wins from Beausejour
Conservative candidate Richard Brandon Wins from Tobique - Mactaquac
Conservative candidate Chamberlain wins from West Nova
Liberal candidate Yvonne Jones wins from Labrador
Liberal candidate Churence Rogers wins from Bonavista - Burin - Trinity
Liberal candidate Mike Kelloway wins from Cape Breton - Canso
Conservative candidate John Williamson wins from New Brunswick Southwest
Liberal candidate Serge Cormier wins from Acadia - Bathurst
Liberal candidate Ken Mc Donald wins from Avalon
Liberal candidate Sean Fraser wins from Central Nova
Conservative candidate Rob Moore wins from Fundy Royal
Conservative candidate Rick Perkins wins from South Shore - St. Margarets
Liberal candidate Gudie Hutchins wins by 1221 votes from Long Range Mountains
Conservative candidate Stephen Ellis wins by 2024 votes from Cumberland-Colhester
Liberal candidate Lawrence MacAulay wins by 1110 votes from Cardigan
Liberal candidate Richard Brandon wins by 6637 votes from Tobique- Mactaquac
Liberal candidate Bobby Morrissey wins by 1280 votes from Eglinton
Liberal candidate Heath MacDonald wins by 893 votes from Malpeque.
Liberal candidate Wayne Long wins by 1039 votes from Saint John - Rothesay
Liberal candidate Kody Blois wins by 2102 votes from Kings - Hants
Conservative candidate Rick Perkins wins by 1670 votes from South Shore - St. Margarets
Liberal candidate Kamal Khera wins by 1317 votes from Brampton west
Liberal candidate Ruby Sahota wins from Brampton north
Liberal candidate Sonia Sidhu wins from Brampton south
Liberal candidate Maninder Sidhu wins from Brampton east.
Liberal candidate Harjit Sajjan wins by 1018 votes from Vancouver South
Liberal candidate Sukh Dhaliwal wins by 1447 votes from Surrey-Newton
Conservative candidate Tim Uppal wins from Edmonton Mills Wood
Watch Canada election 2021 results Live Updates:
Canada runs on a parliamentary democracy system. The house of Commons, the lower house of the Canadian parliament has 338 seats. In order to form a government in Canada, a party needs to secure at least 170 seats.

Meanwhile, Justin Trudeau tweeted: "Thank you, Canada — for casting your vote, for putting your trust in the Liberal team, for choosing a brighter future. We're going to finish the fight against COVID. And we're going to move Canada forward. For everyone."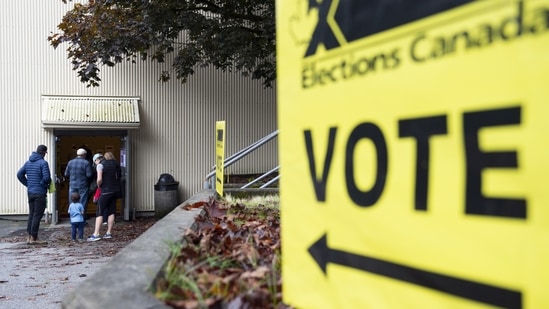 The economy, housing, climate crisis, and health care are also some key issues in this election along with the COVID-19 pandemic, Aljazeera report said.
-PTC News