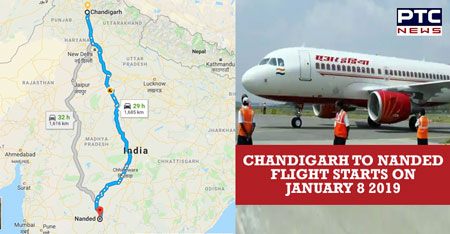 Chd-Nanded flight starts on January 8 
Air India on Sunday announced that a direct flight from Chandigarh to Nanded will start on January 8, 2019. The flight will operate twice a week i.e. on Tuesday and Wednesday.
Also Read: Economic Survey wants Govt to complete AI sale by next fiscal
Flight number 817 will depart from Chandigarh at 9:10 hrs and will reach Nanded at 11:30 hrs. And flight number 818 will depart from Nanded at 12:05 hrs and will arrive in Chandigarh at 14:20 hrs. According to the Make My Trip website, the national carrier is charging Rs 4145 on the direct flight from Chandigarh to Nanded.
Also Read: AI grounds director ops for failing in pre-flight alcohol test
On December 23, 2017, Air India started a direct flight from Amritsar to Nanded. It also operated twice a week.
Also Read: 1985 Air India bombing 'single worst terrorist attack' in Canada's history: Trudeau
On November 19, 2018, Air India started its Nanded-Delhi and Delhi-Nanded service from November 19. The flight takes off at 03.20 p.m. from Delhi and arrives in the city at 5.05 evening in Nanded. The return flight takes off from Nanded at 5.45 evening and arrives in Delhi at 7.30 pm.
-PTC NEWS