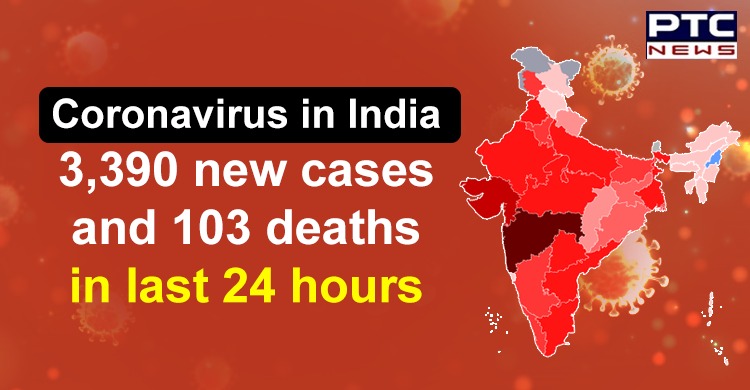 The total number of coronavirus (COVID 19) cases in India has climbed to 56,342 after 3,390 new positive cases were reported in the last 24 hours, as of Friday evening. There have been 103 deaths in the last 24 hours, according to the Ministry of Health and Family Welfare. Meanwhile, the death toll stands at 1,886.

The Health Ministry was quoted by news agency ANI as saying: "Total number of COVID-19 positive cases in India rises to 56,342 including 37,916 active cases while 16,539 have been cured and discharged, 1,886 deaths and 1 migrated. 103 deaths include 43 in Maharashtra, 29 in Gujarat, 8 in Madhya Pradesh, 7 in West Bengal, 5 in Rajasthan, 2 each in Tamil Nadu, Uttar Pradesh and Andhra Pradesh, and one each in Bihar, Delhi, Karnataka, Punjab and Jammu and Kashmir.

Of total 1,886 deaths, Maharashtra is on the top with 694 fatalities, Gujarat on second with 425 deaths, followed by Madhya Pradesh at 193, West Bengal at 151, Rajasthan at 97, Delhi at 66, Uttar Pradesh at 62 and Andhra Pradesh at 38.
The death toll in Tamil Nadu reached 37, 30 in Karnataka while Telangana has reported 29 deaths due to the novel coronavirus. Punjab has registered 28 COVID-19 deaths while Jammu and Kashmir has 9, Haryana 7, Bihar 5 and Kerala 4.
Also Read | 15 migrant workers sleeping on railway track run over by goods train in Maharashtra
Jharkhand has recorded three COVID-19 deaths. Odisha and Himachal Pradesh have recorded two deaths each. Likewise, Meghalaya, Chandigarh, Assam and Uttarakhand have reported one death each, according to the ministry data.
-PTC News