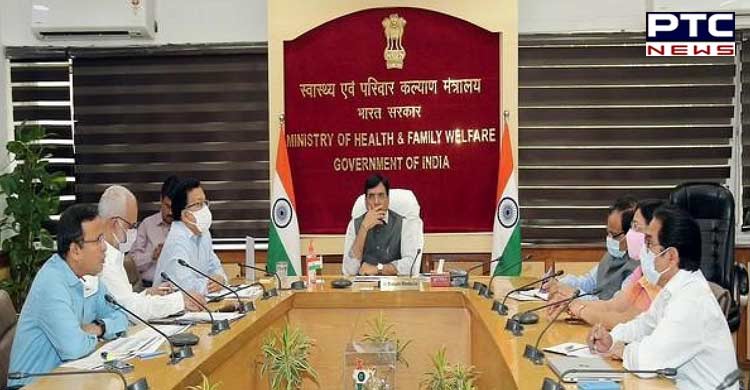 New Delhi, June 23: Union Health Minister Mansukh Mandaviya on Thursday held a meeting with experts and officials amid a rise in Covid-19 cases in some states. He stressed on focusing on districts reporting high case positivity and undertake adequate coronavirus testing with higher proportion of RTPCR tests.

Further, Union Health Minister Mansukh Mandaviya directed officials to continue to focus on surveillance and on Whole Genome Sequencing (WGS) to scan for any possible mutation along with increasing the pace of vaccination.
Also Read | Planning to kill Moosewala began in August last year, says Punjab AGTF chief; another accused held
India has been witnessing an increase in coronavirus infections over the last couple of weeks. As on date, 10 states - Maharashtra, Kerala, Delhi, Karnataka, Tamil Nadu, Haryana, Uttar Pradesh, Telangana, West Bengal and Gujarat - have over 1,000 active cases.
The country reported as many as 13,313 new cases of Covid-19 in the last 24 hours, as compared to the 12,249 cases on Wednesday, informed the Ministry of Health and Family Welfare.
According to the Ministry, 10,972 persons have recovered from the infection which took the total number of recoveries to 4,27,36,027 at the rate of 98.6 per cent. With the recorded cases, India's active caseload now stands at 83,990 at the rate of 0.19 per cent. As per the Health Ministry, the country's daily positivity rate stands at 2.03 per cent, while the weekly positivity rate remained at 2.81 per cent. It also informed that at least 38 people have died in the last 24 hours due to the infection.
Earlier, on June 13, Mandaviya had chaired a meeting through video conferencing with Health Ministers and senior officials of states and Union Territories (UTs) to review the progress of the vaccination exercise HarGharDastak 2.0 campaign.
"COVID is not over yet. There are reports of rising cases of COVID in some states. It is important at this time to be alert and not forget COVID Appropriate behaviour (CAB) such as wearing masks and maintaining physical distance to prevent the spread of the infection," he had stressed.
Also Read | World Health Network declares Monkeypox outbreak a public health emergency
Highlighting increased case positivity in some districts and states and reduced Covid-19 testing, Mandaviya had stated that increased and timely testing would enable early identification of coronavirus cases and help curb the spread of the infection among the community.
-PTC News