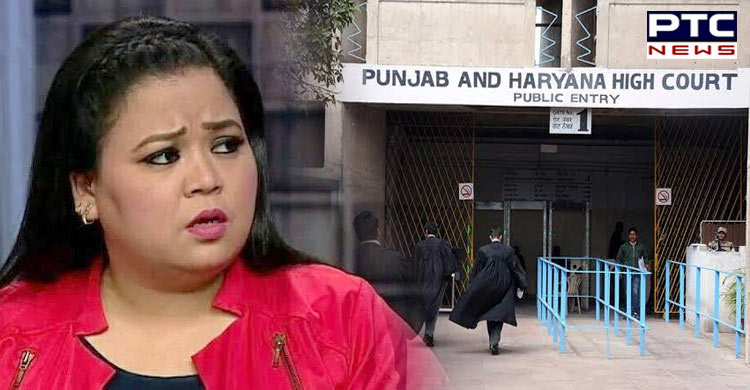 Hallelujah Controversy: Comedian Bharti Singh moved to Punjab and Haryana High Court asking to scrap the FIR filed against her, in which she along with actress Raveena Tandon and filmmaker Farah Khan was charged for allegedly hurting religious sentiments. The petition was heard before Justice Sudip Ahluwalia on Monday.
Meanwhile, the Punjab and Haryana High Court had directed Punjab Police to not to take any "coercive steps" against comedian Bharti Singh. Also, Justice Sudip Ahluwalia has posted the matter for further hearing on March 25.
https://www.facebook.com/ptcnewsonline/videos/117703359566219/
In the petition, Bharti Singh sought the quashing of the FIR and a stay order on the Punjab Police investigation. Raveena Tandon, Farah Khan and Bharti Singh were booked by the Amritsar Police in December on the basis of a complaint filed by Sonu Jafar, president of Chrisitan Front, Ajnala.
In the petition, Bharti Singh submitted that no offence was made against her under section 295-A of the Indian Penal Code (IPC). The High Court had directed the Punjab Police to not take any coercive steps untill March 25 against actor Raveena Tandon and Farah Khan on January 23. In their (Farah and Raveena) petition the duo had sought the squashing of the FIR in connection with a case.
https://www.ptcnews.tv/raveena-tandon-clarifies-after-being-booked-for-hurting-religious-sentiments-with-bharti-singh-and-farah-khan-en/
During the show, Farah Khan had asked Raveena and Bharti to spell the word Hallelujah. To this, Raveena had spelled it right, while Bharti had made it wrong. Afterwards, Farah had asked Bharti to at least tell the meaning of the word. Her meaning had sparked the controversy after the show went on-air.
-PTC News