Farmers continue to protest on the borders of Delhi against the three central agricultural laws and the protest at the Singhu border on Thursday entered its 71st day demanding repeal of agriculture laws as well as legislation on MSP.
Meanwhile, a team of Leader of the Opposition today reached Ghazipur border to meet the farmers.
Also Read | Sukhbir Badal sits on dharna; demands arrest of perpetrators of attack in Jalalabad

Opposition MPs have been barred from meeting the farmers and have been forcibly repatriated by the police. Shiromani Akali Dal, DMK , MPs from several parties including TMC have been barred from meeting the farmers. At the same time, the media has also been barred from covering the Ghazipur border.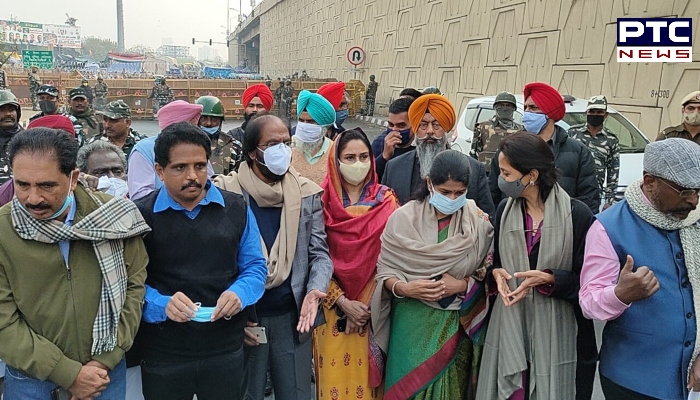 On the occasion, former Union Minister Harsimrat Kaur Badal said that the action of Union government was a direct assassination of democracy. Electricity, water and internet connections have been cut off at Singhu border, Tikri border and Ghazipur border. She said that the farmers were being treated like slaves and it was heartbreaking to see such a situation. Attempts are being made to suppress the farmers movement with force and coercion.
She added that farmers were allegedly being treated like prisoners. Farmers are adamant on repealing the Agriculture laws. The central government has sealed off the whole Delhi. She said that such barricading was not seen even on the borders of the enemy country.

Adding that farmers were being treated as enemies of the country. Every effort is being made to silence the voice of the farmers. She said that even in Parliament, no opportunity was being given to speak on the issue of farmers. The battle of the farmers will be fought in Parliament.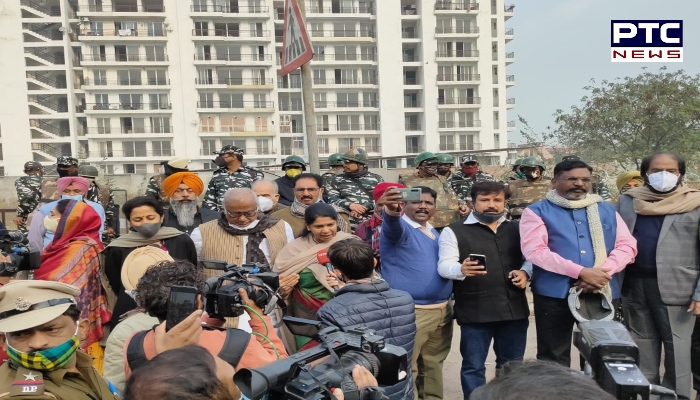 Also Read | SAD condemns murderous attack on Akali workers and Sukhbir Singh Badal
Mrs. Harsimrat Kaur Badal said that action was being taken to intimidate the farmers. For which about 12 levels of barricading have been set up at Singhu border, and Ghazipur border. To put an end to the farmers agitation, the government has closed all the basic facilities at the border. The Union Government is adopting a dictatorial attitude against the farmers. She said that they would fight the "fight against the politics of arrogance".
Farmers have been protesting at Delhi borders. Despite 11 rounds of meeting between the protesting farmers and the Centre, no conclusion has come out so far. No date has been fixed for the next meeting.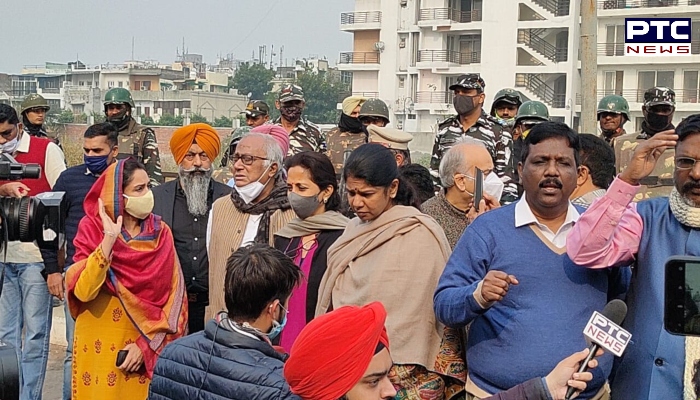 The farmers have been protesting against the Farmers (Empowerment and Protection) Agreement on Price Assurance and Farm Services Act, 2020, Farmers' Produce Trade and Commerce (Promotion and Facilitation) Act, 2020, and Essential Commodities (Amendment) Act, 2020.
-PTC News