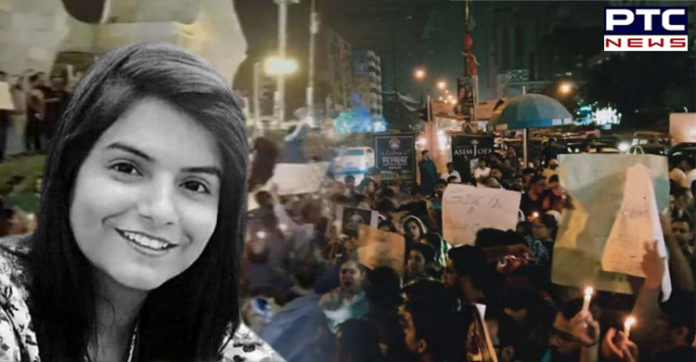 A massive protest erupted in Karachi following the murder of a Sindhi Hindu girl, Namrita Chandni, in Larkana. She was a final year dental college student. Raising slogans against the Pakistan government led by its Prime Minister Imran Khan, the protesters demanded better law and order maintenance. The slogans, "Namrita ko insaf do", "Won't tolerate hooliganism" rang out.
Pakistan: People staged protest on the streets of Karachi against the alleged murder of a Sindhi Hindu girl, Namrita Chandani yesterday. Namrita was found with a rope tied to her neck in Larkana, Sindh. pic.twitter.com/HuOi6E6Dcj

— ANI (@ANI) September 18, 2019
Sources said Chandni was found murdered in her hostel room and her death underlines the plight of minorities in Pakistan. Chandni belonged to Ghotki town, where a Hindu temple was ransacked. She was found lying on a charpoy on Tuesday with a piece of cloth tied to her neck. Her room was locked from inside. Police and authorities labeled her death as a case of suicide, but the family has alleged murder.
Nanakana Sahib Incident: Sikh priest's daughter allegedly converted to Islam, Pakistan Punjab CM orders investigation
Her brother Vishal, a medical consultant, said preliminary check-up indicated murder. The incident took place after properties of the minority community, including a temple in Ghotki, were vandalized after a school principal who belonged to the Hindu community was booked on charges of blasphemy.
-PTC News