Varanasi, September 30: Hindus across the nation have commenced the observance of Pitru Paksha 2023 (Shraadh), a sacred ritual dedicated to honouring their ancestors, particularly by presenting food offerings. This year's Pitru Paksha began on September 29 and will conclude on October 14.
Devotees from various regions of India have congregated at the Pishach Mochan Kund in Varanasi, a crucial pilgrimage site. It is customary for them to offer Pind Daan (ritual offerings) at this location before embarking on a journey to Gaya, Bihar, to pay their respects to their forebears.
Legend has it that the Pishach Mochan Kund has existed since before the arrival of the Ganga River, serving as a place for generations to perform Pind Daan for their ancestors.
Pitru Paksha, often referred to as the "fortnight of the paternal ancestors," spans a 16-day lunar period in the Hindu calendar. During this time, Hindus pay homage to their Pitrs (ancestors), primarily by making food offerings.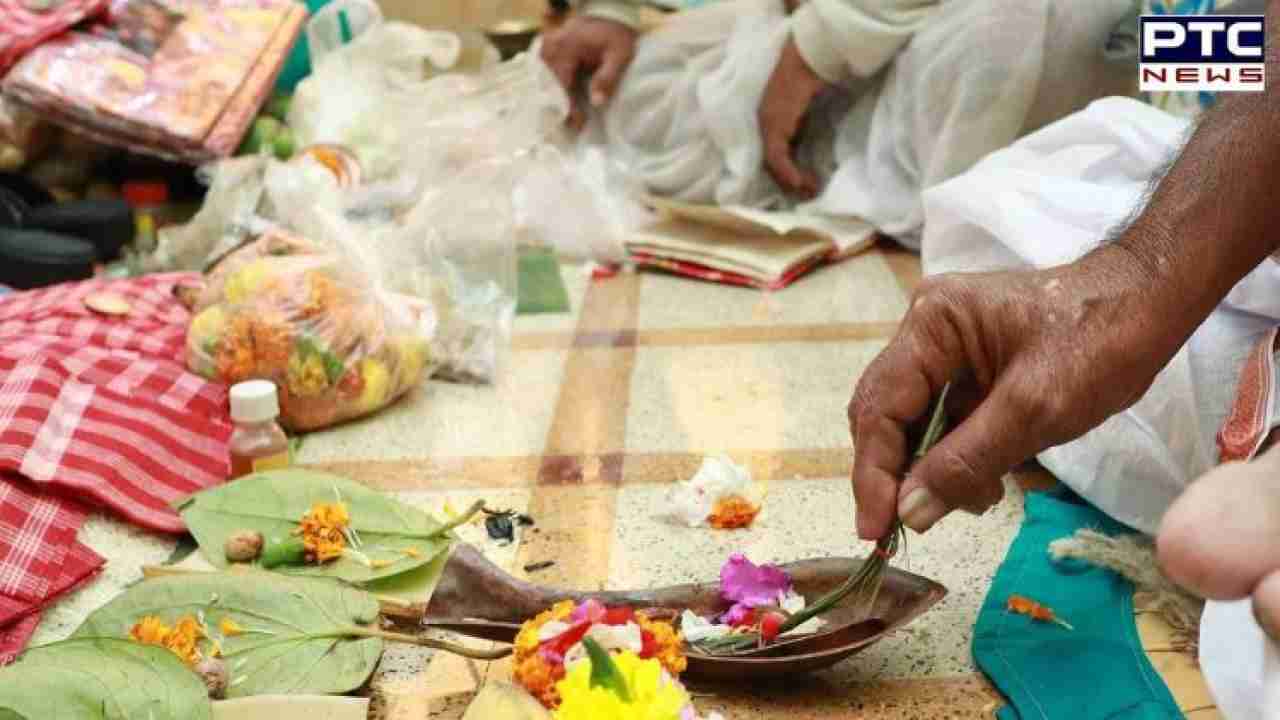 The offerings to the ancestors are traditionally prepared in silver or copper vessels and are typically arranged on banana leaves or cups crafted from dried leaves. The individual conducting the Shraadh (ritual) is expected to purify themselves with a bath and don a dhoti. They also wear a ring made of darbha grass, with the purpose of invoking the presence of the ancestors within the ring.

The Shraadh ceremony is typically performed bare-chested, as the sacred thread worn by the practitioner must be adjusted multiple times during the ritual.
In addition to Varanasi, people from all corners of India have also gathered in Haridwar to seek salvation for their departed ancestors. The Narayani Shila Temple in Haridwar holds special significance for performing 'Shraadh,' as documented in the Puranas, attracting devotees from far and wide to partake in these rituals.
Manoj Tripathi, the chief priest of Narayani Shila Temple, explained, "Pitru Paksha, spanning 16 days, is a time to express gratitude to our ancestors and pray for their salvation. While rituals are observed in various places across the country, conducting them at the Narayani Shila Temple in Haridwar, Gaya, Uttarakhand, Bihar, and Badrinath is considered especially significant." He elaborated that Lord Vishnu's head is believed to be enshrined in Badrinath Dham, the torso in Narayani Shila in Haridwar, and the feet in Gaya, Bihar, hence the importance of offering 'Tarpan' at these three locations.
Devotees from distant regions journey to the Narayan Shila temple to perform Tarpan during Pitru Paksha, offering special prayers led by pilgrim priests in hopes of securing salvation for their ancestors. It is believed that through this Tarpan ritual, the departed souls find liberation, underscoring the profound importance attributed to conducting 'Shraadh' at these three sacred sites.
- ANI
Join Whatsapp Channel