PTC Web Desk: Top wrestlers, including Sakshi Malik, Vinesh Phogat and Bajrang Punia, who were recently removed from their protest site at Delhi's Jantar Mantar and detained, on Tuesday announced to immerse their medals in the Ganga and later sit on an indefinite hunger strike at India Gate.
Taking to Twitter, wrestler Sakshi Malik said, "The grapplers will go to Haridwar and immerse the medals in the Ganga at 6 pm. These medals are our lives, our souls. There would be no reason to live after throwing them in the Ganga today. So, we will stage a hunger strike until death at India Gate after that," read the statement in Hindi.
Taking on Prime Minister Narendra Modi, the protesting wrestlers alleged that the PM who called them their daughters did not even show his concern for them and rather invited Brij Bhushan Singh to the opening of the new Parliament building. 
Why wrestlers are protesting? 

Top Indian wrestlers are protesting against Wrestling Federation of India (WFI) chief Brij Bhushan Sharan Singh over alleged sexual harassment of women athletes, including a minor. They launched their protest on April 23 at Jantar Mantar.
On Sunday, India's Olympic medallist wrestler Sakshi Malik along with her fellow wrestlers Bajrang Punia, Vinesh Phogat and Sangeeta Phogat were detained by the Delhi Police while attempting to march to the new Parliament building where the protesting wrestlers planned to stage a demonstration.
"Everything is visible in the video that when there are 20-30 constables stopping one wrestler then how can we do any sort of riots. We were just trying to tell them that please don't take us away. We just want to do a peaceful march because nobody is listening to us but they forcefully dragged us inside the bus. We got scratches because of that. We didn't do any riot, we didn't damage any public property. We neither pulled nor pushed the barricading. We are doing our peaceful protest from day one and we were requesting them to let us go but we were not allowed to go, " said Olympic medallist wrestler Sakhi Malik.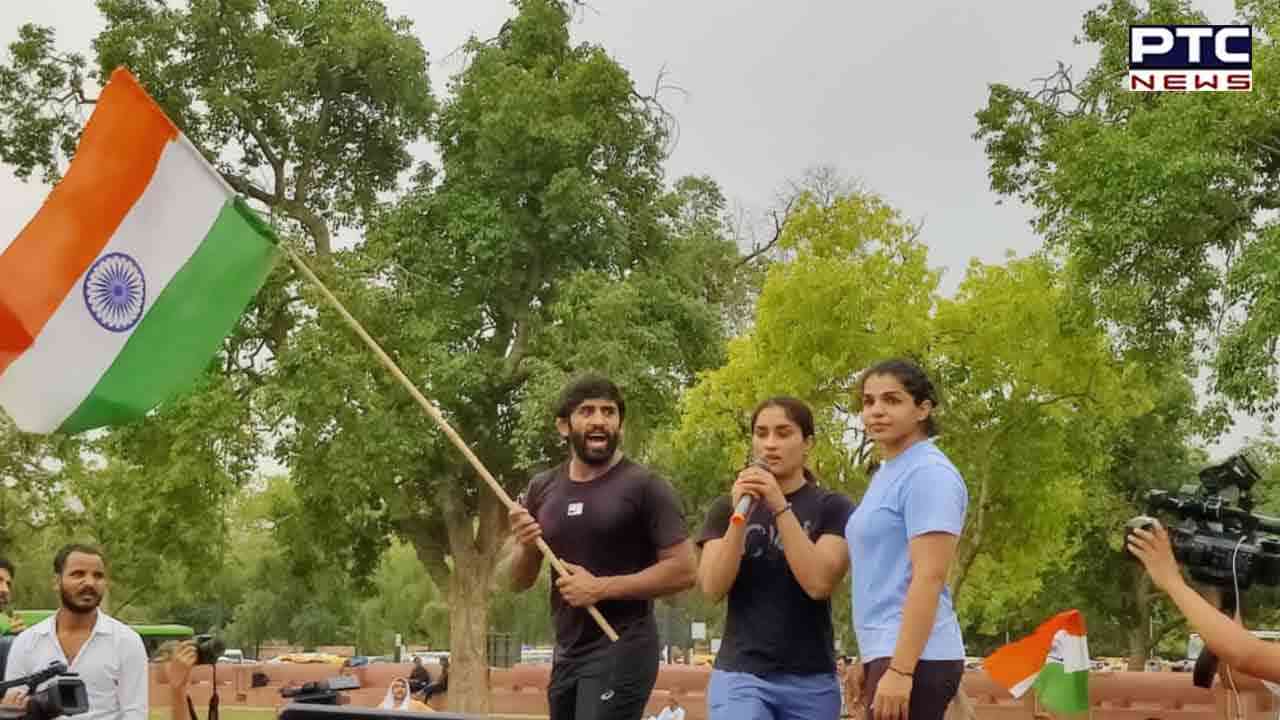 Wrestler Sakshi Malik criticised those who have shown morphed photos of wrestlers Vinesh Phogat and Sangeeta Phogat smiling in a vehicle after they were pushed inside the bus.
"You must have seen how badly our pictures are edited on social media. Those who are doing such things have no shame. I can't believe that how can GOD make such human beings. They are trying to show that we are enjoying and smiling around. I don't think that they have heart. They are heartless people. It feels terrible how IT cell is trying to defame us, " said Sakshi Malik.
The Delhi Police have taken off all the tents where the wrestlers were sitting on protest.
"There is no future planning and we have not thought about it as yet. We are all badly disturbed and tired mentally and whatever will happen we will let you all know, " said Sakshi Malik.
The Delhi Police have registered FIR against protest organisers and others in connection with the scuffle that broke out at Jantar Mantar on Sunday.
- With inputs from agencies