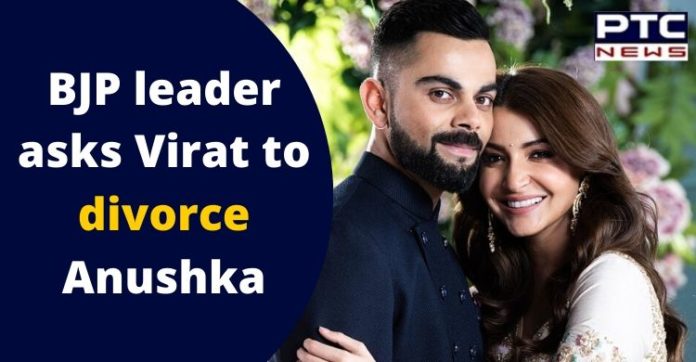 After filing an FIR and levying sedition charges against the Bollywood actress Anushka Sharma, Bhartiya Janata Party (BJP) MLA, Nandkishor Gurjar, has asked the Indian cricket team captain Virat Kohli to divorce the actress. BJP leader took extreme measures against the actress after accusing her of using the pictures of BJP leaders including him for the web series Paatal Lok.

The MLA is from Uttar Pradesh's Loni town. He has also branded the show as 'anti-national' and asked for a case to be filed against the actress under the National Security Act for causing communal disharmony.
Nandkishor Gurjar's photo has been used in a scene where Balkrishna Bajpayee's character plays a negative role in the series. Though the original photo has been morphed, Gurjar's face was still recognisable.
पत्र में सर्वसमाज के आपत्तिजनक तथ्यों का उल्लेख कर मौजूदा समय में युवा- सनातन धर्म, एकता-अखंडता और सुरक्षा एजेंसियों को हिडेन एजेंडे के तहत बर्बाद करने पर तुले डिजिटल प्लेटफार्मस पर प्रसारित होने वाली वेब सीरीजों को #सेंसर_बोर्ड के दायरे में लाने का अनुरोध किया।2/3 #BanPaatalLok pic.twitter.com/pZvR7OP1Sm

— Nandkishor Gurjar (@nkgurjar4bjp) May 24, 2020
BJP MLA has also alleged that the show attempted to malign BJP's image and painted a terror-free portrait of Pakistan. added that the castes in Sanatan Dharma and different Hindu agencies have been shown in a negative way in her series Paatal Lok.
While speaking to Newsroom Post, Nandkishor stated that the welfare of the country holds utmost importance and therefore, Virat Kohli, being a patriot, should not tolerate this. Likewise, he urged the Indian skipper to divorce Anushka Sharma immediately to send a strong message to everyone.
Also Read | FACT CHECK: MHA permits all states to reopen schools
"Desh se koi badaa nahi hai. Virat Kohli desh ke liye khelte hain aur deshbhakt hain. Unhe Anushka ko turant talak dena chahiye," he had said.
The BJP leader has also sent a letter to the Ministry of Information and Broadcasting, Prakash Javdekar, requesting to ban the streaming of the series due to the controversy.
-PTC News