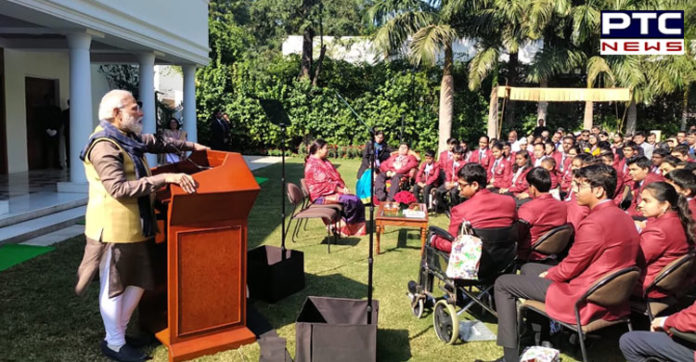 Prime Minister Narendra Modi on Friday interacted with 49 recipients of the Rashtriya Bal Puraskar 2020. He encouraged the awardees to go ahead in their life and take the award as a launcher to do greater good.
He said that "I am amazed that at such age you all have performed incredible tasks. This must have inspired you to do more good deeds in future. You have shown courage to fight difficult situations."
थोड़ी देर पहले आप सभी का परिचय जब हो रहा था, तो मैं सच में हैरान था। इतनी कम आयु में जिस प्रकार आप सभी ने अलग-अलग क्षेत्रों में जो प्रयास किए, जो काम किया है, वो अदभुत है: PM @narendramodi pic.twitter.com/L0PE4XYiGv

— PMO India (@PMOIndia) January 24, 2020
"When I was getting introduced to you a while back, I was really surprised. The way you all have tried in different areas, the work that you have done at such a young age, is amazing," he added.

He added that "I am proud to see the way you are aware of your duty towards your society, towards the nation."
PM Modi and Nepal PM KP Sharma Oli jointly inaugurate the 2nd ICP at Jogbani-Biratnagar
Furthermore, he said that "Whenever I hear about such adventure work of all you young colleagues, I interact with you, then I also get inspiration, energy."
-PTC News