Amritsar, March 27: Akal Takht Jathedar Giani Harpreet Singh on Monday served a 24-hour ultimatum on the Punjab Government, led by Bhagwant Mann, to release "supporters" of pro-Khalistan activist Amritpal Singh, who have been arrested in the last 10 days.
The decision was taken at a Panthic gathering at the Akal Takht, which was attended by more than 50 Sikh organisations.
Following the Ajnala clash, the Punjab Police have launched a massive crackdown against supporters of Waris Punjab De head Amritpal Singh.
During the Panthic gathering called to discuss "current atmosphere in Punjab', Akal Takht Jathedar Giani Harpreet Singh allowed each representative of Sikh organisations to speak for two minutes.

The Jathedar of the Akal Takht Sahib demanded that the National Security Act (NSA) imposed on all youths should be immediately removed. He said the impounded vehicles of Sikhs, who were peacefully protesting at Harike's headworks, should be released immediately.

Jathedar Giani Harpreet Singh demanded that all web channels and social media accounts that had been withheld should be activated immediately.

The Akal Takht Jathedar said of late, the flag and symbols of Maharaja Ranjit Singh's 'Khalsa State' and the Sikh princely states were wrongly propagated as the flag of Khalistan by the Punjab Police. He asked the SGPC to take legal action against the police officials concerned. He also asked the Sikh community to put signs of the Khalsa state on their vehicles and houses to stop the government's alleged propaganda against the flags and symbols related to the Sikh heritage.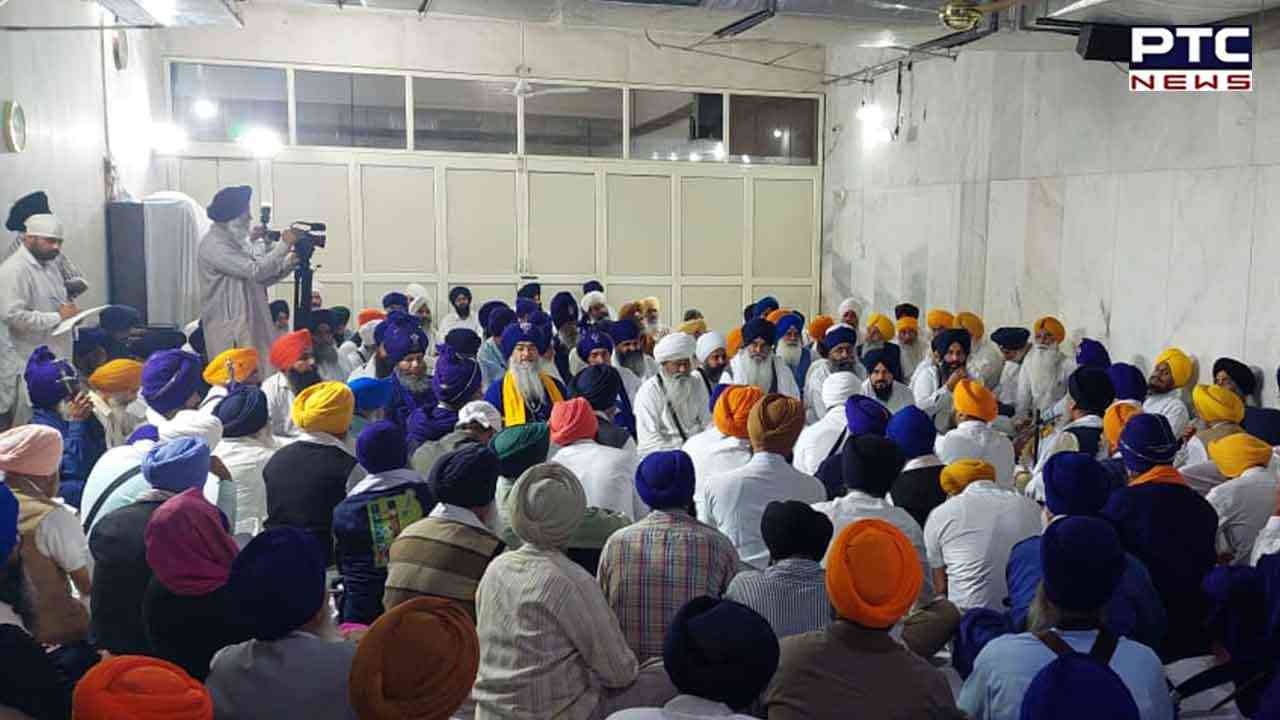 The Akal Takht Jathedar said if the government did not release all innocent youths within 24 hours, then they would launch a worldwide campaign against the atmosphere being created against the Sikh community.
On the occasion, SGPC president Advocate Harjinder Singh Dhami announced a panel of lawyers to extend help to those youths on whom the NSA had been imposed by the Punjab Government and provide other legal assistance to Sikh youths, who are victims of "government repression".
He also appealed to the families of the arrested Sikh youths to immediately contact the SGPC so that legal assistance could be provided to them.
Meanwhile, various speakers, who attended the gathering, unanimously agreed on the need to take a stand at the intellectual and diplomatic level against alleged injustice being done to the Sikh community.
- With inputs from our correspondent