Mumbai, May 24: Arvind Kejriwal, the Chief Minister of Delhi, took a significant step in his fight against the Centre's ordinance on control of services in Delhi by meeting with Uddhav Thackeray, the head of the Shiv Sena (UBT) party, at his residence in Mumbai.
The purpose of the meeting was to seek Thackeray's support for the Aam Aadmi Party's (AAP) cause.
Joining Kejriwal in this meeting were Bhagwant Mann, the Chief Minister of Punjab, as well as Sanjay Singh and Raghav Chadha, members of the Rajya Sabha from the AAP, and Atishi, a minister from Delhi. Kejriwal, who is also the national convener of the AAP, has been actively reaching out to political leaders across the country to gather support against the Centre's ordinance.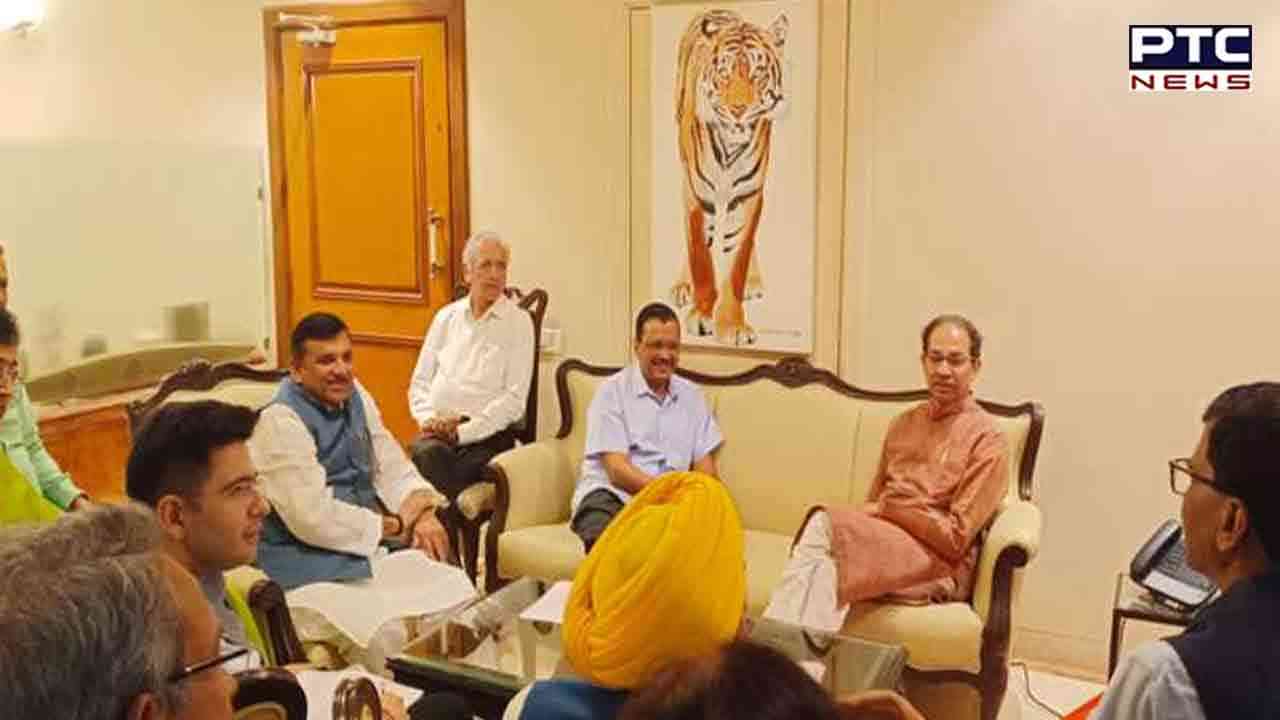 Also Read: New Parliament building inauguration row: AAP, TMC among parties to skip grand opening
Following this meeting, Kejriwal plans to meet with Sharad Pawar, the president of the Nationalist Congress Party (NCP), to further solicit his backing in opposing the Centre's ordinance. This nationwide tour and series of meetings are part of the AAP's strategy to rally support against the ordinance.
Earlier in the week, Kejriwal and Bhagwant Mann visited Kolkata to meet with Mamata Banerjee, the Chief Minister of West Bengal, in their ongoing efforts to gain allies in their fight against the Centre's ordinance.
The Centre had recently issued an ordinance that established an authority for the transfer and posting of Group-A officers in Delhi. The AAP government strongly criticized this move, claiming that it contradicted the Supreme Court's verdict regarding control of services. The Supreme Court had previously ruled that control of services in Delhi, except for police, public order, and land, should be transferred to the elected government. In response to this, the Centre's ordinance aims to establish a National Capital Civil Service Authority to oversee the transfer and disciplinary proceedings of Group-A officers from the Delhi, Andaman and Nicobar Islands Civil Service (DANICS) cadre.
Prior to the Supreme Court's verdict on May 11, the transfer and postings of all officers in the Delhi government were under the executive control of the lieutenant governor. The Centre's ordinance has sparked a new wave of resistance from the AAP, prompting Kejriwal and his team to seek support from regional and national political leaders in their battle against what they perceive as an encroachment on their authority.
- With inputs from agencies