New Delhi, September 14: The INDIA opposition alliance on Thursday announced the boycott of 14 television anchors across various platforms, the decision the BJP compared with 'Emergency'.
The alliance's media committee decided to refrain from participating in programmes hosted by these journalists and declined to send their representatives to debates on channels or platforms led by them.
"As per the resolution adopted during the INDIA Coordination Committee meeting held on September 13, 2023, the INDIA parties will abstain from sending their representatives to participate in the programmes and events hosted by the anchors listed below," stated the media committee of the opposition bloc, as it provided the names of these journalists.
Explaining the rationale behind this action, Pawan Khera, a Congress spokesperson and member of the opposition parties' committee that made this decision during their virtual meeting, said certain channels had essentially created a 'marketplace of hatred' for the past nine years.
"The INDIA parties have chosen not to validate this hate-filled narrative that is eroding our society," he said.
"We don't hold any personal grudge against the anchors, but we won't participate in these activities," said Pawan Khera, adding that they might become subjects of memes or face criticism, but they would not contribute to fostering a hostile environment. "We refuse to be patrons in this marketplace of hatred," he added.
On the other hand, Union Minister Hardeep Puri likened this move to the Emergency period when media freedoms were restricted. "The only instance we have seen of civil liberties being curtailed in India was during the Emergency in 1975," he said in a post on X.
"Open calls for eradication of Sanatan Dharma, FIRs against journalists and boycott of media reflect politics of those dark years of emergency. True face of I.N.D.I.Alliance," he said.
Union Minister Anurag Thakur also criticised the opposition bloc, saying "action demonstrates their desperation".
BJP's IT department head Amit Malviya also took to X to say, "So I.N.D.I Alliance has released a list of journalists, who refused to even bend, when the Opposition expected them to crawl. They should wear it as a badge of honour. More power to them..."
The AAP also shared the list of journalists and the statement issued by the INDIA media committee on its X handle using the hashtag "#JudegaBharatJeetegaIndia".
Iltija Mufti, the media advisor to PDP president Mehbooba Mufti, expressed that the decision to boycott the anchors had been long overdue.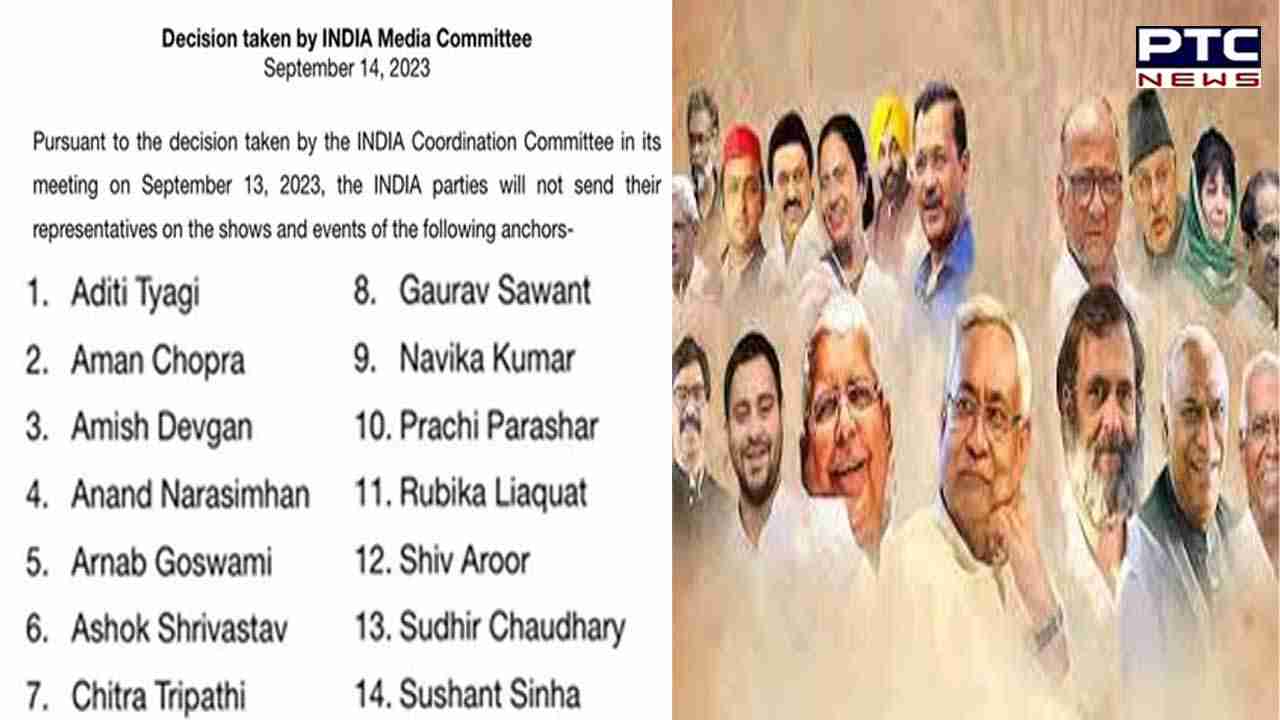 - With inputs from agencies