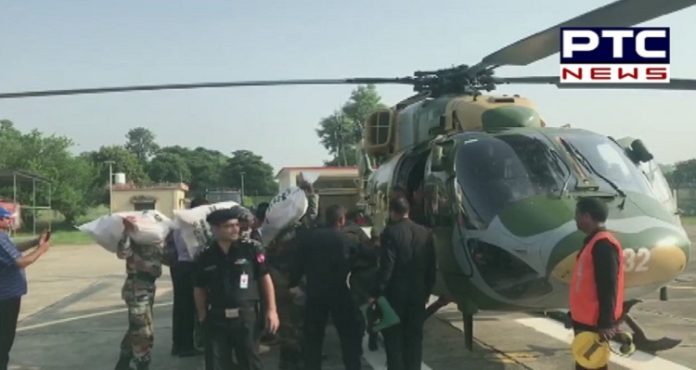 Punjab floods: Three Cheetah Helicopters are taking 36000 parathas and 18000 litres of water to 18 flood-affected villages of Shahkot, in Jalandhar district, on Wednesday. The Jalandhar is dealing with the floods as the water is overflowing and also the dam is damaged which has caused the overflow in the river. The Indian Army is conducting the operation to provide the flood-affected victims with the food and water for their survival. The relief material is being taken in three Cheetah Helicopters at the 18 flood-affected villages of Shahkot, Jalandhar.
Meanwhile, in Jalandhar, around 20 villages in Lohian Khas have been flooded after a dam was damaged due to the overflow of water. Likewise, the locals have said, "the administration is yet to provide us with any help. People are facing problems due to flood. We request govt to put up some tents for the public."
Also Read Jalandhar: One person died, three injured in a road accident near Jalandhar-Amritsar Highway
Likewise, the Punjab floods have been outraged following the heavy rainfall in the past few days and the water released through dams. The people are stranded in some of the areas, and also there are people who are climbing their roofs as the water has entered their home. On the other hand, the water level at Old Yamuna Bridge (Loha Pul) has reached 206.60 meters in Delhi. As per the Upper Yamuna Division, Central Water Commission the water level is expected to reach the peak value of 207.08 meters between 1 to 5 pm on Wednesday.
-PTC News