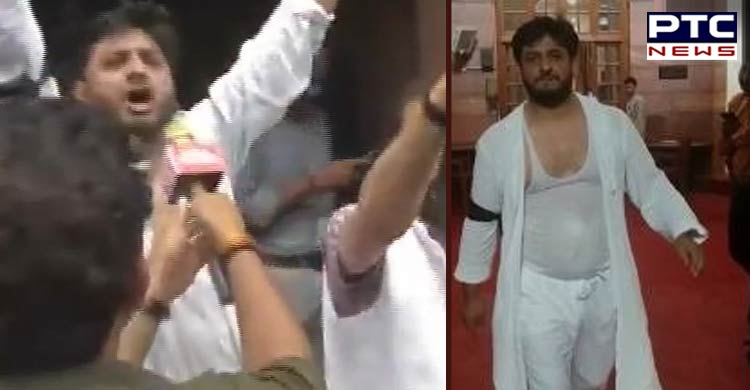 PDP's Rajya Sabha MPs Nazir Ahmad Laway & MM Fayaz stages protest in Parliament premises after resolution revoking Article 370 from Jammu and Kashmir moved by the Union Home Minister Amit Shah in Rajya Sabha. The two PDP MPs were asked to go out of the House after they attempted to tear the constitution by the Rajya Sabha Chairman Venkaiah Naidu. Also, PDP MP MM Fayaz tore his kurta while staging a protest.
https://twitter.com/ANI/status/1158265612977803265
Venkaiah Naidu even asked the Marshals to take them out of the Rajya Sabha. Also, the leader of opposition in Rajya Sabha, Ghulam Nabi Azad, said, he condemns the act of PDP's Rajya Sabha MPs Nazir Ahmad Laway & MM Fayaz, who tried to tear the Indian Constitution. The upper house is underway where the opposition is raising slogans in the Rajya Sabha. However, Amit Shah is ready to answer every question, opposition is adamantly raising the slogans and not let the discussion begin.
https://twitter.com/ANI/status/1158268944224006144
Also Read: Jammu and Kashmir made a Union Territory, Ladakh, UT without Legislative Assembly
Home Minister Amit Shah said, "Under Article 370, three families have looted Jammu and Kashmir for years. Leader of Opposition (Ghulam Nabi Azad) said Article 370 connected Jammu and Kashmir to India, it's not true. Maharaja Hari Singh signed J&K Instrument of Accession on 27 Oct 1947, Article 370 came in 1954". Meanwhile, Satish Chandra Mishra, BSP MP, in Rajya Sabha in support said, "Our party gives complete support. We want that the Bill be passed. Our party is not expressing any opposition to Article 370 Bill & the other Bill".
-PTC News