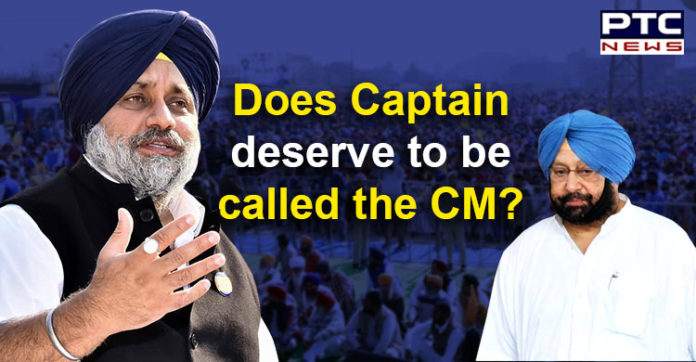 SAD Amritsar Rally: Shiromani Akali Dal (SAD) President Sukhbir Singh Badal on Thursday slammed Captain Amarinder Singh-led Congress Government for not keeping promises that it made during the elections in the state.
In a rally at Amritsar, Sukhbir Singh Badal said that it was the core responsibility of Chief Minister to work for the people and not enjoy. "When Parkash Singh Badal was Chief Minister, he used to spend days in villages", he added.

Adding, Sukhbir Singh Badal said that "It's been three years since Captain Amarinder Singh became CM, but does he deserve to be called the Chief Minister. Forget about reaching out to people, he did not even have the basic courtesy to visit Sri Harmandir Sahib to pray and seekseek blessings. It was only after there was pressure on him that he relented and paid a quick visit to the sanctum sanctorum for few minutes."

He added that "For almost 3-4 months he did not visit Sri Darbar Sahib; when the sangat forced him, only then he came that too for just five minutes. Earlier, when he was elected MP from Amritsar, even then he didn't visited Sri Darbar Sahib."
Sukhbir Badal further said that "He committed sacrilege by taking Gutka Sahib in his hand. Does he deserve to be called a Chief Minister?" While slamming Captain Amarinder Singh, he added that "The one who has no faith in God, will he be able to take any decision for people?"
ਅੰਮ੍ਰਿਤਸਰ ਦੇ ਰਾਜਾਸਾਂਸੀ 'ਚ ਸ਼੍ਰੋਮਣੀ ਅਕਾਲੀ ਦਲ ਦੀ ਪੰਜਾਬ ਸਰਕਾਰ ਖਿਲਾਫ਼ ਰੋਸ ਰੈਲੀ

Live Shiromani Akali Dal Rally || Rajasanshi, Amristsar ||#Live ਅੰਮ੍ਰਿਤਸਰ ਦੇ ਰਾਜਾਸਾਂਸੀ 'ਚ ਸ਼੍ਰੋਮਣੀ ਅਕਾਲੀ ਦਲ ਦੀ ਪੰਜਾਬ ਸਰਕਾਰ ਖਿਲਾਫ਼ ਰੋਸ ਰੈਲੀShiromani Akali Dal Youth Akali Dal Sukhbir Singh Badal Bikram Singh Majithia Dr Daljit Singh Cheema Prof. Prem Singh Chandumajra Harsimrat Kaur Badal #Punjab #ShiromaniAkaliDalConference #Punjab #PunjabNews #SAD #Amritsar

PTC News यांनी वर पोस्ट केले बुधवार, १२ फेब्रुवारी, २०२०
Shiromani Akali Dal has decided to intensify its 'Rosh Dharna' movement against the Congress party with 15 district level dharnas that started from Amritsar today. SAD president Sukhbir Singh Badal would preside over all these protest dharnas.
Here is the schedule of 15 district level dharnas:
February 13 at Amritsar
February 25 at Ferozepur
February 29 at Bathinda
March 4 at Tarn Taran
March 7 at Mansa
March 9 at Anandpur Sahib (Hola Mohalla)
March 10 at Fazilka
March 14 at Hoshiarpur
March 15 at Ludhiana
March 18 at Kapurthala
March 21 at Fatehgarh Sahib
March 23 at Nawanshahr
March 28 at Pathankot
March 29 at Jalandhar
April 4 at Gurdaspur
April 11 at Mohali.
-PTC News