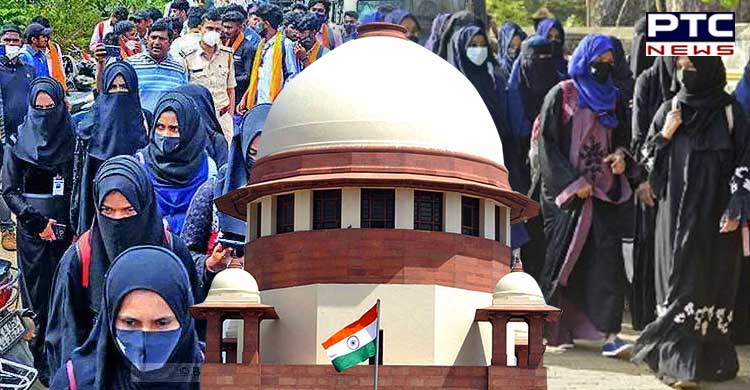 New Delhi, September 22: The Supreme Court on Thursday reserved its verdict on a slew of petitions challenging the Karnataka High Court upholding a ban on Hijab in educational institutes.

After the parties on both sides concluded their arguments, a bench of justices Hemant Gupta and Sudhanshu Dhulia reserved their ruling. The petitioner's side was represented by 21 lawyers, while the respondents were represented by Solicitor General Tushar Mehta, Additional Solicitor General KM Nataraj, and Karnataka Advocate General Prabhuling Navadgi.
The court was hearing multiple petitions challenging the Karnataka High Court's decision to uphold the state government's move to direct educational institutes to prescribe uniforms.
The Karnataka High Court ruling upholding the Karnataka government's order directing strict enforcement of schools' and colleges' uniform rules has been challenged by a number of petitioners in the Supreme Court.
Also Read | After Governor's 'no', Punjab Govt calls another special session on Sept 27
One of the pleas had alleged "step-motherly behaviour of the government authorities which has prevented students from practising their faith and resulted in an unwanted law and order situation".
The plea added that the High Court "had vehemently failed to apply its mind and was unable to understand the gravity of the situation as well as the core aspect of the Essential Religious Practices enshrined under Article 25 of the Constitution of India".
A Karnataka High Court bench comprising of Chief Justice Ritu Raj Awasthi, Justice Krishna S Dixit, and Justice JM Khazi previously held that the prescription of the uniform is a reasonable restriction to which students cannot object and dismissed various petitions challenging a ban on Hijab in educational institutions as being without merit.
Also Read | Police arrest two LeT terrorists in J-K; weapons, hand grenade seized
-PTC News