19th Asian Games at Hangzhou: Indian shooters once again showcased their prowess on the international stage and continues to dominate at the ongoing Asian Games in Hangzhou by clinching  gold medal at the 50 m rifle men's 3P event on Friday. The trio of Swapnil Kusal, Aishwary Pratap Singh Tomar and Akhil Sheoran delivered a stellar performance, securing the top position. 
With the impressive victory, India secured spotlight of ongoing Asian Games by securing 1769 points. The silver medal was won by 1763 points and the bronze medal went to South Korea with 1748 points. With their score, India also broke the world record of 1761 points held by USA since last year.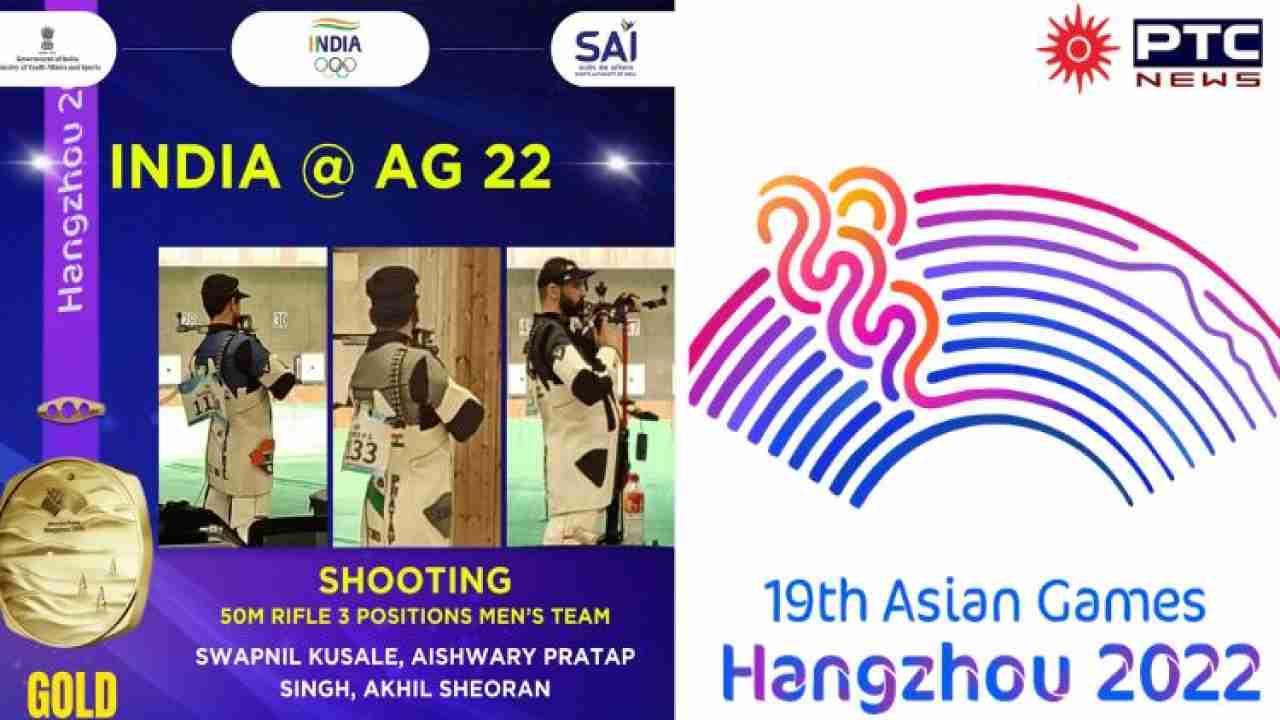 SAI Media also took to their Twitter handle and wrote, "1st gold for the day India's M 50m Rifle 3Ps team, featuring the trio - Aishwary Pratap Singh Tomar, @KusaleSwapnil, and Akhil Sheoran, secured the gold medal today, beginning the day on a golden note! Let's shower our champions with applause and heartfelt congratulations for this remarkable achievement! #Cheer4India #Hallabol #JeetegaBharat #BharatAtAG22."
Notably, this is India's 15th medal at the Asian Games at shooting at the ongoing Hangzhou meet. 
INDIA MEDAL TALLY 
India has a total of 27 medals at the Asian Games Hangzhou
Gold Medal – With the remarkable achievement in the ongoing Asian Games, India secured seven gold medals so far. 
Silver Medal- Showering our champions with applause and heartfelt congratulations, India secured nine silver medals. 
Bronze Medal- India continues to dominate at Asian Games with eleven bronze medals. 


Unstoppable Indian women shooters 
Indian women shooters the countries unstoppable run at shooting as they secured a silver medal in the women's 10 m air rifle pistol team final at the ongoing Asian Games on Friday. The trio of Esha Singh, Palak and Divya Subbaraju with their best-ever performance at the continental meet in this discipline secured 1731 points, India managed to get their hands on silver, falling just five short of gold, which was won by China with 1736 points. Chinese Taipei secured the bronze medal with 1723 points. 
As the competition progressed, India found itself in a promising position for gold in the men's 10m air pistol team event after six rounds. However, in the individual category, no Indian athlete was currently in a qualifying position.
- With inputs from agencies
Join Whatsapp Channel