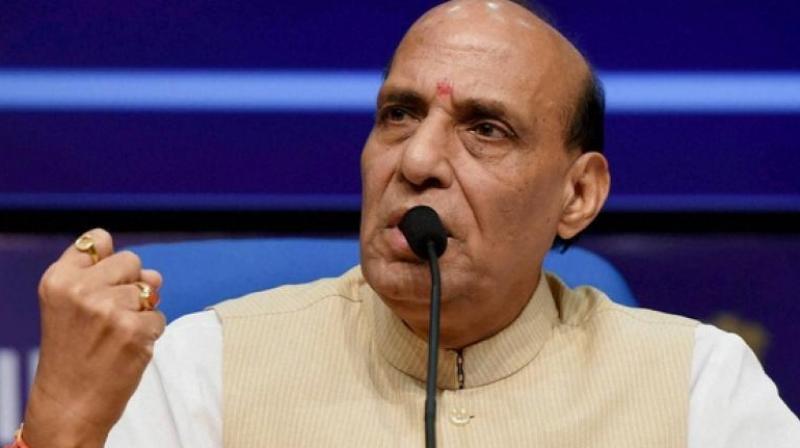 New Delhi/Raipur: Home Minister Rajnath Singh on Tuesday directed acting chief of the Central Reserve Police Force (CRPF) and a top security officer to stay put in Chhattisgarh to ensure coordinated "targeted" operations against the Naxals, apparently unhappy over the functioning of the paramilitary force.
The Home Minister's directive came as he was apparently unhappy over the functioning of the CRPF which has faced reverses in the recent past.
On Wednesday, the Home Ministry also sought a report on the Sukma attack from CRPF.
He has conveyed to the CRPF brass to resolve some "inherent" problems like weaponry, logistics and intelligence gathering mechanism to ensure lethality and better results by avoiding casualties in anti-Naxal operations, sources said.
The home minister asked acting director general of the CRPF, Sudeep Lakhtakia and senior security advisor in the home ministry, K Vijay Kumar to stay put in Chhattisgarh to ensure coordinated operations against the Naxals, they said.
The two officers will stay in Chhattisgarh till a robust anti-Naxal operation is carried out against those involved in the killing of 25 CRPF personnel yesterday, official sources said.
Lakhtakia and Kumar will ensure targeted action, based on pin-pointed intelligence, by the security forces against the Naxals, the sources said.
Kumar is a former chief of the CRPF and he is credited for elimination of forest brigand Veerappan in 2004 in Tamil Nadu.
"Senior officials visited the spot and took stock of the incident. They also spoke to CRPF jawans at their camp in Burkapal," Special Director General (anti-maoist operations) D M Awasthi told PTI.
Awasthi was also among the officials who visited the attack spot.
Kumar and Lakhtakia were accompanied by Chhattisgarh's principal secretary (Home) BVR Subramaniam, director general of police A N Upadhyay and other MHA, para-military and state police officials during the visit.
Awasthi said while Kumar and Lakhtakia were staying back in Sukma for Tuesday, other senior officials returned to Raipur.
The home minister today said in Raipur that the government will review its strategy on battling the Naxalites.
As many as 25 CRPF personnel were killed on Monday in an attack by the Naxals in Chhattisgarh's Sukma district.
On March 11, 12 paramilitary personnel were killed by the Naxals in the same district.
— PTI