The VVIP BJP Leader Darshan Nagpal brazenness costs a life.
Days after the Haryana BJP chief's son was accused of stalking and attempt to kidnapping the daughter of an IAS officer, a BJP municipal council chief becomes the cause of death of a patient in the ambulance.
BJP municipal council chief, Darshan Nagpal allegedly stopped an ambulance that hit his car, resulting in the death of the patient who could not get treatment in time.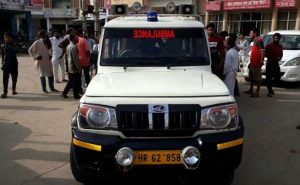 The complainant, Arun Kumar said, he was taking his uncle, Naveen Kumar, to a cardiologist when their ambulance hit the car of BJP municipal council chief, Darshan Nagpal, from the rear.
The BJP leader chased the ambulance down, blocked its way and refused to let it pass for about half an hour. He stopped the ambulance near the Lal Batti Chowk in Hisar and argued with the ambulance driver for over 30 minutes asking for compensation. Arun said, his uncle died before the doctor could attend him and treat.
Nagpal denying the allegation said he had a word with the driver after it reached the hospital.
"The ambulance driver hit my car from the rear near the old bus stand. The driver stopped his vehicle to check it, but as there was a patient inside we asked him to leave. All the allegations against me are baseless, and I am ready to join the police investigations," Nagpal added.
Superintendent of Police (SP) Fatehabad, Kuldeep Singh, said they have received a complaint from Sitaram and Arun Kumar, Patient Naveen Soni's relatives. "The police are investigating the matter. No case has been registered so far."
In May and April, an ambulance was stuck in traffic as police made way for Karnataka home minister G Parameshwara in central Bengaluru another ambulance carrying a bleeding child was allegedly stopped for a few minutes near Indira Gandhi Indoor Stadium in central Delhi since the road was barricaded for VIP movement, respectively.
—PTC News