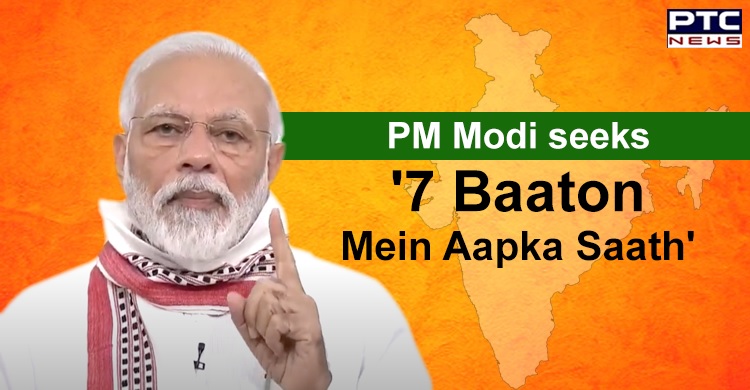 Prime Minister Narendra Modi on Tuesday announced that the lockdown will be extended across India till May 3. Meanwhile, he also listed 7 tasks to fight the pandemic. First, taking care of elderly people especially if they are not well. He said that we need to save our elders from the novel coronavirus. Second, adhere to the lockdown guidelines and to practice social distancing.

Third, follow AYUSH ministry tips to boost the immunity system that helps to combat coronavirus. Fourth, download the Aarogya Setu app and ask others to the same. Fifth, look after the poor people and if possible feed them with the food. Sixth, don't sack people from the jobs in the time of coronavirus crisis.
https://www.facebook.com/ptcnewsonline/videos/805699026606850/?t=0
Seventh, respect the frontline workers of coronavirus who are working as fighters. He said that "I urge people to respect corona warriors - doctors, nurses, sweepers, and police personnel." Meanwhile, PM Narendra Modi also said that "Coronavirus testing is being done in over 220 labs. According to the world's experience of tackling coronavirus, 1500-1600 beds are needed when cases reach 10,000. We have over 1 lakh beds in India & over 600 hospitals for treating COVID patients. We're expanding these facilities."

While announcing the lockdown extension, PM Modi said that "While making new guidelines, we have kept in mind the interests of the poor and daily wage workers. Harvesting of Rabi crops is also underway. Central Government and State governments are working together to ensure that farmers face minimal problems."
Also Read | Coronavirus in India: PM Narendra Modi extends nationwide lockdown till May 3
He also said that "Till April 20, all districts, localities, states will be closely monitored, as to how strictly they are implementing norms. The states which will not let hotspots increase, they could be allowed to let some important activities resume, but with certain conditions."
-PTC News