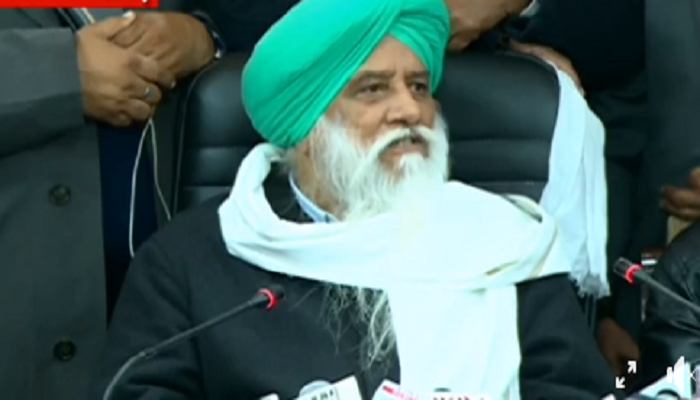 Farmers Protest: Farmer leader Balbir Singh Rajewal on Saturday said that the government was blaming farmers for spreading coronavirus but the reality was that the governments were failing miserably in providing health facilities.

Slamming the government, he said that it was doing nothing but lying. On the threat of coronavirus in Kisan Morcha areas, Balbir Singh Rajewal said that the allegations of Haryana Chief Minister Manohar Lal Khattar that farmers were spreading coronavirus were baseless.
Also Read | Second Wave of Coronavirus in India: PM Narendra Modi a 'super-spreaders of COVID-19, says IMA Vice President
He said that the farmers who have been sitting at the Delhi borders have been working in the organizations for many years. "We would never want to cowardly kill our peers," he said.
Also Read | Mucormycosis: AIIMS director lists three key factors to prevent 'black fungus' infection
Regarding the recent deaths of two farmers in the Kisan Andolan, Balbir Singh Rajewal said that Balbir Singh, a farmer from Patiala had died due to high blood sugar and a farmer from Ludhiana died due to heart disease. The deaths of the two farmers were declared by the Sonepat hospital administration as COVID, he said.
Balbir Singh Rajewal said that the hospital administration could not conduct an autopsy in the Covid case but they had violated world-class guidelines. The government has not made the kind of arrangements made by the farmers to protect them from COVID-19 in the farmers' protest. He said that we are giving lakhs of rupees to the farmers every day.
He said that a 10-bed hospital has been set up at the Singhu border and oxygen cylinders have also been installed.
Medicines worth lakhs of rupees were being distributed daily but no provision has been made by the government, he said, adding that if the government felt that the agitation in the name of Covid would be discredited and the farmers would be uprooted then it was their misunderstanding.
Click here to follow PTC News on Twitter
-PTC News