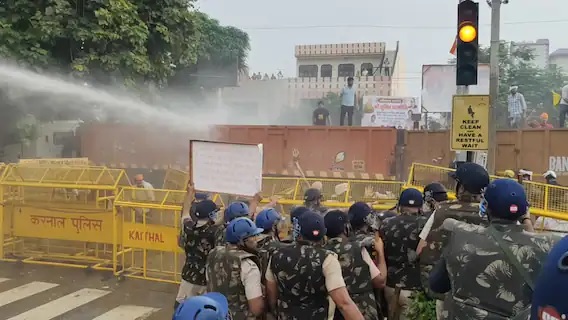 After crossing several barricades and bearing water canons, protesting farmers, including Gurnam Singh Charuni and Rakesh Tikait, reached the Mini-Secretariat in Karnal late Tuesday evening and laid siege to it. Women in large numbers are also part of the protest.
Senior BKU leader Rakesh Tikait said they would erect tents at the protest site and would stay put till their demands, including compensation to kin of the deceased farmer, job to one of his family members; Rs 2 lakh relief to the injured and action against the Karnal SDM, who gave orders for 'brutal' action on protesting farmers, were not fulfilled.
However, Rakesh Tikait said their talks with the administration would continue, but they would not go back till their demands were fulfilled.

Another farmer leader, Yogendra Yadav, tweeted, "Like Kauravas' refusal to part with just five villages, Manohar Lal Khattar government did not even accept the minimum demands of the farmers. The government's obstinacy has thwarted three rounds of talks."  Yogendra Yadav was among the leaders in the 11-member delegation that met the administration.
Earlier, as talks with an 11-member committee of farmer leaders and Karnal administrative officials failed, farmers started marching towards the Mini-Secretariat as per the schedule. The farmers' committee was invited to hold talks with the district administration ahead of their proposed call to gherao the Mini-Secretariat.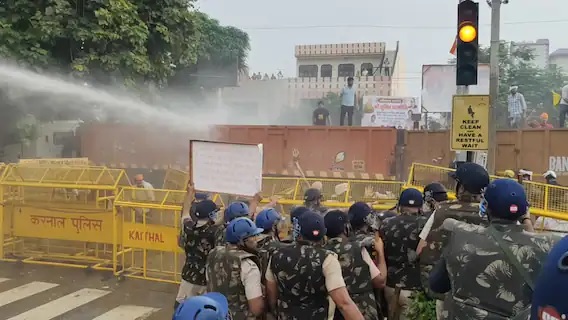 Also Read | Farmers' protest: Centre's farm laws will threaten farmers' livelihood, says Rakesh Tikait

In the morning, hundreds of farmers from across several districts of Haryana and  neighbouring states gathered in Anaj Mandi in Karnal following the call given by the Samyukt Kisan Morcha to gherao the Mini-Secretariat in protest against the police lathicharge on farmers on August 28.
Also read | Karnal Mini-Secretariat gherao: Gurnam Charuni, Yogendra Yadav court arrest, released
Several farmers and policemen had sustained injuries. One farmer had also died after the assault.
To maintain law and order, Haryana had suspended mobile Internet services in Karnal, Kurukshetra, Kaithal, Jind and Panipat districts from Tuesday midnight. As many as 40 companies of security forces, including 10 companies of the Central Armed Police Forces (CAPF), have been deployed in the town. Section 144 was also enforced.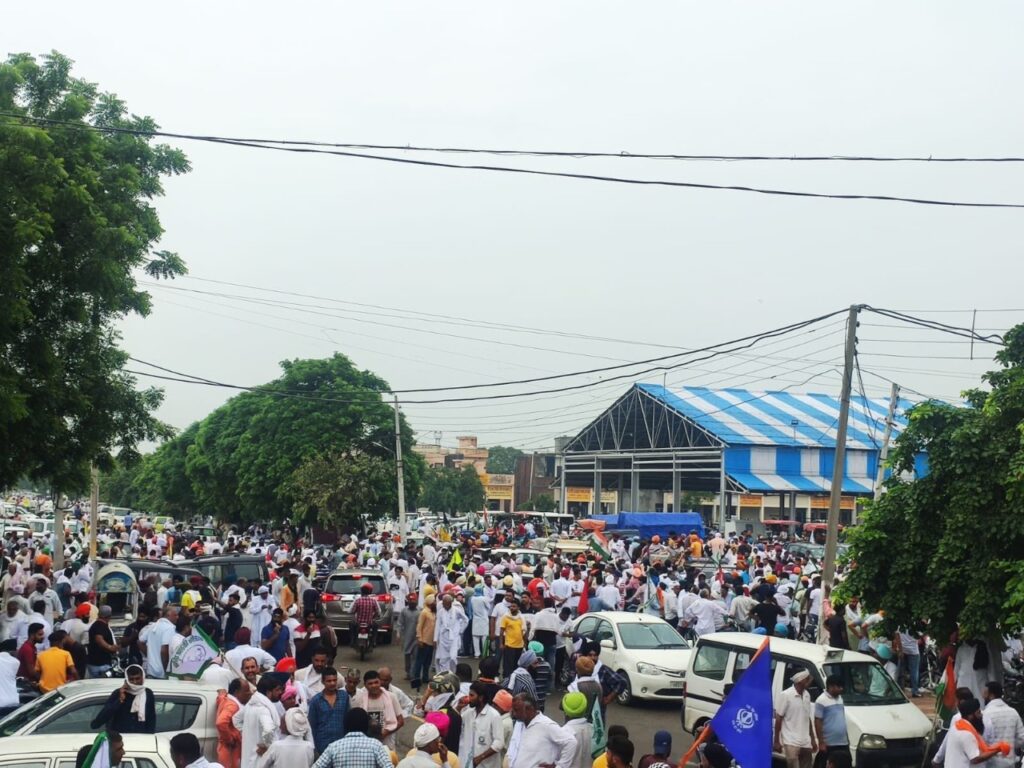 -PTC News