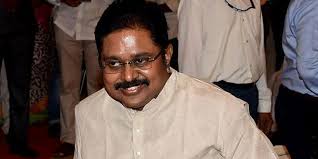 Chennai: AIADMK deputy general secretary T TV Dinakaran on Monday alleged that the Income Tax department and Election Commission were working in tandem with political rivals to decimate his party.
Taking his political fight straight to the Centre for the first time after the R K Nagar bypoll was cancelled last night, he said, "DMK, O Panneerselvam, BJP, Income Tax and Election Commission, all of them are working as a coalition".
"Everybody has joined hands to decimate our party and that is the truth," he said, alleging that the poll body and the tax department were playing into the hands of his party's political rivals.
Speaking to reporters here after chairing a party meeting to take stock of the political situation following the bypoll cancellation, he claimed that efforts were being made to destroy the party and topple the government ever since "Amma" passed away in December last.
He said pressure was being mounted on the party and government for that purpose, and recalled instances like the Leader of the Opposition and DMK working chief M K Stalin taking on the government vehemently.
Condemning the bypoll cancellation in a tweet, he said it was a "murder of democracy." In his own style, Dinakaran said rescinding of the bypoll was an "experience" for them and not a "setback."
Distancing the ruling party and the regime led by it from the Income Tax raids targeting Health Minister C Vijayabaskar, he said it had "nothing" to do with the R K Nagar bypoll.
Based on documents seized by I-T department from an associate of Vijayabaskar on April 7, an amount of Rs 89 crore was allegedly chanelled to R K Nagar Assembly segment for distribution to voters.
Stoutly denying payout to voters in R K Nagar, Dinakaran said cases have been filed by authorities on the basis of seizure of cash for bonafide poll expenditure. He said the DMK too faced such cases.
He said the government "will start implementing" poll assurances even before the byelection is held in R K Nagar.
AIADMK mouthpiece Dr Namadhu MGR today said the tax raid against Vijayabaskar and Sarath Kumar, an ally of the ruling party, showed that the BJP-led Centre was "misusing" the Income Tax Department and Election Commission.
The saffron regime is using such autonomous bodies as a "weapon," against its political rivals and "blackening" independent institutions in the process, it said.
On April 7, questioning the timing of the tax raids, Dinakaran had alleged that the "grounds" were being prepared by his political rivals to countermand the bypoll.
Speaking to reporters, he had said, "Cant they do it after the bypoll? Enemies and betrayers by ganging up are doing this to cancel the byelection."
— PTI