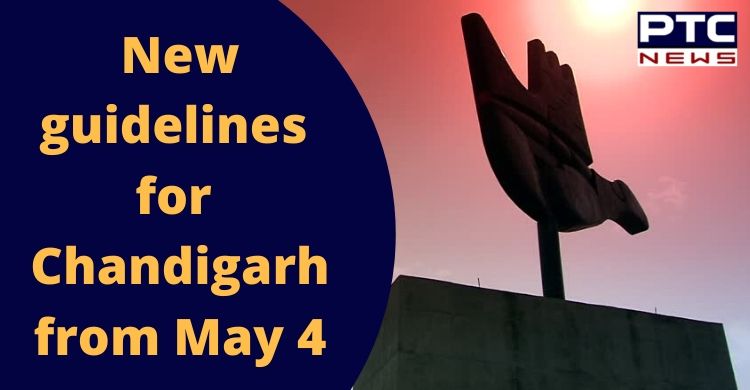 Chandigarh Administration on Saturday decided that the curfew in the city will be lifted on the midnight of May 3 while the lockdown period will be extended by two weeks. Meanwhile, only 6 affected pockets including Bapu Dham Colony in Sector 16 and Sector 30-B to remain in containment zone and hence remain totally sealed.

The rest of the city will be in a Red Zone while some relaxations as per MHA guidelines for red zones will be given. Earlier, the whole city was designated as a containment zone, for which the guidelines were much more strict than the Red Zone. Now, all the Sector Inner Markets will remain open from 07:00 AM to 07:00 PM.

All individuals and vehicles will be allowed movement in the city between 07:00 AM to 07:00 PM without passes, as per the protocol (protocol means odd-even system). Also, only 1 driver + 2 persons (total 3 maximum) are allowed to move in a car and a single rider on 2 wheelers.
https://twitter.com/manuparida1/status/1256632207507992576?s=20
Meanwhile, the Odd-Even formula will be applied in respect of both opening the of shops and the use of vehicles from May 4. For example, only shops ending with an even number such as 0, 2, 4, 6, 8, etc will be allowed. Similarly, similarly the vehicles with registration no. whose last digit is 0, 2, 4, 6, 8, etc will be allowed. The rotation will continue accordingly. (0 is an even number)
https://twitter.com/manuparida1/status/1256597026755588096?s=20
Also, the essential shops like groceries, vegetables, medicines, etc can remain open every day. However, restaurants/eating places will remain closed. Likewise, the delivery of cooked food by online agencies will not be allowed. Apni Mandis will remain closed while the distribution of fruits and vegetables by the Government buses will continue.
https://twitter.com/vpsbadnore/status/1256613376714665987?s=20
Big shopping malls and complexes such as in Sector-17 Market or those on sector dividing roads will remain closed. These include markets on sector dividing roads mean like the ones on Madhya Marg, sector 22 opposite parade ground, sector 35 hotels line, etc. A Committee under AK Sinha, Finance Secretary has been constituted to decide grievances regarding the opening of the shop. The Sampark Centres will remain open under the new guidelines.
Also Read | MHA allows movement of migrant workers, tourists, students stranded at different places by special trains
All government offices will be functional as per the norms allowed by the Government of India. However, Schools, Colleges, and educational institutions will remain closed. For all private offices and factories etc, the guidelines as detailed by the MHA for Red Zone districts would be applicable. Liquor shops would be open in the city. Meanwhile, the UT Adviser Manoj Parida has clarified that people from Mohali and Panchkula can enter Chandigarh without a pass. For others, the movement pass is a must for entering Chandigarh.
-PTC News