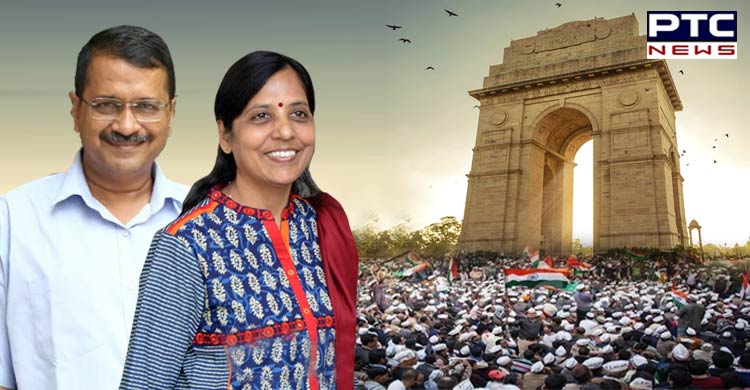 Delhi Election Results 2020: While Aam Aadmi Party (AAP) has gained a huge lead on counting day, Sunita Kejriwal, wife of Delhi Chief Minister Arvind Kejriwal is celebrating her birthday on Tuesday. The volunteers and well-wishers took to Twitter to extend birthday wishes and congratulatory messages to Sunita Kejriwal who had campaigned a lot for her husband.
Arvind Kejriwal and Sunita Kejriwal were officers of the Indian Revenue Service. Aam Aadmi Party workers across the nation are celebrating party's huge victory in Delhi Assembly Elections 2020.

Congratulating Arvind Kejriwal, BJP MP Gautam Gambhir said, "We accept Delhi Election Results and congratulate Arvind Kejriwal and the people of Delhi. We tried our best but, probably, we could not convince the people of the state. I hope Delhi develops under the chief ministership of Arvind Kejriwal."
Likewise, Madhya Pradesh Chief Minister Kamal Nath said that Congress were already aware of it. He raised a question - what happened to BJP which was making big claims? Meanwhile, Subhash Chopra, Delhi Congress Chief stated that "I take responsibility for the party's performance, we will analyse the factors behind this. Reason for the drop in our vote percentage is politics of polarization by both BJP and AAP."
https://www.ptcnews.tv/delhi-assembly-election-results-2020-updates-aap-bjp-congress/
Also, Congress MP Adhir Ranjan Chowdhury stated that everyone knew that Aam Aadmi Party will return to power for the third time. He added that "Congress's defeat will not send a good message. The victory of AAP against BJP and its communal agenda is significant."
-PTC News