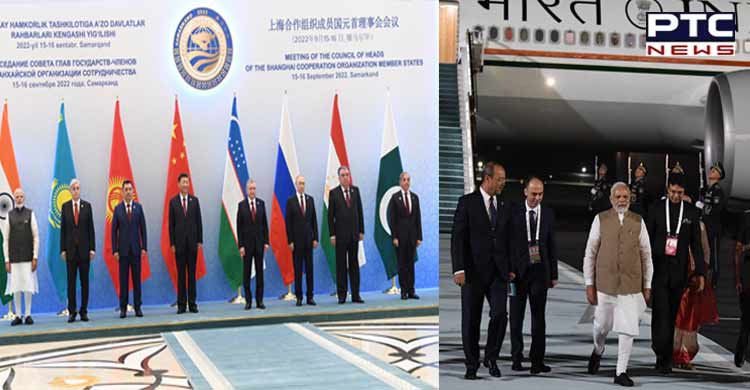 Samarkand (Uzbekistan), September 16: Uzbekistan President Shavkat Mirziyoyev on Friday greeted Prime Minister Narendra Modi as the 22nd Summit of the Council of Heads of the Shanghai Cooperation Organisation Member States (SCO-CoHS) began at Samarkand on Friday.
Prime Minister Narendra Modi, Chinese President Xi Jinping, Russian President Vladimir Putin, Pakistan PM Shehbaz Sharif, Uzbek President Shavkat Mirziyoyev and other leaders also posed for a group photograph at Shanghai Cooperation Organisation (SCO ) Summit in Uzbekistan's Samarkand.
The Prime Minister's Office tweeted the pictures of PM Modi meeting the leaders of other SCO member states in Uzbekistan on its official Twitter handle. Ahead of the SCO State of Heads summit, the security in the region is beefed up and air patrolling was underway at the congress centre in Samarkand, Uzbekistan.
Also Read | Crude oil supply to India to continue; bilateral trade will strike new records: Russian envoy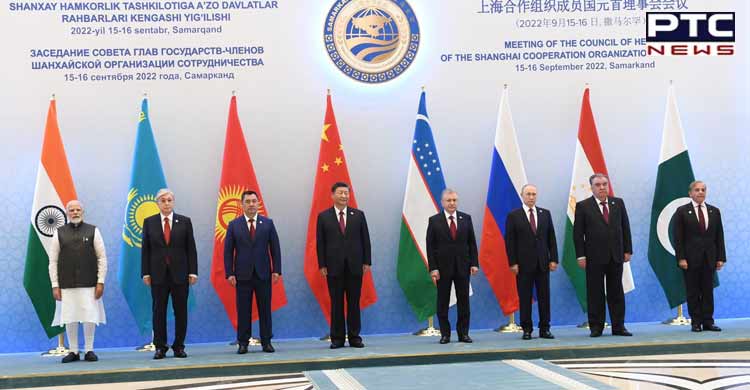 The summit commenced on Friday in Samarkand, Uzbekistan, after two years of the Covid-19 pandemic. Prime Minister Narendra Modi arrived in Samarkand on Thursday evening to take part in the SCO Summit.
During the summit, the leaders are expected to review the activities of SCO and discuss prospects for future cooperation. Uzbekistan is the current chair of SCO 2022 and India will assume the annual rotational presidency of the SCO at the end of the Samarkand Summit.
Prime Minister Narendra Modi is expected to meet Russian President Vladimir Putin and Uzbekistan President Shavkat Mirziyoyev on the sidelines of the SCO summit and is likely to have some other bilateral meetings.
This is the first in-person SCO Summit after the Covid pandemic hit the world. The last in-person SCO Heads of State Summit was held in Bishkek in June 2019.
Also Read | Mumbai Police team in Punjab to interrogate Moosewala's killers who planned to attack Salman Khan
The SCO currently comprises eight Member States (China, India, Kazakhstan, Kyrgyzstan, Russia, Pakistan, Tajikistan and Uzbekistan), four Observer States interested in acceding to full membership (Afghanistan, Belarus, Iran, and Mongolia) and six "Dialogue Partners" (Armenia, Azerbaijan, Cambodia, Nepal, Sri Lanka and Turkey).

— Source ANI/Edited by PTC Desk