In her classic 'Sikh Supermom' style, Harkirat Kaur Kukreja celebrated the 400th Anniversary of Guru Tegh Bahadur along with her family by presenting a beautiful portrait of the 9th Sikh Guru to the Union Minister Hardeep Singh Puri.

She was accompanied by her husband, Harjinder Singh Kukreja, an entrepreneur and well-known figure in Sikh circles and beyond. Harkirat and her family are on a life mission to generate interest in Guru Tegh Bahadur Sahib, who composed 116 shabads, 15 ragas, and his bhagats are credited with 782 compositions that are included in Sri Guru Granth Sahib.
Also Read | Punjab witnesses power cuts amid severe coal shortage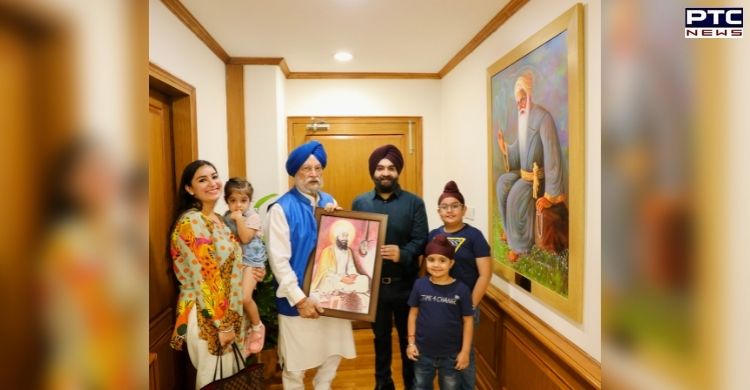 Harkirat Kaur Kukreja said, "As the Sikh world is celebrating the 400-year Prakash Utsav of the 9th Guru of the Sikhs, I was happy to celebrate the historic milestone in my humble way by presenting a painting of Guru Tegh Bahadur Sahib to the Union Minister who is also a Sikh and following the footsteps of the Guru played an expansive role in bringing back Saroops of Guru Granth Sahib and endangered Sikhs and Hindus from war-torn Afghanistan."
Also Read | Lakhimpur Kheri violence: Ashish Mishra arrives Crime Branch office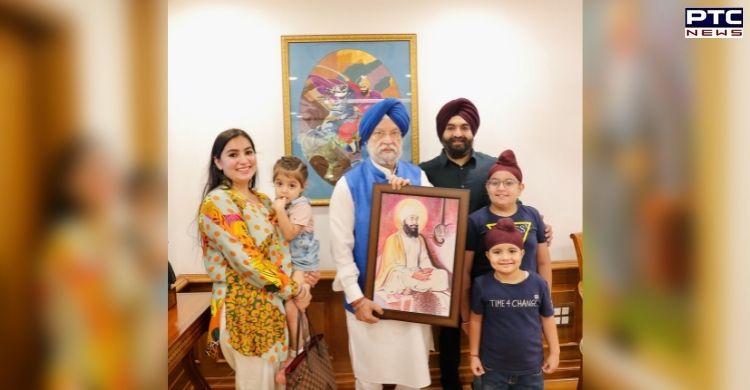 "The Minister has upheld the teachings of the Guru by rescuing terrorised Sikhs and Hindus from Afghanistan," she added.

"Thank you for bring­ing Guru Sahib's painting to my office. Our government has celebrated the Gurpurab in a grand way across the country and even in our Embassies and High Commissions across the world," said Hardeep Singh Puri.
"I wish to fol­low the path of Guru Tegh Bahadur in my en­deav­our to be a social influencer in these times," said Harkirat Kaur Kukreja.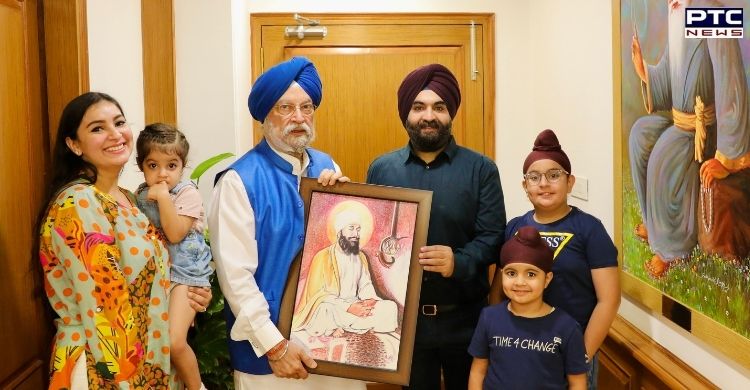 The world knows about Guru Tegh Bahadur's unique, unparalleled and supreme sacrifice for the oppressed Kashmiri Pandits and as the 9th Guru of Sikhism but knows very lit­tle about his trav­els.
"Guru Tegh Bahadur was a great traveller who propagated the mis­sion of love, peace and humanitarianism. I wish to follow the path of the great Guru in my endeavour to be a world traveller and social media influencer in modern times", said Harkirat outlining her life mission.
-PTC News