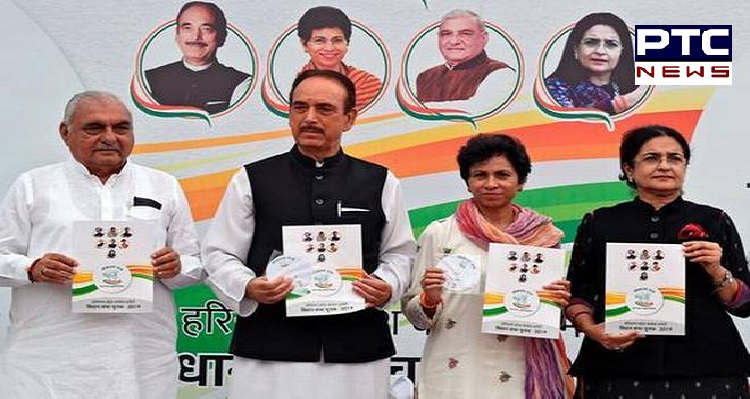 Congress on Friday released its party manifesto ahead of the Haryana Assembly Elections 2019, promising farm loan waiver, reservation in private companies for local youth and benefits for women, including jobs, pension, and free bus rides, within 24 hours of assuming power. The manifesto was released in the presence of Congress Haryana in-charge Ghulam Nabi Azad, former CM Bhupinder Singh Hooda, Haryana unit chief Kumari Selja and the manifesto committee chairperson Kiran Choudhry.
https://twitter.com/INCHaryana/status/1182588020676911105?s=20
The manifesto is promising 33 percent reservation in government and private sector jobs. Also, the manifesto has promised free transportation in Haryana Roadways buses for ladies. Meanwhile, the manifesto promises that it will provide Rs 5,100 monthly pension for widows, differently-abled, divorced and unmarried women.
Also, Read | Chandigarh: Haryana man pays a bribe to escape challan, files plaint against 2 cops
Likewise, the same amount will be paid as an old-age pension for those aged 55 years and above. Also, Congress has promised the revival of the Sutlej-Yamina link canal project.
Congress Manifesto:
For Women:
- 33% reservation in government, private jobs
- Freeride in Haryana Roadways bus
- Widows, differently-abled, divorcees and those unmarried to get Rs 5,100 monthly pension
- Rs 2,000 'Chulha Kharcha' for those who fall in BPL category
Farmers:
- Free power use for those owning up to 2 acres
- Rs 12,000 per acre relief in case of crop failure
- Restoration of Sutlej-Yamuna link canal project
- Hansi-Butana and Dadupur-Nalvi canal projects
Youth:
- 75% quota for private sector companies
- One job per family
- Unemployment allowance of Rs 7,000 to graduates and Rs 10,000 to post-graduates
Education:
- University and Medical college in all the districts
- Free Wi-Fi in Government Institutions
- Sports university in Bhiwani
-PTC News