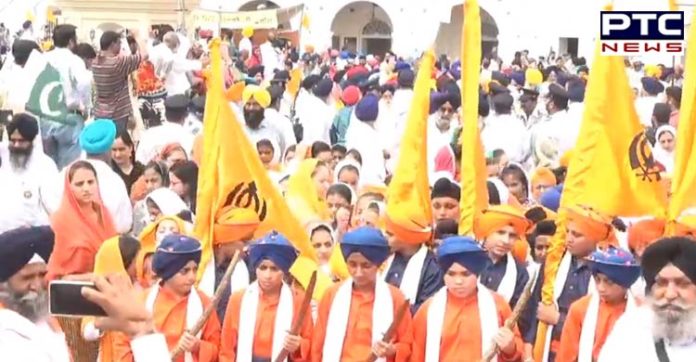 The International Nagar Kirtan has begun from Sri Nankana Sahib to mark 550th Prakash Purab of Guru Nanak Dev Ji. The Nagar Kirtan begins after the Akhan Path was finished and the traditional Bhog was offered. It all started with the celebration, chants of Guru Nanak Dev Ji, bands, slogans and all in all excitement. Bole So Nihal, Sat Sri Akal, that's how the International Nagar Kirtan was kicked-off.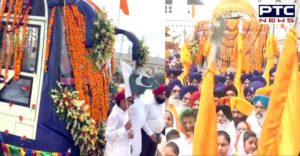 Meanwhile, the President of DSGPC, Manjinder Singh Sirsa was present too. The devotees were gathered in a huge number. The historical moment with the International Nagar Kirtan has started.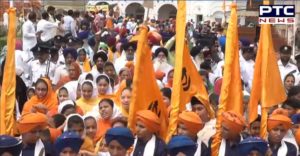 Pakistan SPGC President Satwant Singh, gave wishes to everyone, for the International Nagar Kirtan and thanked Government of Pakistan to let it organize. He even said that we (Pakistan SGPC) and Pakistan Government is always there to welcome people to Sri Nankana Sahib.
ਸ੍ਰੀ ਗੁਰੂ ਨਾਨਕ ਦੇਵ ਜੀ ਦੇ 550ਵੇਂ ਪ੍ਰਕਾਸ਼ ਪੁਰਬ ਦੀਆਂ ਖੁਸ਼ੀਆਂ ਮਨਾਉਣ ਦੀ ਹੋਈ ਸ਼ੁਰੂਆਤਕੌਮਾਂਤਰੀ ਨਗਰ ਕੀਰਤਨ 'ਤੇ ਪੀਟੀਸੀ ਨਿਊਜ਼ ਦੀ ਐਕਸਕਲੂਜ਼ਿਵ ਕਵਰੇਜ#Live

PTC News यांनी वर पोस्ट केले बुधवार, ३१ जुलै, २०१९
Also Read: Kartarpur Corridor talks: India to spend Rs 500 crore to build the Kartarpur Corridor, says sources
Manjinder Singh Sirsa said, "this is indeed a beautiful vision to be seen as it can't be brought with money". The birthplace of Guru Nanak Dev Ji is Sri Nankana Sahib is witnessing the gathering of thousands of people on a historical day.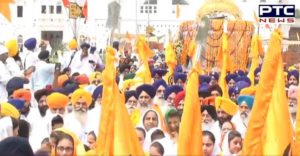 The people are so happy and so excited over the Guru Nanak Dev Ji as Kartarpur Corridor is opening. Shiromani Gurudwara Prabandhak Committee is giving whishes to the people, for the historical moment.
-PTC News