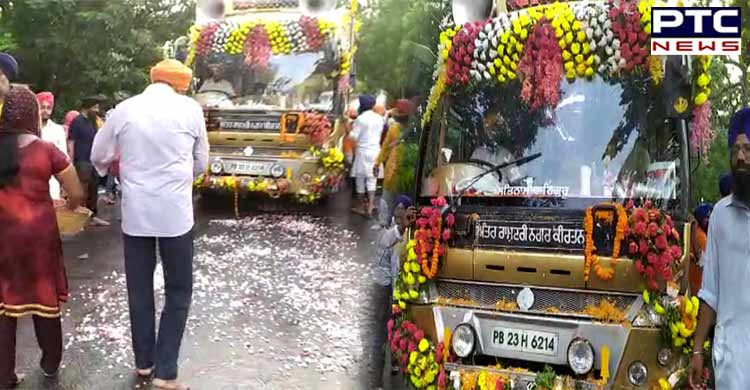 The International Nagar Kirtan on Sunday was welcomed with the huge prosperity at Jamshedpur in Jharkhand. The Palki Sahib visited Jharkhand on Saturday from Kolkata, West Bengal, where in fact, West Bengal Chief Minister Mamata Banerjee welcomed the International Nagar Kirtan and also extended the prayers to the Palki Sahib. She further met the Sikh devotees present there.
https://www.facebook.com/ptcnewsonline/videos/329458824469514/?t=86
The International Nagar Kirtan will now move ahead to the next destination, i.e. Ranchi in Jharkhand, on Monday. It is pertinent to mention that the International Nagar Kirtan is here in India to mark the 550th birth anniversary of Guru Nanak Dev Ji. Also, the Palki Sahib is coming all the way from Sri Nankana Sahib in Pakistan, which is said to be the birthplace of Guru Nanak Dev Ji.
Also Read: International Nagar Kirtan departs from Kharagpur, West Bengal to Jamshedpur, Jharkhand
The Palki Sahib was scheduled to cover the distance across India and conclude the journey at Sultanpur Lodhi. It started from Sri Nankana Sahib, from where it entered India from the Wagah Border in Amritsar on August 01, 2019. The International Nagar Kirtan in Amritsar was welcomed by Shiromani Akali Dal President Sukhbir Singh Badal, Union Minister Harsimrat Kaur Badal, Bikram Majithia and other key leaders, including Delhi Sikh Gurudwara Management Committee President Manjinder Singh Sirsa.
-PTC News