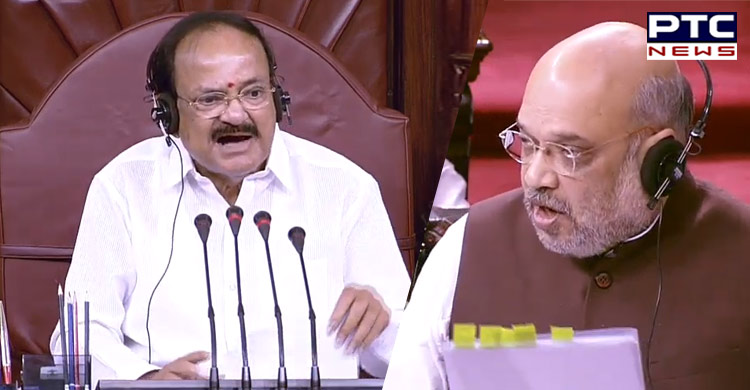 Union Home Minister Amit Shah on Monday moved to Rajya Sabha with the proposal to scrap Article 370. The special status for Jammu and Kashmir gas been finished with a gazette notification. The Jammu and Kashmir have been made a Union Territory with Legislative Assembly, however, Ladakh has been made a Union Territory without Legislative Assembly.
https://twitter.com/ANI/status/1158259369567498240
Earlier, the Union Cabinet chaired a meeting at Prime Minister Narendra Modi's residence over the plans of the Kashmir issue. Also, the heightened security has been a build-up in Jammu and Kashmir, while Section 144 of CrPC has been imposed amid the speculations about the Central government's plans regarding Kashmir.
https://twitter.com/ANI/status/1158253269480890368
Home Minister Amit Shah arrived at Parliament after the cabinet meeting at PM's residence. Likewise, Amit Shah said, "I am ready for all discussions by the leader of the Opposition, the entire opposition and the members of the ruling party over Kashmir issue. I am ready to answer all questions."
https://twitter.com/ANI/status/1158268922090676225
Also, Jamyang Tsering Namgyal, BJP MP from Ladakh said, "I welcome the Bill on behalf of everyone in Ladakh. People there wanted the region to be a Union Territory. People in Ladakh wanted that the region be freed from the dominance & discrimination of Kashmir, that is happening today.
Also Read: Jammu and Kashmir Reservation (Amendment) Bill, 2019 passed in Lok Sabha
Despite this, Uproar in Rajya Sabha took place after the resolution revoking Article 370 from Jammu and Kashmir is moved by the Home Minister Amit Shah. Also, the Rajya Sabha Chairman Venkaiah Naidu asked PDP's Mir Fayaz and Nazir Ahmed Laway to go out of the house (Rajya Sabha) after they attempted to tear the constitution.
-PTC News