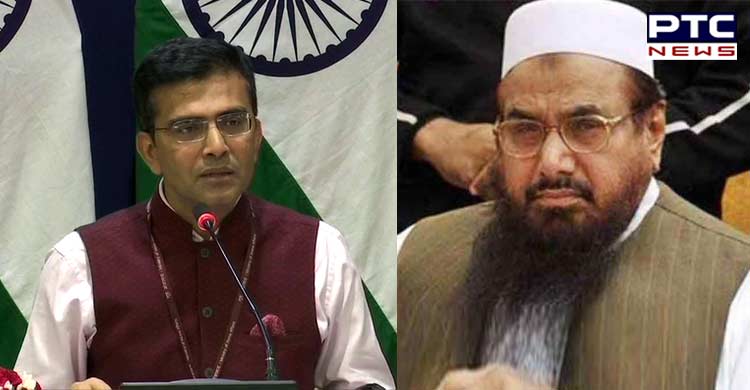 Pakistan claimed that they have booked top 13 leaders of the banned Jamaat-ud-Dawa (JuD), including its chief Hafiz Saeed in the case of terror financing and money laundering ahead of the Pakistan Prime Minister Imran Khan's visit to the United States. Meanwhile, Raveesh Kumar, MEA, addressed the media on booking of Hafiz Saeed and others in cases of terror financing.
https://twitter.com/ANI/status/1146731613675511809
https://twitter.com/ANI/status/1146731679773593600
Raveesh Kumar said, "Let us not get fooled by such cosmetic steps. Pakistan's sincerity to take action against terrorists & terror groups will be judged on the basis of their ability to demonstrate verifiable, credible & irreversible action against terror groups operating from their soil & not on the basis of half-hearted measures which they undertake sometimes to hoodwink the international community. We want a normal relationship in an environment free from terror."
https://twitter.com/ANI/status/1146731782248812544
Likewise, MEA spoke on Dawood Ibrahim's location and the hint that India is providing to Pakistan against him. He said, "The location of Dawood Ibrahim is not a secret. Time & again we have been presenting to Pakistan a list of people who are in their country. We've asked repeatedly that he should be handed over. His imprint on the Mumbai blast is very clear for all of us to see."
https://twitter.com/ANI/status/1146731841371721729
https://twitter.com/ANI/status/1146731844018331649
Meanwhile, Raveesh Kumar, MEA took a dig at Pakistan. He said, "You(Pak)claim that you've taken action but when it comes to taking action against people who we have demanded you go into denial mode. On the other hand, you try to project to int'll community that you are taking some action against the terrorists operating from the soil". "This basically is a case of double standards, this is something where they stand completely exposed as far as their claims of taking action against terror groups in Pakistan is concerned", said Raveesh, MEA.
https://twitter.com/ANI/status/1146736101635371009
Raveesh Kumar also spoke up on reports that verdict in Kulbhushan Jadhav's case will be announced in a few weeks. Raveesh said, "Oral submissions have been made in the case. The verdict has to be announced by the International Court of Justice. The date has to be announced by them."
-PTC News