2nd phase of Parliament Budget Session: Amid the Parliament Session, leaders of several opposition parties on Wednesday afternoon started a protest march from the Parliament to Enforcement Directorate (ED) office.
As per the sources, the opposition will hand over the complaint to the probe agency on the Adani issue.
Notably, Nationalist Congress Party (NCP) and Trinamool Congress (TMC) are not participating in the protest march.
Meanwhile, heavy security has also been deployed at several Chownks in Delhi.
Earlier today, several Opposition MPs, gathered for a meeting over the Adani Group issue at the Rajya Sabha leader of the opposition and Congress president Mallikarjun Kharge's Parliament chamber.
The Opposition has been raising the Adani issue and demanding a Joint Parliamentary Committee (JPC) probe into the Hindenburg-Adani report.
Notably, the second phase of Budget session started after month-long break.
The Parliament has also faced repeated disruptions amid the protest and ruckus in the house over regular protests by the Opposition.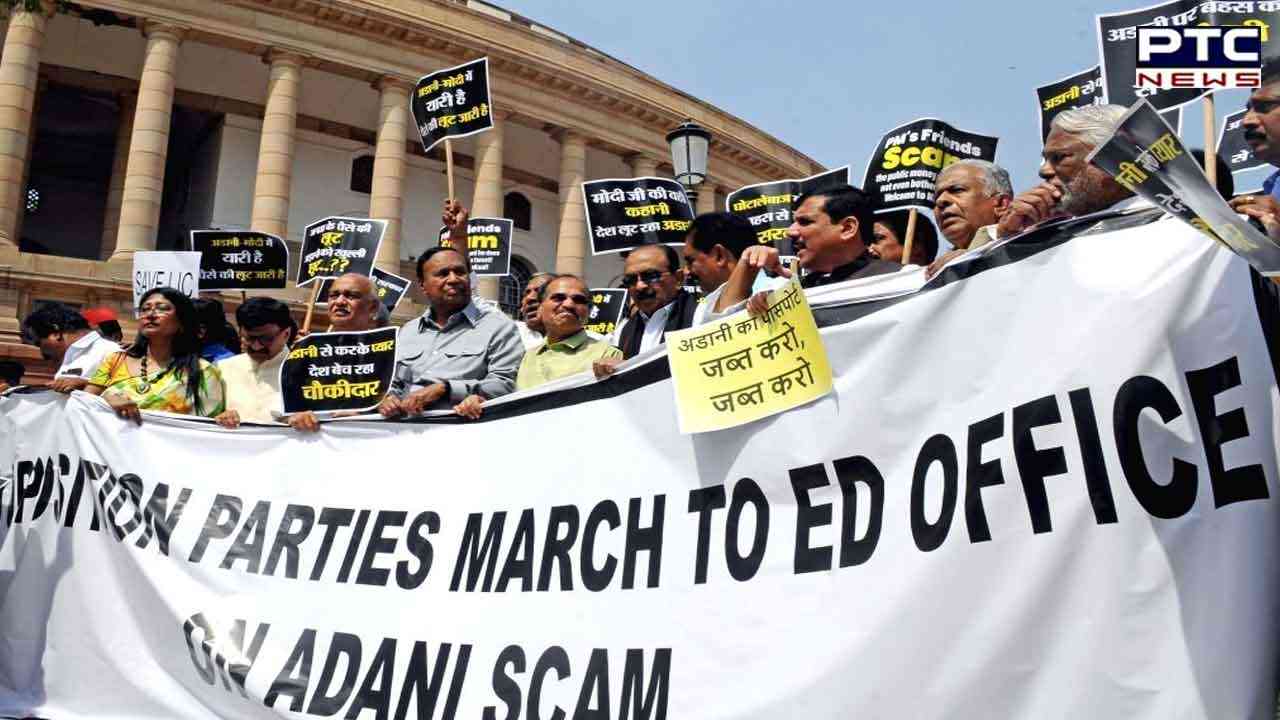 Earlier on Monday, 16 parties participated in the Opposition party leaders' meeting chaired by Leader of Opposition in Rajya Sabha Mallikarjun Kharge in Parliament.
Indian National Congress; Dravida Munnetra Kazhagam (DMK), Samajwadi Party; Janata Dal (United); Aam Admi Party; Communist Party of India (Marxist); Kerala Congress; Nationalist Congress Party; Communist Party of India; Indian Union Muslim League; Shiv Sena (Uddhav Thackeray); Marumalarchi Dravida Munnetra Kazhagam; Rashtriya Janata Dal; Jharkhand Mukti Morcha; Viduthalai Chiruthaigal Katchi and the NC participated in the meeting.
Also Read: Phool Dei festival: Uttarakhand CM Dhami extends greetings on occasion
It is pertinent to mention that the Supreme Court set up an expert committee on the issue arising from the Hindenburg Research report on Adani Group companies. The committee will consist of six members, headed by former apex court judge Justice AM Sapre.
- ANI