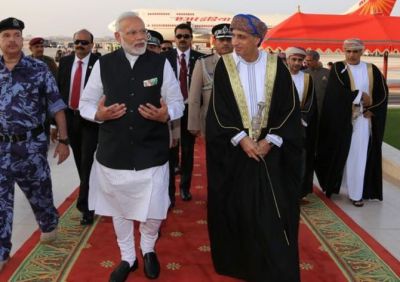 Prime Minister Narendra Modi today arrived in Oman on a two-day visit on the last leg of his tour of three West Asian countries during which he would hold talks with the Sultan of Oman and other key leaders.
Modi, who arrived here from Dubai, will also meet Deputy Prime Minister for the Council of Ministers Sayyid Fahd bin Mahmoud Al Said and Deputy Prime Minister for International Relations and Cooperation Affairs Sayyid Asa'ad bin Tariq Al Said.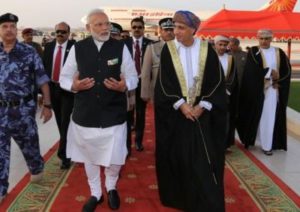 "A ceremonial and traditional welcome for PM @narendramodi on arrival in Muscat, capital of Oman on his first State visit! Warmly received by Deputy PM of Oman. India accords very high importance to relations with Oman, a key strategic partner in the region," Ministry of External Affairs Spokesperson Raveesh Kumar tweeted.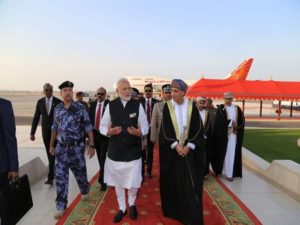 Noting that Oman was a close maritime neighbour with whom India enjoys excellent relations, Modi had said ahead of his visit, "I shall also interact with leading businesspersons of Oman on developing stronger economic and business links with India."
India and Oman have thriving links rooted in centuries old people-to-people exchanges, Modi had said.
More than nine million Indians work and live in the Gulf region. In Oman, they constitute the largest expatriate community.
On the first leg of his trip, Modi had travelled to Ramallah, becoming the first Indian prime minister to make an official visit to Palestine. From there he visited the UAE, before arriving in Oman. PTI