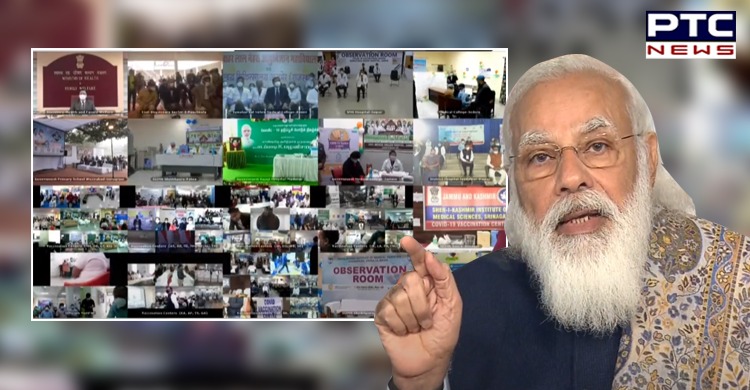 Prime Minister Narendra Modi on Saturday launched the nationwide COVID-19 vaccination drive via video conference.
"The country has been waiting impatiently for this day," Modi addressed before the launching the vaccination drive.
Also Read | Punjab Govt. to give Covid vaccine to 1.74 lakh HCWs over 5 days

Adding, "We have got two vaccines in such a short time, it's a testimony to our scientists' talent and skills."
Our vaccination programme was driven by humanitarian concerns and those exposed to maximum risk had been prioritized, Modi said.
The Prime Minister said, "Never before in history has such a big vaccination drive been launched."
He urged the countrymen to not pay heed to rumors and propaganda around the efficacies of the vaccine.
"Our scientists gave nod to two made-in-India vaccines after being sure of their effects," he stated.
He added that India's vaccines enjoyed global credibility because of their track record.
The Centre on Friday mounted an all-out social media outreach to dispel myths as India prepared for the rollout of the national Covid vaccination drive, the world's biggest, at 10.30 am tomorrow.
Three lakh healthcare and frontline workers will be vaccinated in the first phase of the drive with randomly allocated Covishield and indigenous Covaxin shots.