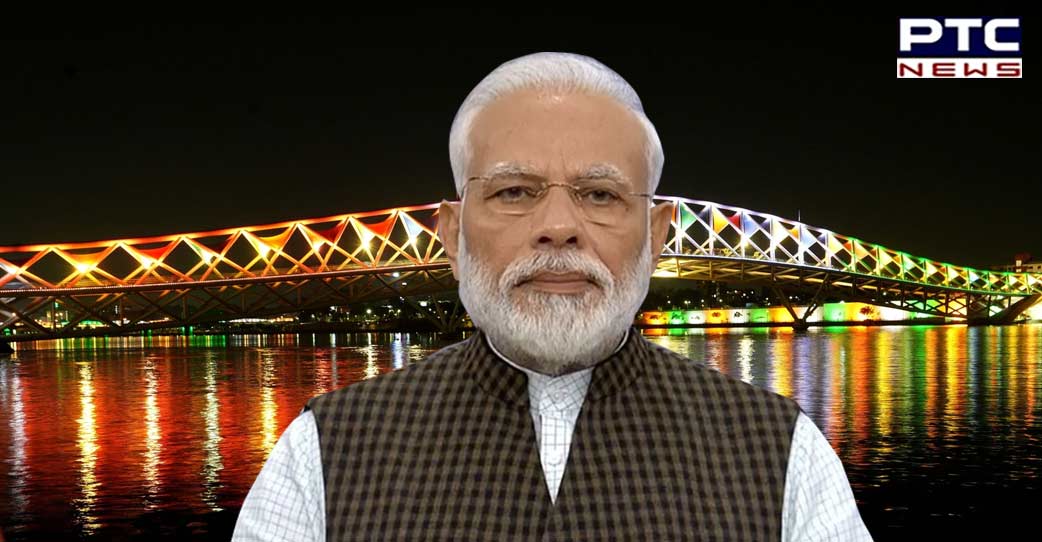 New Delhi, August 27: Atal Bridge, another attraction added near the Sabarmati Riverfront in Ahmedabad, is set to be inaugurated by Prime Minister Narendra Modi on Saturday.

The 300-metre foot-over bridge named after former prime minister Atal Bihar Vajpayee connects the eastern and western sides of the Sabarmati Riverfront in Ahmedabad. It has a unique design and is embellished with eye-catching LED lighting.
Prime Minister Narendra Modi will inaugurate the foot overbridge on the first day of his two-day visit to Gujarat.
"This bridge will provide connectivity to Multi Level Car Parking and various public development on East and West Bank from plaza between Flower Park and Event Ground at West Bank to proposed Art / Cultural / Exhibition Centre on East Bank."
About Atal Bridge:
The 300-metre-long bridge features a stunning design with LED illumination.
The bridge is designed so that visitors can access it from both the lower and higher riverfront walkways or promenades.
This bridge can also be used by cyclists to cross the Sabarmati River. It will allow people to view the riverfront from the centre of the body of water.
The footbridge was made with 2,600 metric tonnes of steel pipes. The roof is made of colourful fabric, but the railing is constructed of glass and stainless steel.
Also Read | Amritsar: Explosion at GNDU chemistry lab; several injured, one critical
Furthermore, the prime minister will dedicate the 'Veer Balak Memorial' in Anjar, Kutch on Sunday.
185 schoolchildren and 20 teachers were buried under the rubble of surrounding buildings while attending a rally in Anjar, Kutch, on January 26, 2001. The tragedy of this incident was felt around the world. The then Chief Minister Narendra Modi announced a memorial in memory of these children and now this memorial is ready outside Anjar city.
The construction of this memorial was finished under the supervision of Chief Minister Bhupendra Patel. 100 family members of the deceased are invited to attend the inauguration.
Also Read | Neeraj Chopra wins Lausanne Diamond League Meet title with 89.08m throw
-PTC News with ANI inputs