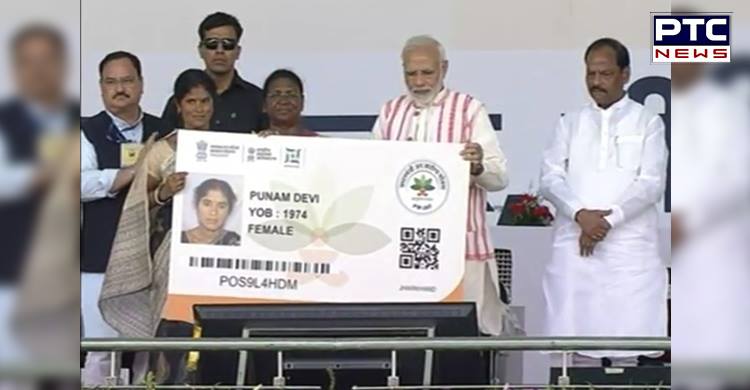 PM Narendra Modi Launches Ayushman Bharat Pradhan Mantri Jan AarogyaYojana in Ranchi
Prime Minister Shri Narendra Modi has launched Ayushman Bharat –Pradhan Mantri Jan AarogyaYojana (AB-PMJAY) in Ranchi, Jharkahnd on September 23, 2018.
India is taking a step forward in the realm of health care and focusing on providing the accessible and affordable healthcare to the people of India. Looking at this, Prime Minister Narendra Modi launched Ayushman Bharat –Pradhan Mantri Jan AarogyaYojana (AB-PMJAY) in Ranchi, Jharkhand on 23rd September.
This Yojana was launched with a mission to provide the best possible healthcare to each and every citizen of India. With the help of this Yojana, the government is taking healthcare protection to a new level. It is targeting more than 50 crore beneficiaries.
This Yojana is made up of two inter-related components which are the creation of 1,50,000 health and wellness centers which aims in bringing the health closer and within reach of the people.
The Pradhan Mantri Jan ArogyaYojana (PMJAY) would focus on providing the best health protection cover to the poor families for Secondary and tertiary care.
There are many benefits under this Yojana:
Ayushman Bharat- Pradhan Mantri Jan ArogyaYojana (PMJAY) will provide a cover of up to Rs. 5 lakhs per family per year, for secondary and tertiary care hospitalization.
Over 10.74 crore vulnerable entitled families (approximately 50 crore beneficiaries) will be eligible for these benefits.
PMJAY will provide cashless and paperless access to services for the beneficiary at the point of service.
PMJAY will help reduce catastrophic expenditure for hospitalizations, which impoverishes people and will help mitigate the financial risk arising out of catastrophic health episodes.
Entitled families will be able to use the quality health services they need without facing financial hardships.
When fully implemented, PMJAY will become the world's largest fully government-financed health protection scheme. It is a visionary step towards advancing the agenda of Universal Health Coverage (UHC).
-PTC NEWS