Chandigarh, December 14: The Punjab government has released the holiday calendar announcing the 2023 holidays. This calendar contains the list of holidays observed in government offices in 2023. It is worth mentioning that apart from Saturdays and Sundays, this list includes public holidays on festivals.
Also Read| Delhi:12 officers handling Moosewala probe allotted Y category security

The notice issued by Bhagwant Mann led government said, "It is hereby notified that the holidays enumerated in the schedule below shall be observed as Public Holidays in the public offices under the Punjab Government during the calendar year-2023:
-All Saturdays All Sundays
Other Holidays
1. Republic Day 26th January
2. Birthday of Sri Guru Ravidas ji 05th February
3. Maha Shivaratri 18th February
4. Holi 8 March Thursday Sunday Saturday Wednesday
5. Shaheedi Diwas of Shaheed-e-Azam 23rd March Thursday Bhagat Singh, Sukhdev and Rajguru Ji
6. Ram Navami 30th March Thursday
7. Mahavir Jayanti 04th April Tuesday
8. Good Friday 07th April Friday
9. Birthday of Sri Guru Nabha Dass ji 08th April Saturday
10 Vaisakhi/ Birthday of Dr. B.R. Ambedkar 14th April Friday
11. Idul Fitr/ Lord Parshuram Jayanti 22nd April Saturday
12. Martyrdom Day of Sri Guru Arjun Dev 23rd May Tuesday
13. Kabir Jayanti 04th June Sunday
14. Id-ul-Zuha (Bakrid) 29th June Thursday
15. Independence day 15th August Tuesday
16. Janam Ashtami 07th September Thursday
17. Birthday of Mahatma Gandhi Ji 02 October Monday
18. Agarsain Jayanti
19. Dussehra 15th October Sunday 24th October Tuesday
20. Birthday of Maharishi Valmiki Ji 28th October Saturday
21. Diwali
22. Vishwakarma Day
23. Birthday of Sri Guru Nanak Dev Ji 12th November Sunday 13th November Monday 27th November Monday вирт
24. Martyrdom Day of Sri Guru Teg 17th December Sunday Bahadur ji
25. Christmas day 25th December Monday
Note 1: Date of holiday in respect of "Birthday of Sri Guru Gobind Singh ji" will be announced later.
Besides the above holidays, each employee will also be permitted to avail himself/herself any two (2) holidays to be chosen by him/her out of the Restricted Holidays below during the Calendar Year-2023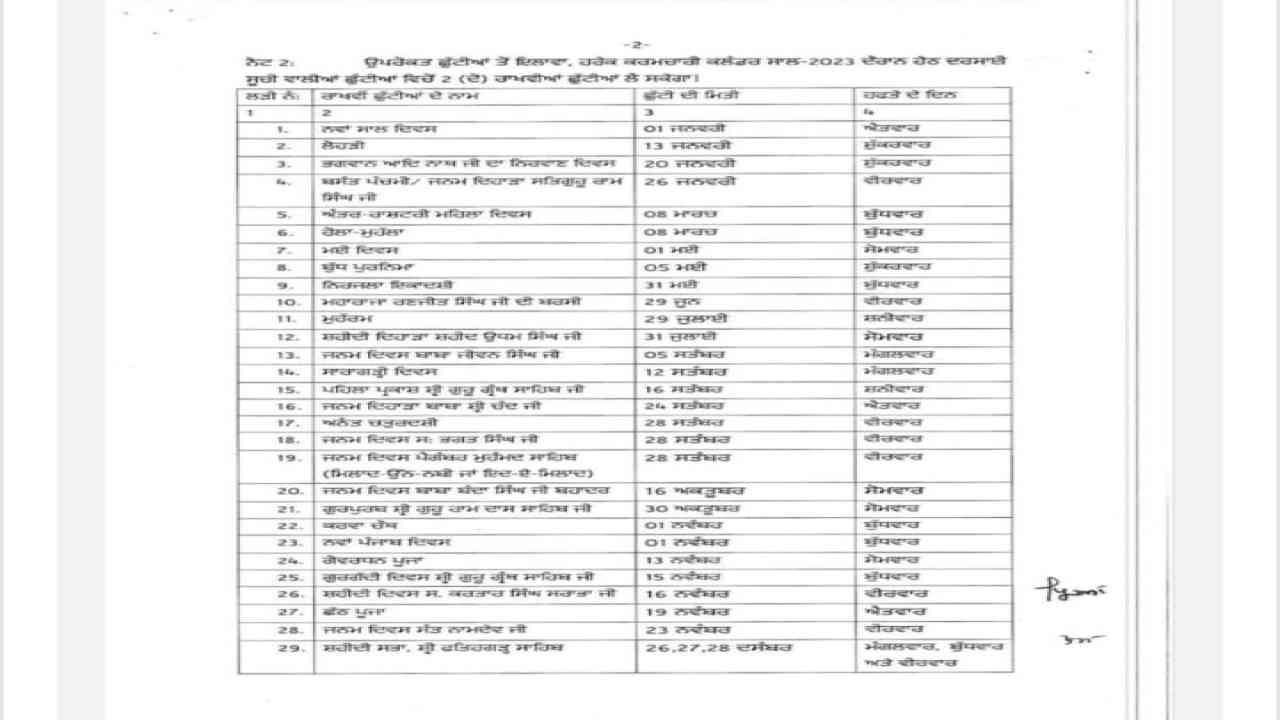 - PTC NEWS