Punjab Vidhan Sabha elections 2022 Highlights: After days of aggressive campaigning, Punjab voted for Assembly elections 2022 as polling began at 8 am on Sunday. A total of 1,304 candidates — 231 from national parties, 250 from state parties, 362 from unrecognised parties and 461 Independent candidates were in the fray. Apart from three special state observers, the Election Commission of India had appointed 65 general observers, 50 expenditure observers and 29 police observers, who are keeping a close vigil on the proceedings. As many as 2,083 sector officers were deployed to assist polling parties.

Meanwhile, 315 contesting candidates were with Criminal Antecedents in Punjab assembly elections 2022.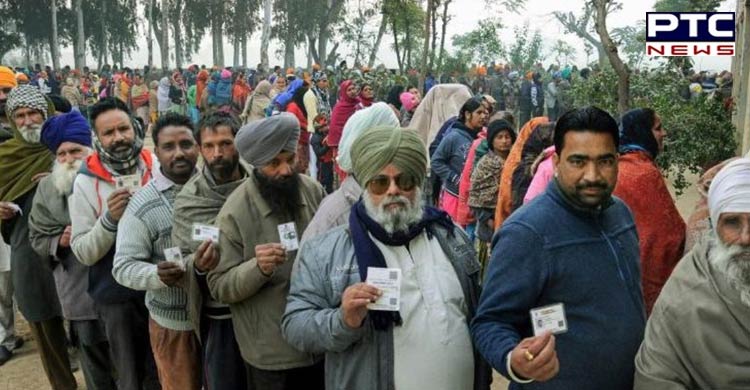 Also Read: Ahead of Punjab polls CEO S Karuna Raju releases important details
Punjab politics is very interesting this year as PPCC president Navjot Singh Sidhu and Shiromani Akali Dal leader Bikram Singh Majithia are up against each other from Amritsar east for Punjab polls 2022.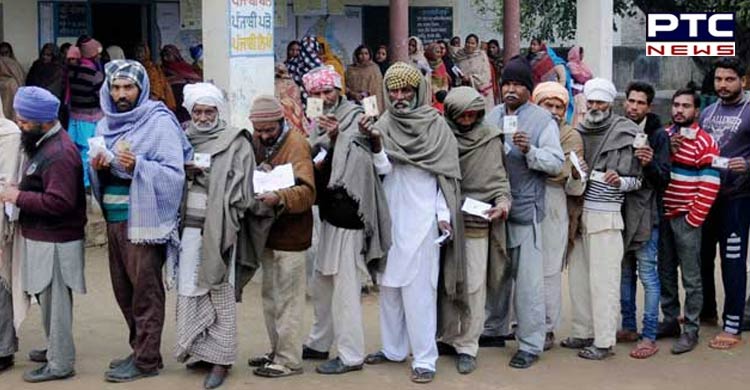 With Punjab election 2022 being held on February 20, the people of the state are eagerly waiting for the result date i.e. March 10.
FOR FULL COVERAGE OF PUNJAB ELECTIONS 2022, CLICK
Punjab Assembly Elections 2022 Highlights :
18:35 pm | Polling for Punjab Elections 2022 concluded. Visuals from booth number 79-83 in Abohar, Punjab.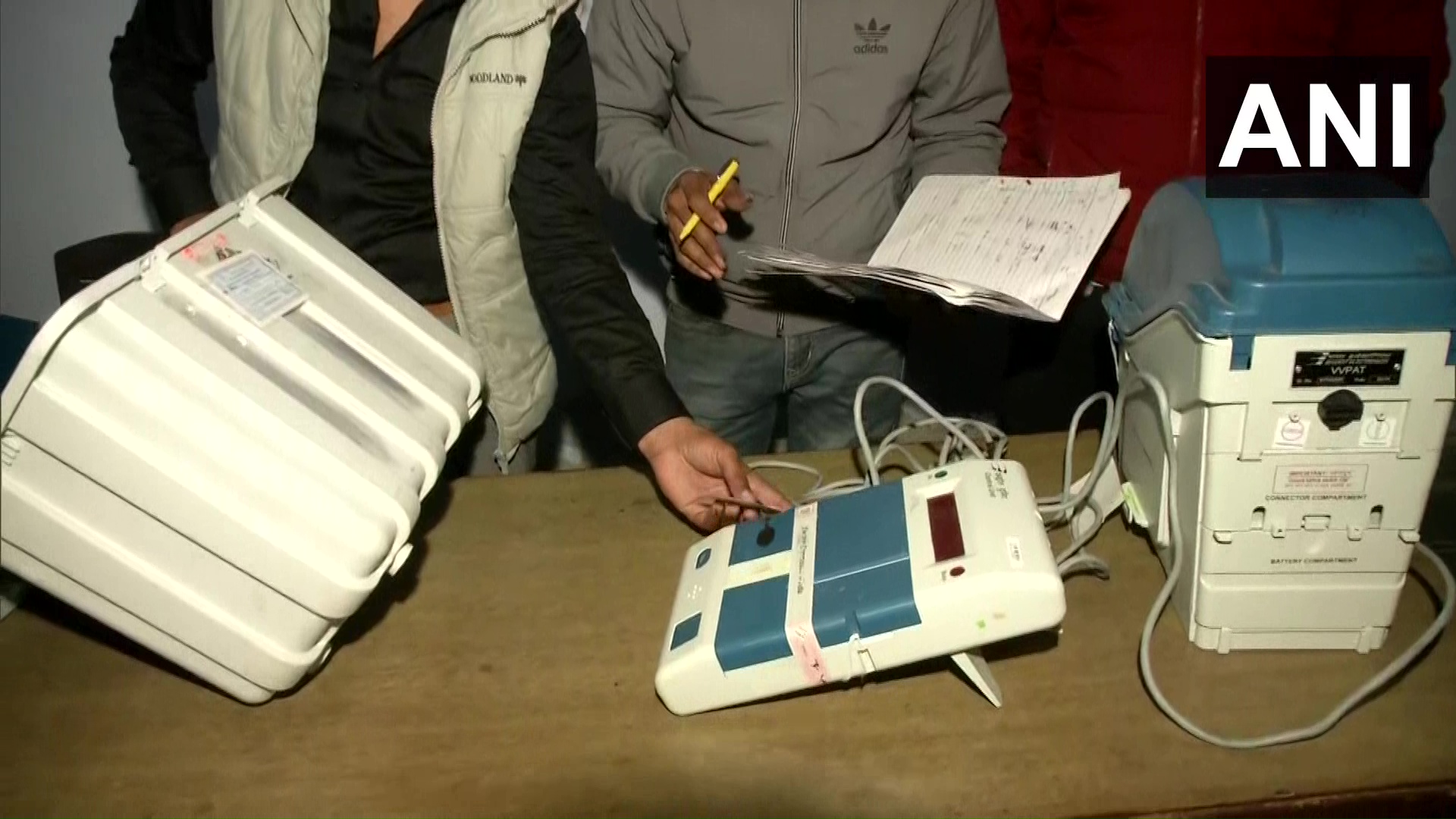 18:30 pm | Visually impaired voters show their inked fingers after casting their ballot at a polling station during the Punjab state assembly elections.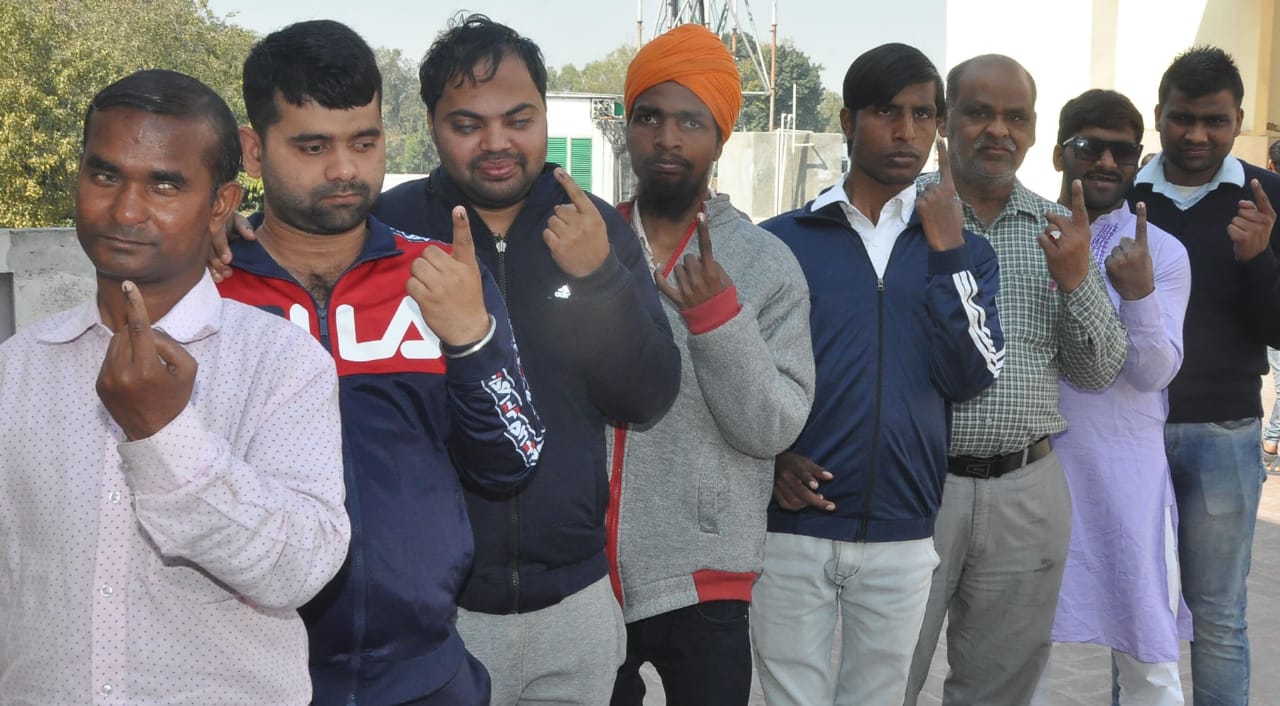 18:20 pm | Polling officials seal Electronic Voting Machines (EVM) and VVPATs after the conclusion of Punjab Assembly elections; visuals from a polling booth in Moga Assembly constituency.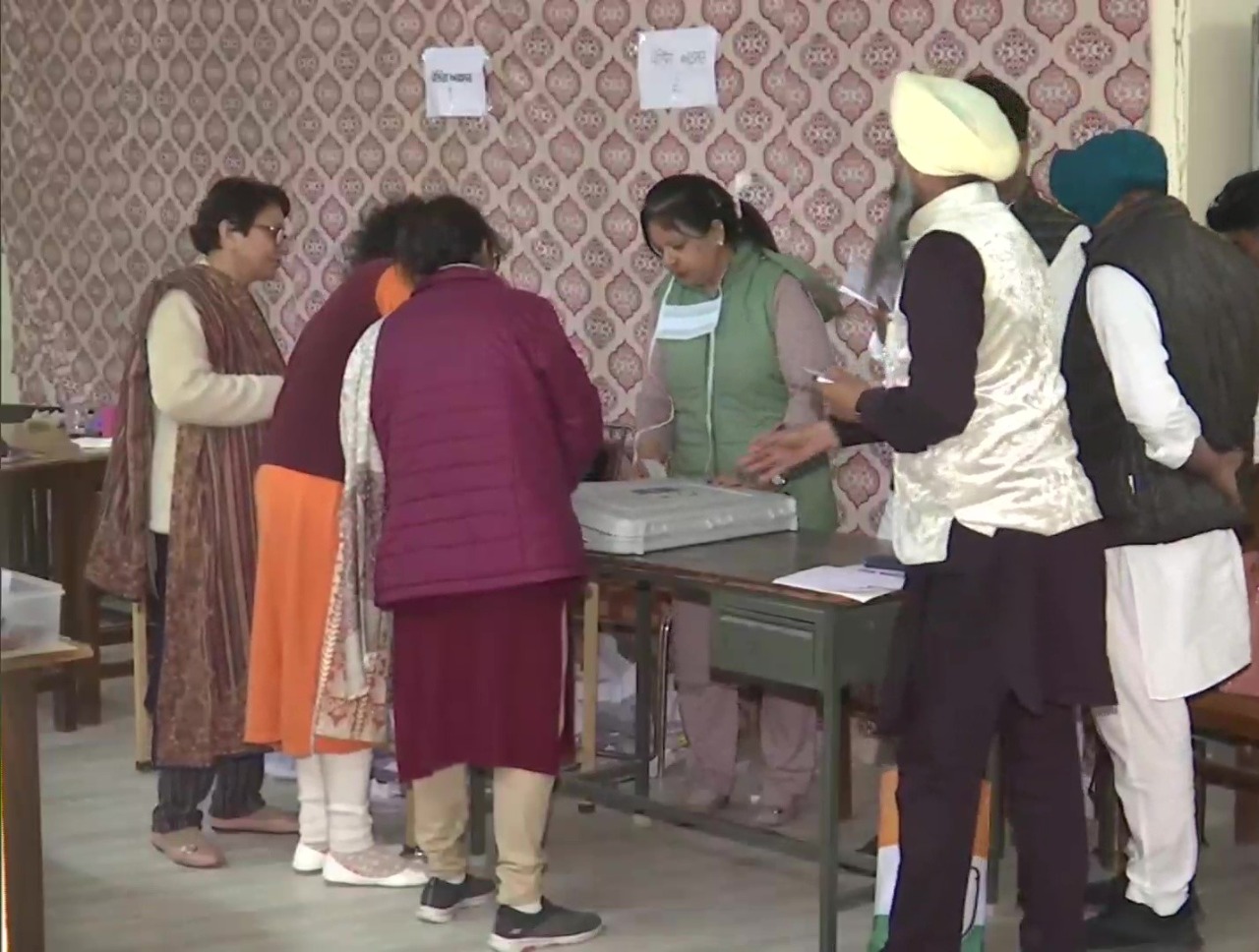 18:00 pm | Gate for voting booths closed.
17:30 pm | A total of 63.44 percent voting took place in Punjab till now.
17:25 pm | Congress party is highly unstable in Punjab. AAP's connections with terrorist organisations have now come in front of people in Punjab. As a whole, the only government capable of providing positive development to the state is BJP: Union Minister Jitendra Singh
17:15 pm | In Mangewal village, the bridegroom exercised his voting right before his wedding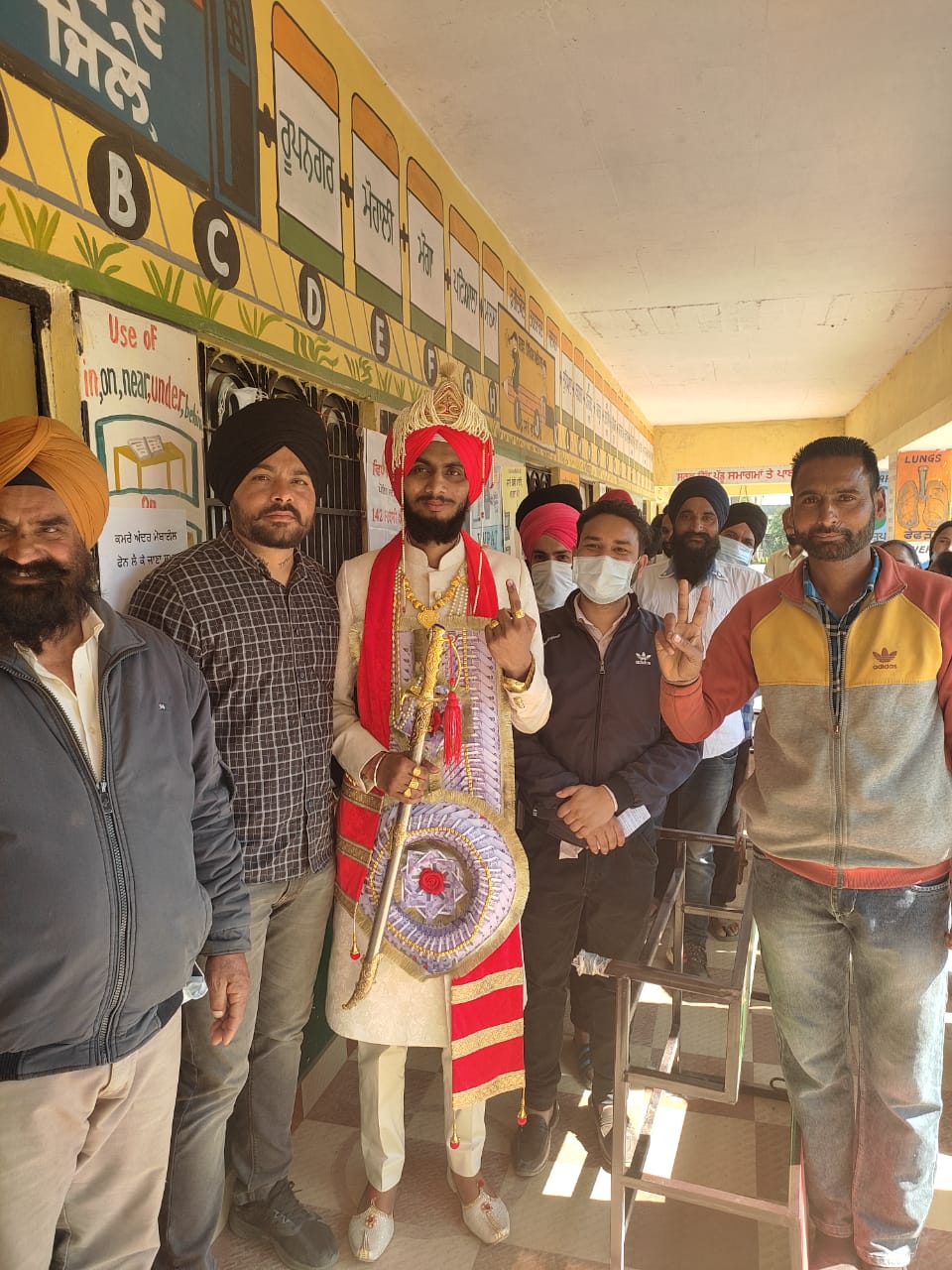 16:40 pm | Congress candidate Dipender Dhillon and Akali Dal candidate NK Sharma after voting at Zirakpur
16:35 pm | It has been reported that voting machine has been shut down in Toot village of Rajasansi. Voters have been waiting for the last hour. People are sitting outside waiting for the machine to recover.
16:20 pm | A total of 52.2 percent voting took place in Punjab till 4 pm.
16:18 pm | Transgenders from District Patiala & Sangrur exercised their Voting Right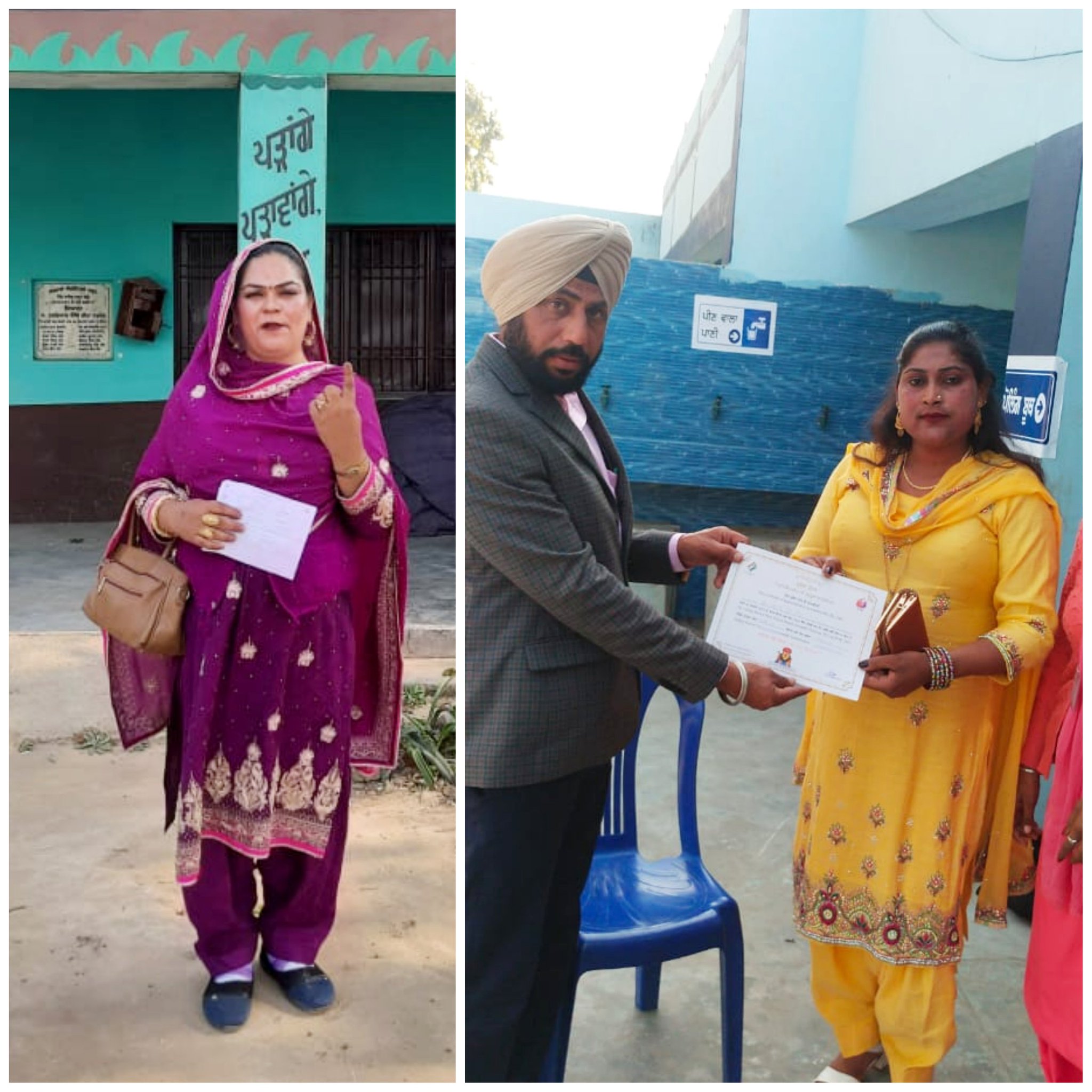 16:14 pm | AAP is betraying Delhi and through the Delhi model, they are now trying to betray Punjab. What work have they done other than betraying the people and putting up advertisements worth Rs.524 crores in Delhi: MoS & BJP leader Meenakashi Lekhi
16:13 pm | Bhagwant Mann is the biggest liar, does he know how much money Congress spent to make AAP. AAP is B-team of Sonia Gandhi and is working in collusion with the Congress: Meenakashi Lekhi, MoS & BJP leader on Punjab Elections 2022
16:12 pm | PUNJAB
Total Votes : 21499804
Votes Polled : 11216667
Vote Polled(%) : 52.2
16:10 pm | Jaswinder Singh, an international cyclist was also honored for voting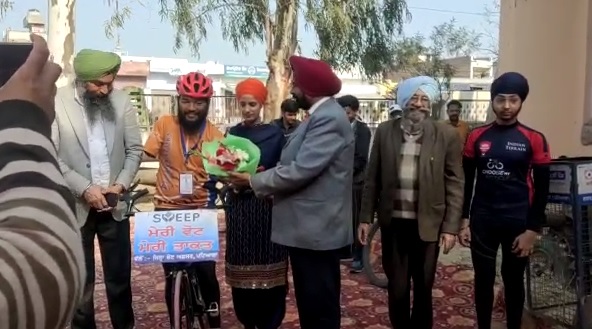 16:05 pm | Congress and Aam Aadmi Party workers at Ramnagar booth in Dinanagar constituency of Gurdaspur district. Fighting and abusive language erupted after accusations were leveled against each other.
15:50 pm | Total turnout 54.30 percent at 3 pm in district Patiala.
15:40 pm | By God's grace, everyone loves him. For us, he has already become the CM. People love him: Harpal Kaur, mother of Bhagwant Mann,AAP CM candidate for poll-bound Punjab If a mother has said this, what else does one want... Youth,students everyone wants a change:Bhagwant Mann, AAP
15:35 pm | 49.81% voting till 3 pm
15:00 pm | The Congress party will form government with 2/3rd majority in Punjab: CM Charanjit Singh Channi, at Kharar
14:36 pm | 99-year-old Jagtar Singh of village Peeran Wala honoured for casting vote at Ferozepur
14:35 pm | Cabinet Minister Brahm Mohindra casts his vote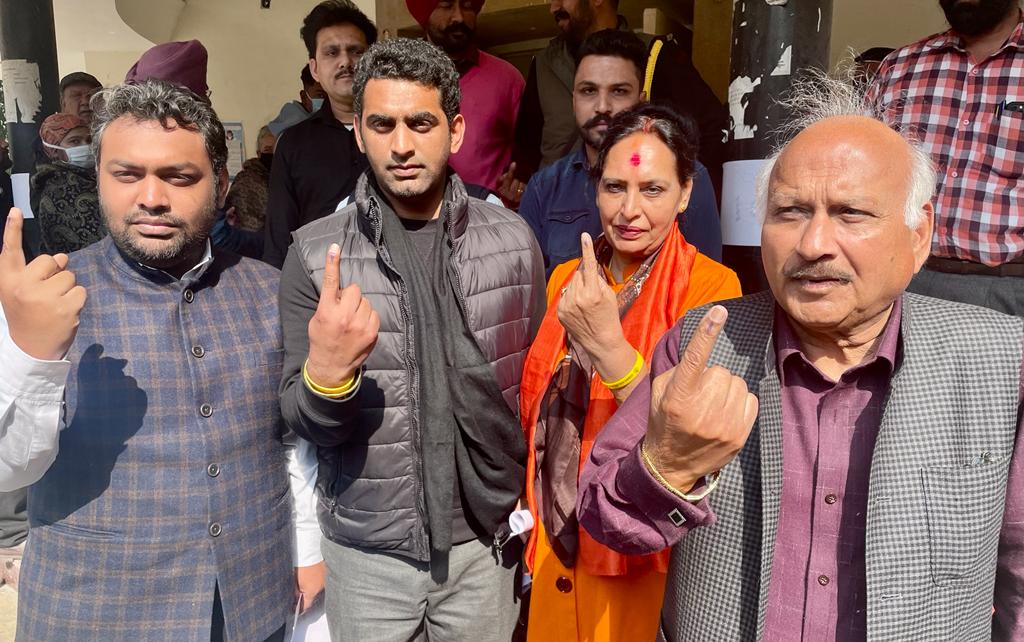 14:25 pm | Total Vote Percentage in Fatehgarh Sahib District is 37.13 pc
Assembly constituency Amloh is 40.10 pc
Vidhan Sabha constituency Bassi Pathan is 39.80 pc
14:16 pm | What is Charanjit Channi? Is he a magician that in 3 months he can perform miracles in Punjab?. Giving all the credit to try to make him a hero before the elections....I think both (Channi and Navjot S Sidhu) are useless: Capt Amarinder Singh on Punjab Elections 2022
14:15 pm | CM Charanjit Singh Channi casts his vote at a polling booth in Kharar He is contesting the polls from Chamkaur Sahib and Bhadaur constituencies as a Congress candidate.
14:13 pm | A total of 28.54 percent voting took place in Pathankot till1:15 pm.
14:12 pm | Congress are concerned about what I am able to achieve in Punjab which is going against them. I can predict that Congress will not get more than 20-30 seats: Capt Amarinder Singh on Punjab Elections 2022
14:05 pm | Over 30% voter turnout has been recorded till 1pm, this is a good sign. We will see a very good win in Patiala and nearby seats. If BJP-PLC and Dhindhsa's party is getting a good response, then what else do we need: Capt Amarinder Singh
13:50 pm | AAP is getting good response in Rajpura: Nina Mittal                              Constituency Rajpura Aam Aadmi Party candidate after visiting the booths in the constituency told reporters that victory in our constituency Rajpura is certain and AAP government will be formed in Punjab.
13:40 pm | In Punjab so far 34.10 percent voting has taken place.
13:30 pm | Sonu Sood was trying to enter a polling booth. During this, his car was confiscated and he was sent home. Action will be taken against him if he steps out of his house: Moga District PRO Pradbhdeep Singh His sister Malvika Sood is contesting from Moga as a Congress candidate.
13:20 pm | Retired Master Diwan Chand, 80, who went to Khanna to cast his vote, died of a heart attack at the polling booth.
13:15 pm | A Shiromani Akali Dal worker who was coming to cast his vote at Hamira in Halqa Bhulath was reportedly attacked. Meanwhile, Bibi Jagir Kaur has leveled allegations against AAP.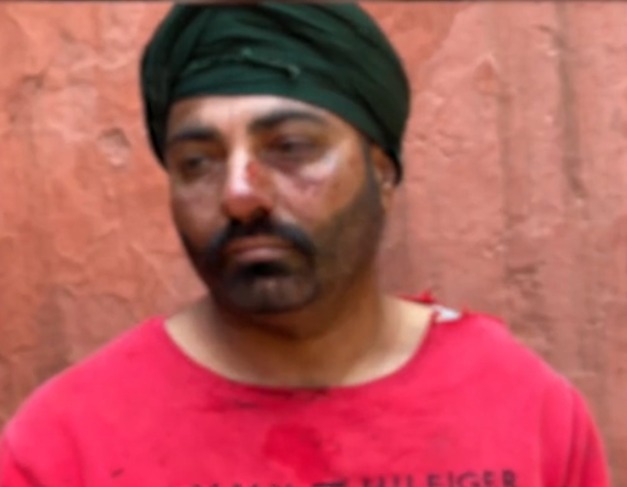 13:08 pm | Today, the people of Punjab are voting for truth. We will get a majority in this election: Bhagwant Mann, AAP CM candidate in Punjab Elections 2022
13:05 pm |Be the change you wish to see in #Punjab excersise your right to vote, says Manisha Gulati
13:00 pm | The Badal family exercised their democratic right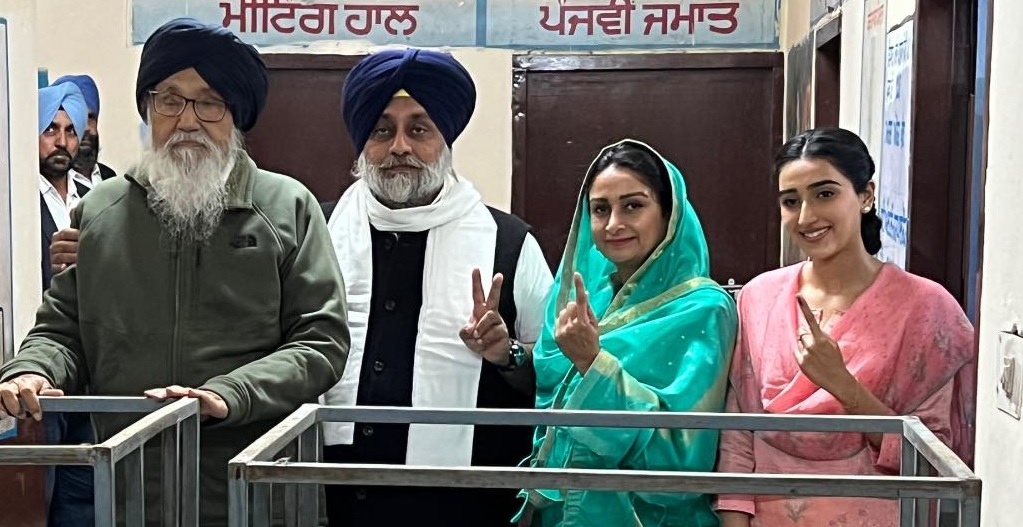 12:57 am | There is a strong SAD-BSP wave in the state, you'll see exceptional results soon: Sukhbir Singh Badal, President, Shiromani Akali Dal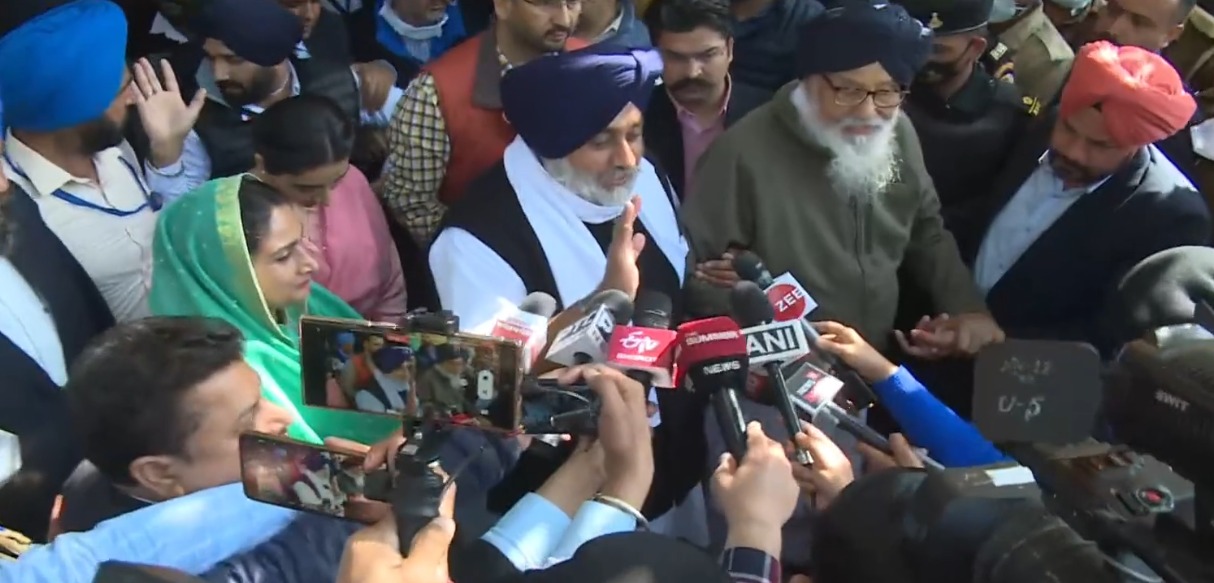 12:55 pm | Aam Aadmi Party (AAP) chief ministerial candidate Bhagwant Mann has cast his vote in Mohali.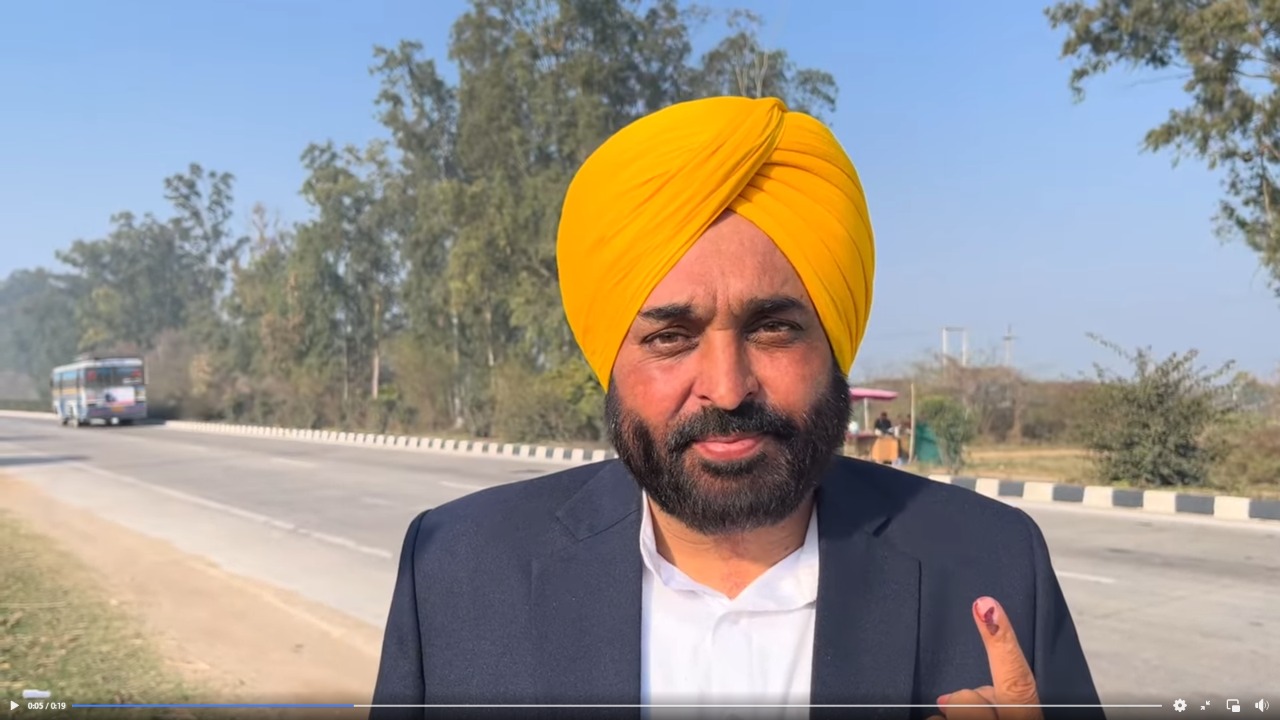 12:40 pm | Punjab Lok Congress founder and former CM Capt Amarinder Singh casts his vote at polling booth number 95-98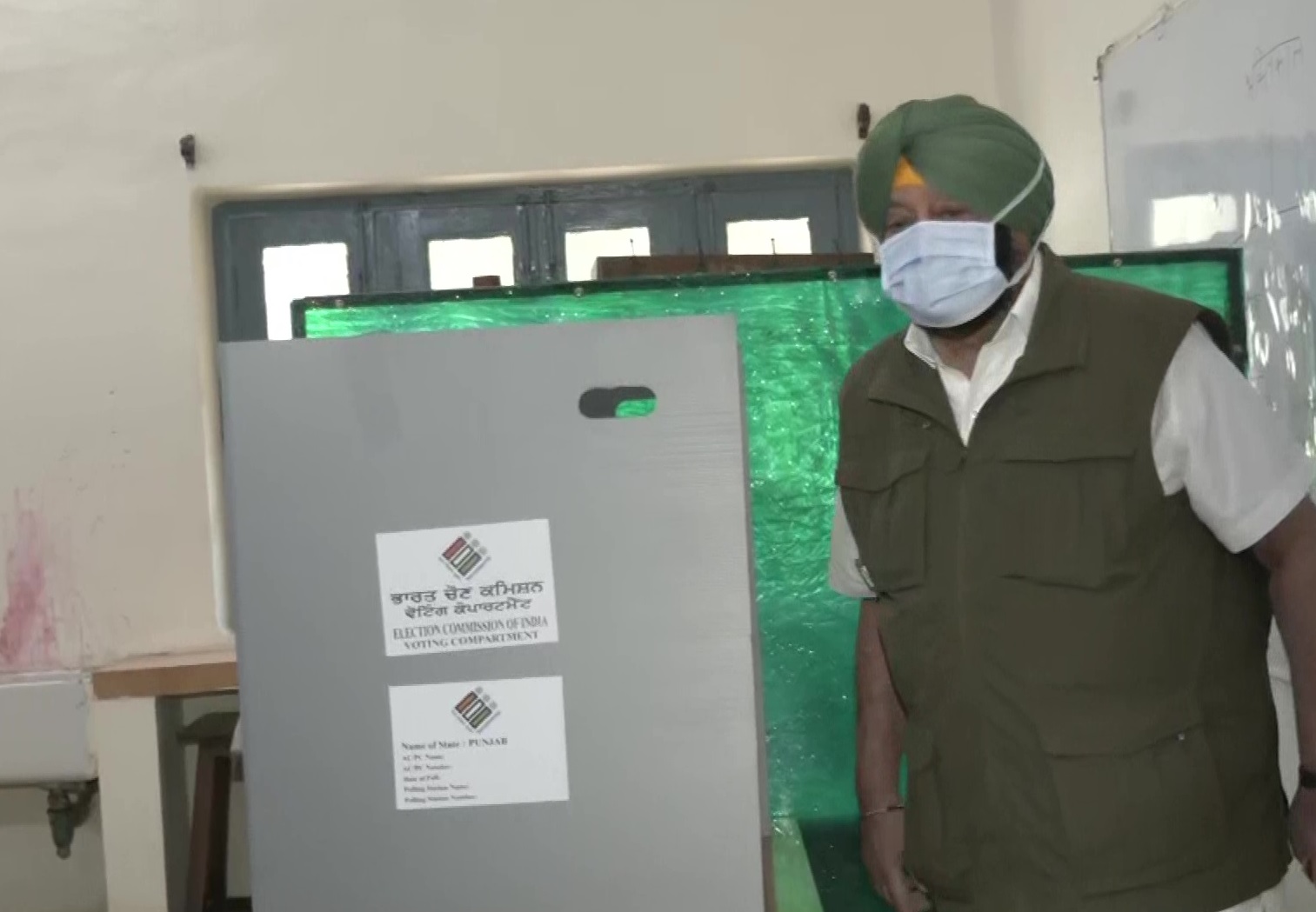 12:37 pm | PPCC president Navjot Singh Sidhu casts vote in Amritsar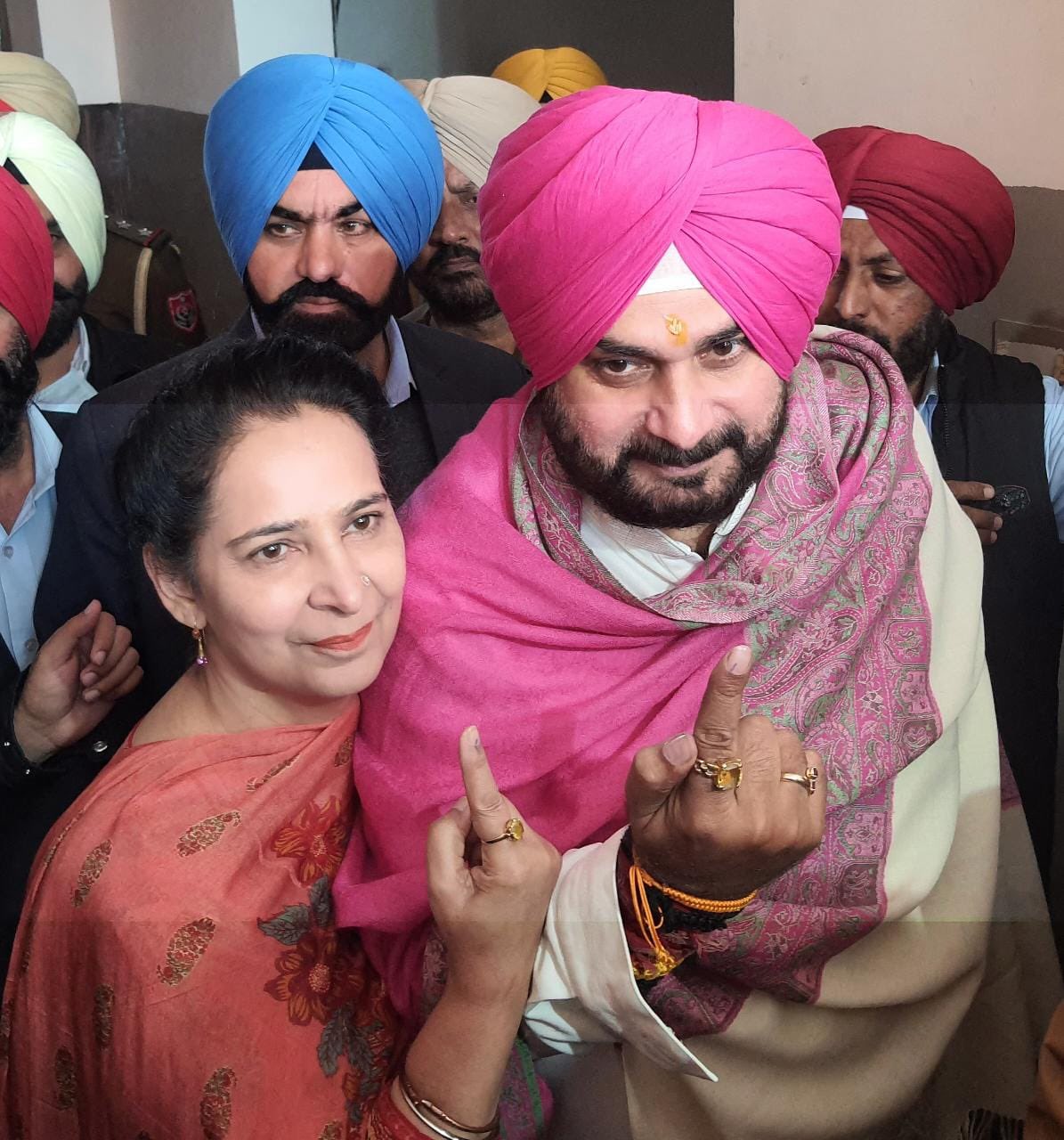 12:35 pm | Manpreet Singh Badal, Punjab Finance Minister visits polling booths in his constituency Bathinda Urban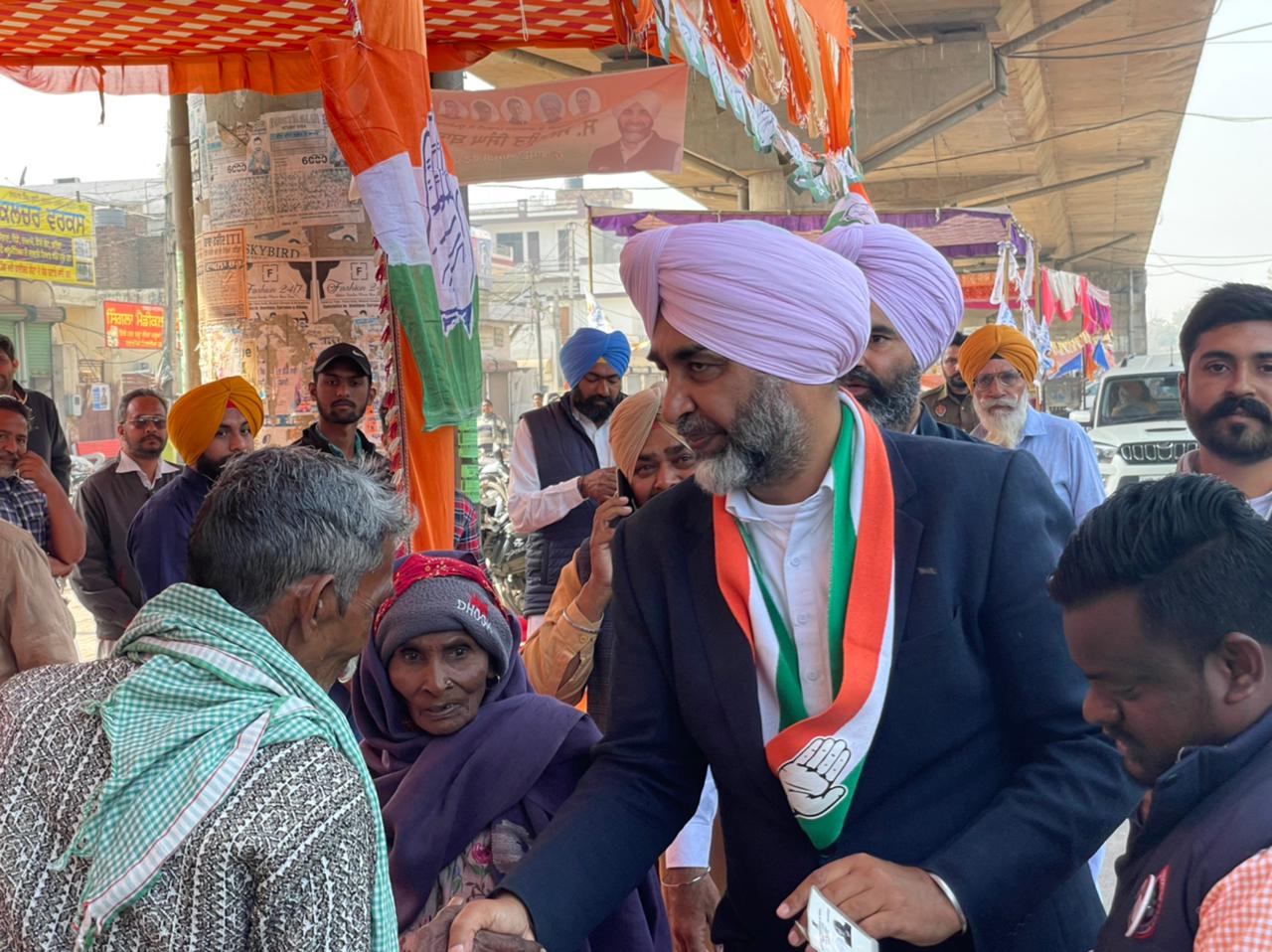 12:30 pm | Raghav Chadha has accused both Congress and SAD of impairing EVMs and not letting the people of Punjab cast their vote.
12:20 pm | I am certain of winning Patiala. I think we will win the elections...They (Congress) live in a different world & will be wiped out in Punjab: Capt Amarinder Singh, Punjab Lok Congress founder, at Patiala
11:58 am | Union Minister Som Prakash casts his vote at a polling booth in Phagwara.
11:55 am | People will win, their issues will win & public will reject Sidhu's arrogance and hate politics. There has not been any development of industries and issues of business, unemployed & poor labours have not been addressed: SAD leader Bikram S Majithia, contesting from Amritsar East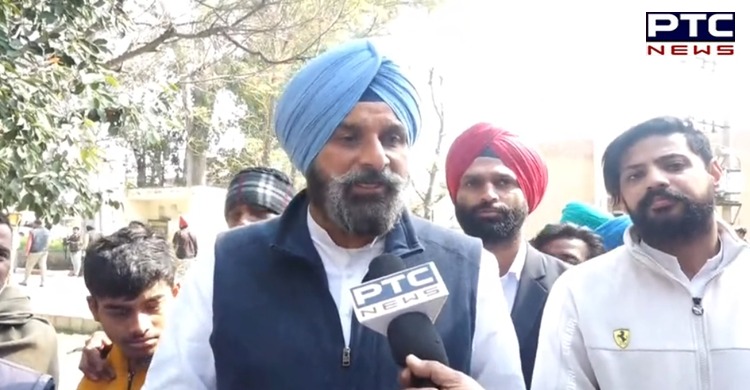 11:50 am |Voting details in the following assembly constituencies till 11am
Lambi - 23.80%
Malout - 22.50%
Muktsar - 22.69%
Gidderbaha - 24.50%
11:35 am | 17.77% voting in the first three hours : Punjab Elections 2022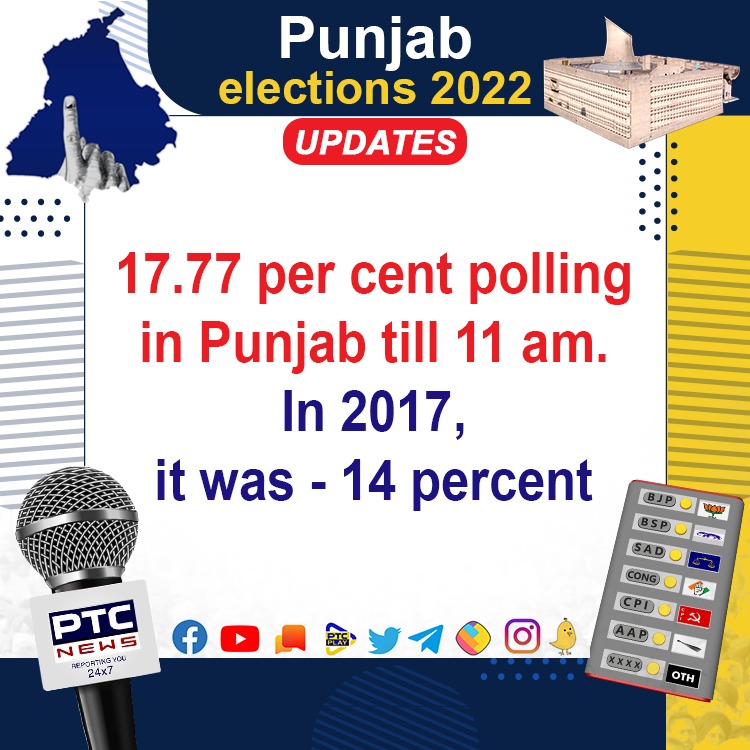 11:30 am | Today people want a stable, strong govt. As a border state, it has many challenges. I'm sure there's going to be clean sweep in favour of a tried & tested local, regional party that understand the aspirations of the local people: Harsimrat Kaur Badal, Shiromani Akali Dal leader
11:25 am | EC restrains Bollywood actor Sonu Sood from visiting polling stations in #Moga over complaints that he was influencing voters.
11:28 am | All I would like to say is that Shiromani Akali Dal-BSP is going to make a clean sweep. We will get 80 plus seats: Sukhbir Singh Badal, Shiromani Akali Dal chief and party's candidate from Jalalabad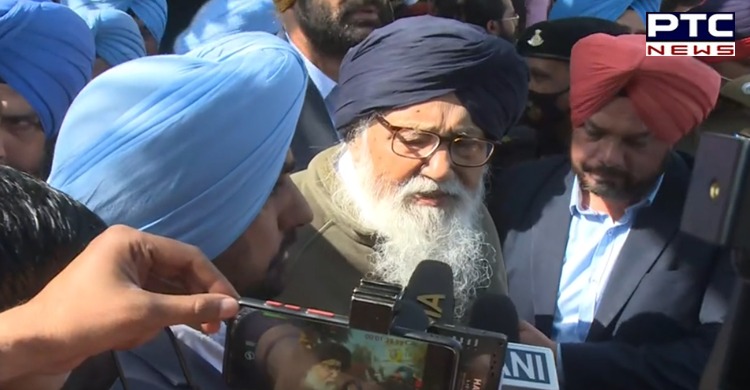 11:24 am | Sukhbir Singh Badal and Harsimrat Kaur Badal cast vote
11:18 am | Capt Amarinder Singh will cast his vote in polling booth at Government College for Women, Patiala, opposite YPS School at 11.30 am.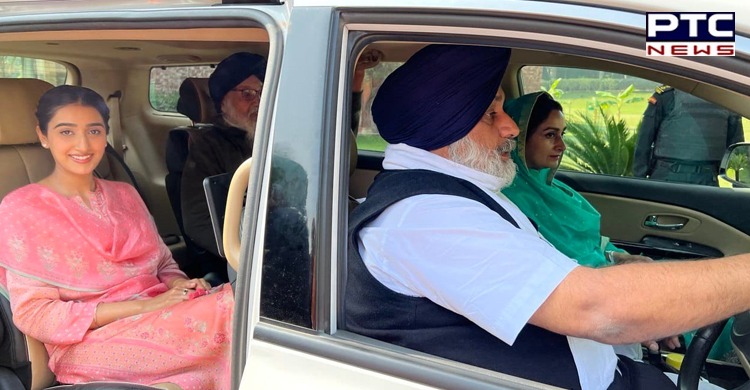 11:17 am | Shiromani Akali Dal President Sukhbir Singh Badal along with Harsimrat Kaur Badal and Parkash Singh Badal drives to the polling station in Lambi
11:13 am | 5.81 per cent voter turnout in Ludhiana district with 1,56,458 of the total 26,93,131 voters exercising their franchise till 10.30 am
11:12 am | In Majitha, Booth No. 138, the EVM has malfunctioned
11:00 am | CM Charanjit Singh Channi could not cast his vote as EVM machine at his booth develops snag
10:55 am | Voting is underway at a pink polling booth managed entirely by women polling personnel at Moga
10:50 am | I was working in the constituency. I had winnability - not me, but their survey, says this. Still, I was ignored by High Command. I had to contest as people told me to. I hope I pass: Manohar Singh, Punjab CM Charanjit Singh Channi's brother,contesting as an independent candidate
10:30 am | On one side is the mafia system of Badal family & Capt Amarinder Singh. On the other side are those who love Punjab. We lost one generation to terrorism, the second to drugs, so, today we've to vote carefully. People will vote in large numbers to bring change: Navjot S Sidhu,Cong
10:22 am | AAP's chief minister face, drunken Bhagwant Mann
Came to cast his vote at the wrong booth.
Seems like Arvind Kejriwal
Taking Sahib's tweets more seriously took the extra peg at night!
Who does not know his booth,
What will he do with Punjab?
10:20 am | AAP CM candidate Bhagwant Mann exercises his franchise in Mohali
10:17 am | In a booth in Jalandhar, gloves, masks being given to voters amid Covid outbreak.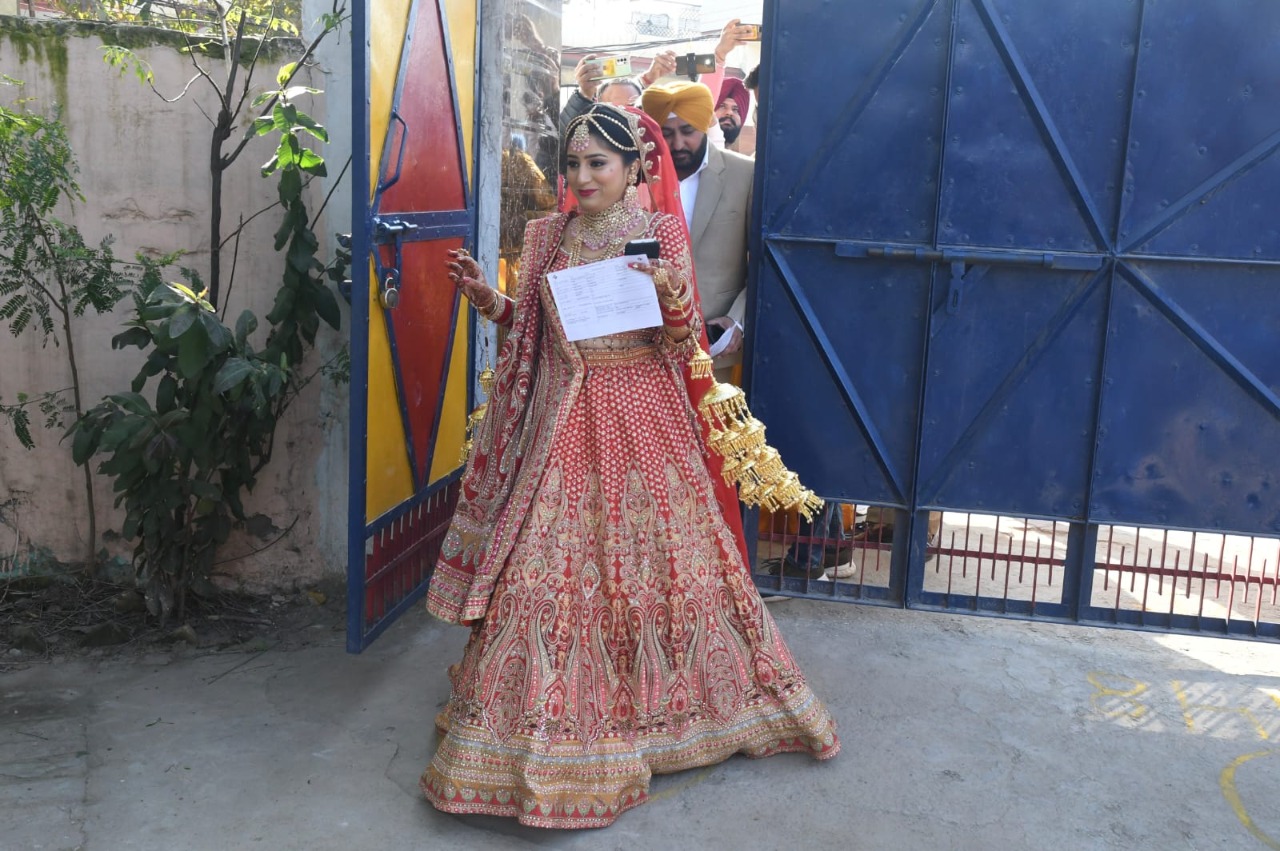 10:15 am | Total Average Voter Turnout in 23 Districts of Punjab till 9:00 AM is percent
10:10 am | EVM not working in following areas:
Booth No 19, Khadoor Sahib AC
Booth No 86, Tarn Taran AC
Booth No 5, Khem Karan AC
10:03 am | Capt Amarinder Singh (Punjab Lok Congress leader & ex-CM will win from Patiala Assembly constituency. Change should be brought keeping in mind the future of youth. Votes should be cast based on who can bring peace&economic stability to the state: Preneet Kaur, rebel Congress MP
10:00 am | Reports of no arrangements for elderly, physically challenged at Ajnala booths: Punjab Elections 2022
09:50 am | Congress MP Partap Singh Bajwa casts his vote at polling booth number 145 in Gurdaspur.
09:48 am | Congress leader Manish Tewari casts his vote in Punjab Elections 2022, at Ludhiana I request people to keep in mind the interests of Punjab, rise above caste & religion while voting in this election, he says.
09:48 am | Voter turnout in Punjab's Mohali till 9:30 am is 4.8 pc
09:45 am | Voting details in all the three assembly constituencies of Barnala district till 9:00 am is :
6.6 pc in Barnala
6.6 pc in Bhadur
7 pc  voting in Mahal Kalan
09:38 am | Voter turnout in Punjab till 9:30 am is 4.80 percent
In 2017, it was  8 percent
09:25 am | Bhagat Singh and many other people sacrificed their lives for the country. I appeal to the public to vote for the candidate they want: AAP CM candidate Bhagwant Mann
09:20 am | I am confident that the voters of Punjab will give a befitting reply to those dreaming of dividing and ruling in Punjab, says Congress leader Sunil Jakhar
09:18 am | Congress leader Sunil Jakhar casts his vote at polling booth number 126-128 in Panjkosi, Assembly constituency Abohar, district Fazilka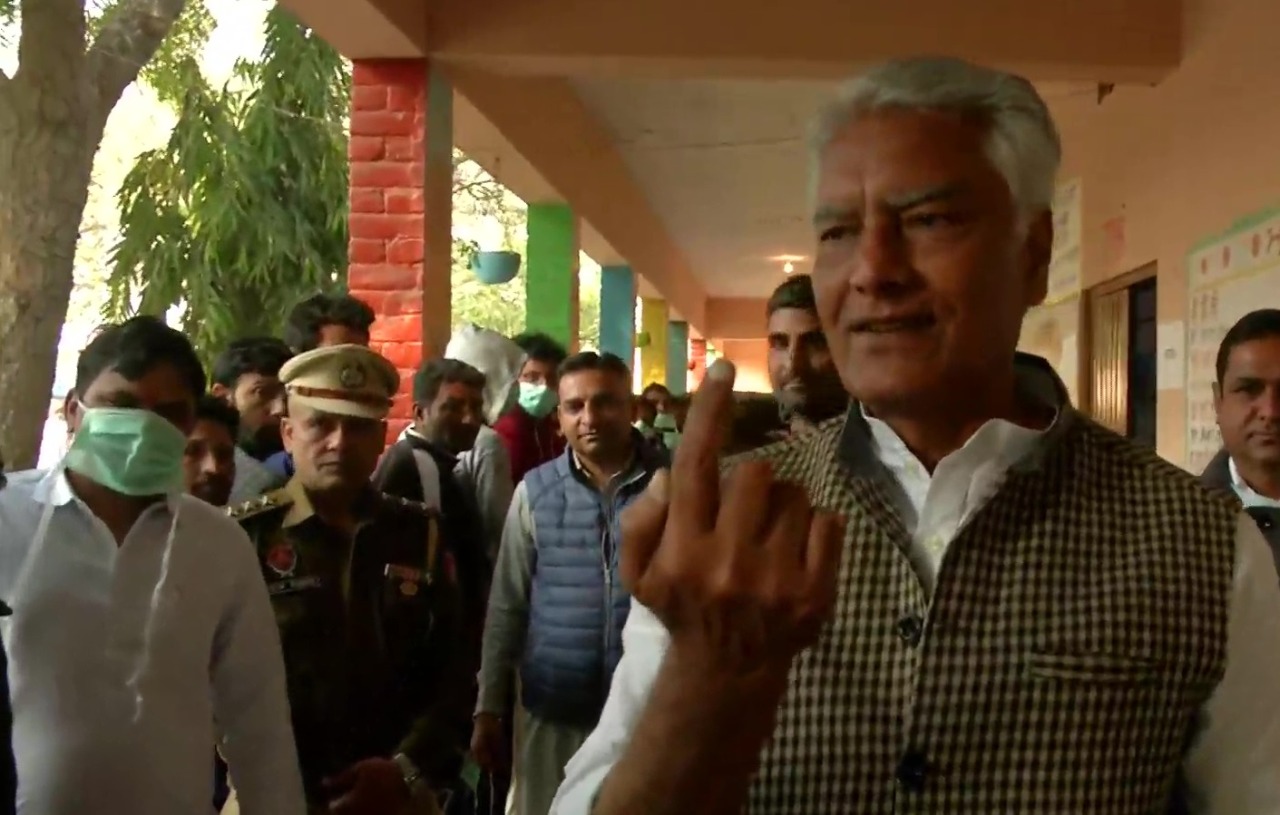 09:10 am | Punjab CM Charanjit Singh Channi offers prayers to Lord Shiv at a temple in Kharar:Punjab Elections 2022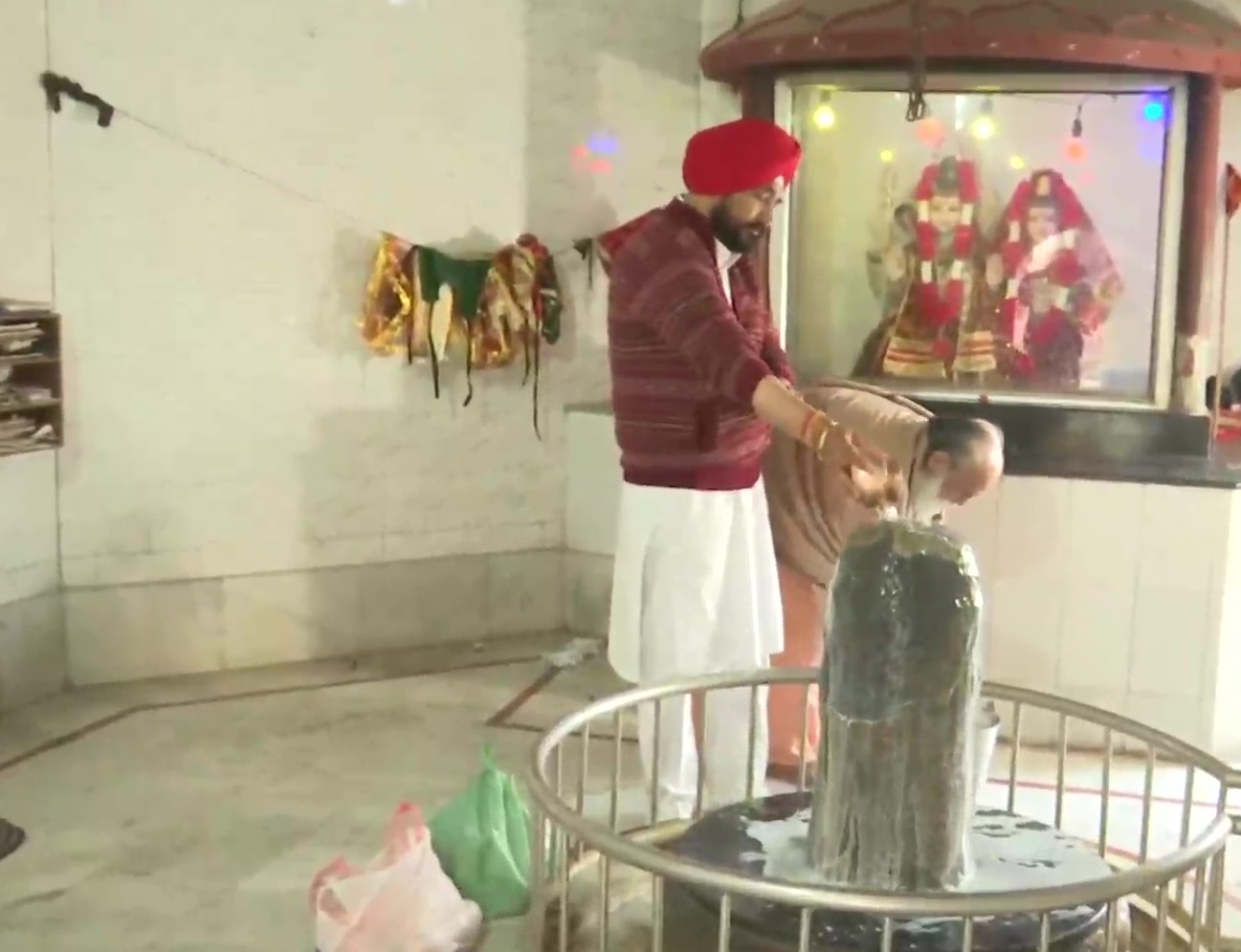 09:05 am | Punjab's Education, Sports & NRI Affairs Minister, Pargat Singh, casts his vote at a polling booth in Mithapur, Jalandhar Voting will be done on the confidence built among the people of Punjab by CM Channi, he says.
08:51 am | Malvika Sood, Congress' candidate from Moga casts her vote at Govt Girls Senior Secondary School here. She says, "As a citizen & daughter of Moga, it's my duty to take Moga city forward. I'll visit booths & meet people, they are waiting for me to visit them."
08:50 am | "The Punjab elections and the third phase of the UP elections are being held today. I call upon all those voting today to do so in large numbers, particularly the youth as well as first-time voters," PM Modi said in a tweet.
08:48 am | Punjab Minister Bharat Bhushan Ashu casts his vote in Assembly elections, at Ludhiana I request everyone to exercise their right to vote for the development of Punjab. The more people take part in elections the more democracy will strengthen, he says.
08:45 am | Manpreet Singh Badal cast his vote.
08:40 am | Aam Aadmi Party CM candidate for Punjab Elections 2022, Bhagwant Mann exercises his franchise in Mohali He is contesting from Dhuri in Sangrur.
08:25 am | Punjab Elections 2022 : It is a very unique case. EC told us to do proper videography. They're icons of PWD voters. They're conjoined but two separate voters. Arrangements were made by the RO of giving them goggles so that secrecy of voting is maintained: Gaurav Kumar, PRO
08:16 am | Conjoined twins, Sohna and Mohna, cast their votes at polling booth no.101 in Manawala, Amritsar: Punjab Elections 2022
08:15 am | I urge people to vote carefully in this election. Congress promises that if the 'Sarkaarwali pagdi' is given to the party, then it never let down the state: Manpreet Singh Badal, Punjab Finance Minister
08:12 am | Deep Sidhu's posters urging people not to vote for AAP comes up at Moga, Jalalabad
08:10 am | SAD's NK sharma cast his vote in Zirakpur's Lohgarh booth
08:05 am | AAP CM candidate for Punjab Elections, Bhagwant Mann offers prayers at Gurdwara Sacha Dhan in Mohali.
08:02 am | Mohali | It is a big day for Punjab today. Congress & BJP have come together to put allegations on my party and me, but the people of Punjab know everything: Aam Aadmi Party's CM candidate Bhagwant Mann Mann is contesting from Dhuri, Sangrur
08:00 am | Polling begins amid tight security; fate of 1,304 candidates to be sealed
07:50 am | Ludhiana Central: Police recovers 'rashan' brought by Congress workers to 'buy votes'
07:35 am | Reports of 'bloody' clash between SAD, Congress workers in Abohar ahead of polling
07:15 am | "It's leadership of the party. It'll now be the will of the almighty & people, we've made all efforts," says CM Charanjit Singh Channi as he offers prayers at Gurudwara Sri Katalgarh Sahib, Kharar He is contesting Punjab Elections 2022, from Chamkaur Sahib and Bhadaur constituencies.
07:10 am | Preparations underway ahead of voting for the #PunjabElections2022; Visuals from polling booth no 76-80 in Mithapur, Jalandhar. Voting for the Punjab Assembly elections will start at 8 am.
07:00 am | People are dialing me and saying that we are waiting for the voting to start and will vote for you. We've done many social works. I don't think any other candidate has done so much social work: Malvika Sood, Congress' candidate from Moga
06:55 am | A night before Punjab Assembly elections 2022, a major chaos took place in Barnala's Bhadaur constituency where the Ugoke villagers accused the Congress workers of luring voters in the constituency.
06:45 am | Punjab Assembly elections: Over 2.14 crore voters to decide fate of 1304 candidates today
06:30 am | The voting for Punjab Elections 2022 is all set to take place today.
-PTC News